Meet Richard Fadeley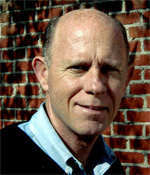 Richard Fadeley, a wine lover who lives in Columbia, S.C., is an industrial fence contractor and president of an international marketing company in the fence industry. As WebWineMan, he writes a wine column for Free Times in Columbia, S.C.
Fadeley's tasting group consists of 14 people, with occasional substitutes or guests. Husbands and wives, a couple of stock brokers, a dentist, a college professor, a teacher, a nurse practitioner, a software designer, and a regional sales manager make up the group. ( For more information about how his tasting group works, see below.)
Now online:
Richard explains how his group tastings work. It's a good model for anyone considering setting up a tasting group or club:
"1. We usually set a limit on the wines that we taste ($25 for Chards, Merlot, Spanish, $35 for Bordeaux - my favorite - and Pinots, $50 for Champagnes.
"2. We will do wines under $12 or something like a wine dinner where we will have maybe eight wines.
"3. When we did Beaujolais, we tasted eight nouveaus blind, then we were led through a non-blind tasting of eight George Dubeouf 2000 crus. When we tasted Pinot Gris and Grigio we picked the Trimbach No. 1 and the King Estate No. 2 along with quite a few other very nice wines. You can't argue with our results, since we are average/above average tasters and the results spead for themselves.
"We do get the wines from four to six distributors, but the competitive aspect offsets the potential conflict of interest. We only list the better 50%-65% of what we taste, and we have the benefit of the people who know their products picking the starting lineup. Great fun. And because we are in Souh Carolina we get a typical cross section of wines that seem to be available in most places (if I were doing this article in NY we might get quite a few wines that are hard to find elsewhere)."
To contact Richard Fadeley directly, write him at allsteel@msn.com
<!- Page Contents End Here ->