Wine salute to summertime!
© by Richard Fadeley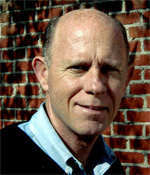 Have you ever wondered what wine works best as a pool-side quaff, a summertime apéritif or even with an asparagus salad or a light meal? Our featured wine this month, Sauvignon Blanc, can be just the ticket if you have a well-made example of this zinger!
A nose of fresh-mown grass, mixed with ice-cold lemonade and some tangy grapefruit thrown in for effect. To help you pick your poison getting through these next few months we worked our way through 18 of these lip-smackers at our monthly blind tasting to revisit this wine that seems to exemplify the season. This grape is grown throughout the world, from New Zealand, with their tart citrus flavors, sometimes highlighted with a little "cat's pee" to the more elegant white Bordeaux often blended with Semillon and the distinctive Loire Valley wines of Sancerre and Poully Fumé. California and Australia are both doing a credible job with this grape and you will find it grown in Spain, Italy and Chile as well.
We threw together an assortment of appetizers (pears and apples, green olives, celery and an eggplant-tomato salsa) and light fare (steamed shrimp and ham on pumpernickel sandwiches). For cheeses we picked a young goat Gouda and of course a chèvre (goat cheese) to accompany our wines. All entrants are tasted blind and scored on a 20 point scale, giving each wine up to two points on color, six points on nose, six points on taste and six points overall. Tasting wines blind eliminates all pretense and gives each entrant an honest assessment without any preconceived notions.
Our top wine this year hails from a region fairly new to wine production but turning heads nevertheless - New Zealand - with their crisp and saucy Sauvignon Blancs are setting new standards in a industry slow to recognize, much less accept, change. And to show you how topsy-turvy things can get, another favorite came from the newest AVA in North America - Yadkin Valley - and they not only grew the grapes in North Carolina but made the world class goat cheese that accompanied our wines. Goat cheese is the perfect foil for Sauvignon Blanc and one of the all time classic pairings. Good chèvre is available in most grocery stores though specialty shops and delis will have more eclectic offerings.
California provides a good selection of SB's and there we find this grape commanding a higher price that the ubiquitous Chardonnay, and though grape prices are depressed, Sauvignon Blanc is holding its price better than its varietal rival. Not so with the finished wine though, due to earlier release and minimal--if any--oak aging, Sauvignon Blanc is also easy on your pocketbook. Even a good Sancerre will be priced under $20 but there are many excellent SB's under $12. The French offer some elegant white Bordeaux (look for Chateau L'Etoile-$8-or Chateau Coucheroy-$9-as good examples) though they were not in this tasting. Super-high-end Bordeaux can be $30-$40, but even that is on the low end of premium pricing.
Foley, from California, showed show oak influence but was nicely balanced and scored high. Several other CA's represented that area well. We found a good value in a Sancerre ($16.99) which is probably the most recognizable AOC for Sauvignon in France, along with Pouilly-Fumé, in the upper Loire valley where world class Sauvignon reigns supreme. And Chile, as they have done in the past, weighs in with a "Best Buy" in the Santa Rita. Chile seems to offer real value in a lot of their wines as they strive for recognition.
If you are new to Sauvignon Blanc, try one or two of these zesty delights with some green olives and goat cheese, if you don't like it we will send one on our tasters over to help you finish it. Remember that this wine can work nicely with shrimp, oysters and fish or a salad course as well as tuna or chicken salad. A perfect picnic wine! We would like to hear about your favorite SB and what you like to serve with it. Send E-mail to webwineman@hotmail.com.
Free Times Sauvignon Blanc Review
Goldwater
, Marlborough Dog Point, '02 ****
Best of Tasting
New Zealand $20.49
Villanova
, Friuli Venezia-Giulia, '99 ****
Another favorite
Italy $12.99
Shelton
, Yadkin Valley, '02 ****
Pleasant surprise!
North Carolina $14.99
Foley
, Santa Barbara, '01 ***
A touch of oak
California $14.99
Domaine de la Perrière
, Sancerre, '01 ***
A Personal Favorite
France $16.99
Santa Rita
, '02 ***
A Best Buy
Chile $6.99
Kim Crawford
, Marlborough, '02 ***
WS 90 Points
New Zealand $17.99
Ferrari-Carano Fume Blanc
, Sonoma, '01 *** California $ 15.99
Gainey
, Santa Ynez, '01 *** California $13.99
Girard
, Napa, '00 *** California $15.99
Dyed-in-the-Wool
, Marlborough, '02 ***
A Best Buy
New Zealand $10.99
Shaw & Smith
, Adelaide, '02 *** Australia $16.99
Our four-star rating system and how it might compare to the WS 100 point scale:
* Good (80-84)
** Very Good (85-88)
*** Very Good/Excellent (88-90)
**** Excellent (91+)

June 2003
To contact Richard Fadeley, write him at webwineman@hotmail.com