<! - Page Contents Begin Here - >
The Renaissance Grape
© by Richard Fadeley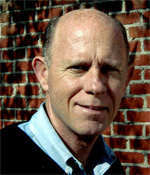 Every time I open a bottle of Riesling (spelled with "i" before "e" and pronounced "REES-ling"} I wonder why we don't drink more of this under-appreciated and food-friendly variety. It has moderate to low alcohol, nice acidity, lots of green apple freshness and stands up to a wide array of menu items. What better than a blind tasting to get up to date on this misunderstood, thick skinned, slow ripening variety? So, we assembled 20 wines from all over the world, and tasted them blind, with light food and cheeses, and we were not disappointed!
"Riesling will be the dominant white grape variety of the 21st Century," posits Randall Grahm of Bonny Doon winery, and he could very well be on the mark. Often misunderstood due to preconceived notions about lack of quality or heritage - and sometimes mistakenly assumed to be only a sweet wine - this grape is truly one of the noble white grapes.
Grown worldwide now, it got its start in Germany where it is vinified from dry to the super-sweet Eiswein and Trockenbeerenauslese. As forecast by the likes of Graham and British wine writer Jancis Robinson Riesling is gaining popularity worldwide, and indeed some of our top wines came from right here in the U.S. Germany seems to be sending us wines with less residual sugar (drier) and several of them were favorites in this tasting. France's Alsace region is another good source of dry Rieslings.
Our top wine from Washington State was the '04 Chateau St. Michelle Columbia Valley Dry Riesling, a delicious wine at an attractive price. This quality producer consistently makes affordable whites and reds from the Pacific Northwest. Interestingly, the Schloss Vollrads '05 Rheingau Kabinett not only exhibited spiced green apple, but came with a glass cork, a "vino-lok" closure that is a glass plug requiring no corkscrew - a nice alternative to a cork or screwcap. Kendall-Jackson's Vintner's Reserve again made a nice showing.
These crisp aromatic wines would work well with light fish and chicken dishes, sushi, oriental cuisine, as well as a salad course. It is almost too complex to simply be an aperitif. No wine dinner would be complete though, without a Riesling somewhere on the menu. We recently tried a Riesling from upstate New York with grilled salmon and were pleasantly surprised.
Late-harvest Rieslings offer a higher sugar level, which translates into a pleasant after-dinner wine but with relatively low alcohol, nice if you or your guests are driving home. As you can see from this tasting, good Rieslings are a bargain in the white wine department, with prices around $8-$18, though sought-after examples can be priced upwards of $100. Several of our favorites were under $10.
Checking the alcohol % on Rieslings will give you some indication of the amount of residual sugar (sweetness), the lower the alcohol, the sweeter the wine. So wines around 10-13% will be drier, and wines 8-9.5% will be sweeter. "Late Harvest" usually indicates a sweeter wine, but check the ABV. They both are pleasant when served with the right food.
To show you how versatile these wines are, we finished them with a citrus salad, shrimp Creole, and for dessert, vanilla ice cream with chocolate syrup dusted with crushed walnuts. The wines paired beautifully with all three. If you are not familiar with the different faces of Riesling, you'd better get busy and try a few. For less than the cost of a typical laundry bill you can adopt one or two of these forgotten children of the wine world and see for yourself. You won't be disappointed! We can certainly recommend any of these examples from our tasting for your next dinner party.
Let us know about your favorite Riesling and what you served with it. Send E-mail to webwineman@hotmail.com. We enjoy hearing from you.
Free Times Riesling Review
St. Michelle '04 Columbia Valley Dry Riesling **** Best of Tasting Washington $10.99
Melsheimer '05 Half-Dry, Mosel **** Another Star Germany $17.99
Jekel '05 Monterey **** A Best Buy Too! California $11.99
Schloss Vollrads '05 Rheingau Kabinett *** A Personal Favorite Germany $18.99
Niche '05 Rheingau Trocken *** A Best Buy Germany $12.49
Stoneleigh '06 Marlborough *** New Zealand $14.49
Kendall-Jackson '05 Vintner's Reserve *** Consistent Winner California $10.99
Bex '05 Mosel-Saar-Ruwer *** Top Value Here! Germany $10.99
Clean Slate '06 Mosel-Saar-Ruwer *** A Group Favorite Germany $12.99
McWilliams '05 Hanwood Estate *** A Best Buy Australia $7.99
Milton Park '06 South Australia ** Another Best Buy Australia $9.99
Washington Hills '06 Late Harvest ** A Best Buy Washington $8.99
Our four-star rating system and how it might compare to the Wine Spectator 100-point scale:
* Good (80-84)
** Very Good (85-88)
*** Very Good/Excellent (88-90)
**** Excellent (91+)
August 2007
To contact Richard Fadeley, write him at webwineman@hotmail.com