<! - Page Contents Begin Here - >
A South American Gold Mine!
© by Richard Fadeley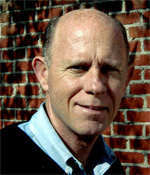 Head due south from Columbia, South Carolina, and about 4,000 miles later you will find yourself off the coast of arguably the best wine producing country in South America. It will take you almost as long to reach the southern end as it took you to get there in the first place, since this ribbon of a country is over three thousand miles long. It has been in the news more, lately for problems with coal mines and earthquakes, but we will focus on a more positive aspect. We are obviously talking about the wines of Chile. I have been bathing in Chilean wines for the last ten days and as I finally come up for air, I've got to tell you, for the most part, the wines were well made, affordable, easy drinking, and definitely world class. What's not to like?
Vines were first planted here in the sixteenth century by Spanish missionaries and conditions proved right for wine-making. They've been at it ever since. In 1851 a local winemaker brought in French consultants and subsequently most of the principal varieties that we recognize today. Vines are grown in the central 1/3 of the country, over about a thousand mile area, with uniform aspect – west facing slopes, backing up to, and protected by, the Andes mountains. The mountains afford enough protection that Chile has never had to deal with the devastating phylloxera louse that devastated the vinifera vines throughout most of the world. Consequently they can grow grapes on their own roots rather than having to graft onto disease-resistant root stock.
They have an ideal climate for viticulture with little rain during the growing season but ample water reserves from the snow-melt in the Andes. And they are getting the right grapes into the right areas, a process that can take generations or longer. Examples are the fairly new and promising Bio Bio Valley, home to several of our favorites, and often compared to Burgundy, France.
The good news, for the most part, the wines were very reasonably priced, offering good value for the consumer. We even found a non-vintage Chadonnay for under $5. The wines were e good to very good, across the board. Bright whites, with good acidity, the one rosé we had was good, and the reds were concentrated with good aromatics, with moderate to high alcohol, averaging around 14 percent.
Chile has adopted the Carmenère grape much like Argentina has latched on to Malbec, and it seems to be working out nicely. This grape that is still allowed – though rarely used – in Bordeaux seems right at home along the western edge of South America where the warmer and drier growing season allows for better ripening. A distinctive red, with good color, and somewhat rustic, but pleasing palate, is often confused with and compared to Merlot. We found good examples both as a varietal wine and blended with Cabernet Sauvignon. Chile is best known for her Cabernets, which were consistently deep, brooding and showy. Excellent values compared to California.
The whites would be good with shellfish, salads or simply as an "end-of-the-day" salute. You might try the oakier Chardonnays with baked Chilean sea bass. The reds would pair well with grilled meats or burgers, and several of the Pinot Noirs would be nice with salmon, veal, chicken or grilled portobello mushrooms.
Next time you are in your local wine store you might want to reacquaint yourself with one or two of these tasty picks, and experience the quality and values in Chilean wine.
Chilean Wine Review
Sauvignon Blanc
Emiliana '10 Natura Sauvignon Blanc
****
Best SB!
Casablanca
$11
Anakena '10 Sauvignon Blanc
****
Another Fav!
Casablanca
$10
Emiliana '10 Eco Sauvignon Blanc
***
On Point!
Bio Bio
$11
Chardonnay
Veranda '08 Single Vineyard
****
Personal Favorite!
Bio Bio
$19.99
Concha Y Toro '07 M Casa Concha
****
Nice Oak Element!
Limari Valley
$16
Casa Lampostolle '08 Cuvee Alexandre
****
For Oak Lovers!
Casablanca
$19.99
Santiago Station, NV
***
Best Buy! Great Effort!
Devil's Back
$4.99
Rosé
Anakena '09 Rosé
***
Nice Little Rose'!
$9.99
Pinot Noir
Veranda '08 Single Vineyard
****
Best of Tasting!
Bio Bio
$17.99
Veramonte '09 Reserve
****
Another Favorite!
Casablanca
$11.99
Cono Sur '09 Pinot Noir
***
A Best Buy!!
Central Valley
$9.99
Carmenère
Arboleda '08 Carmenère
****
Best Carmenère!
Casablanca
$16.99
Los Boldos '09 Carmenère
****
A Best Buy!
Rapel Valley
$10.99
Santa Rita '08 Medalla Real, Carmenère
***
Another Favorite!
Colchagua
$16.99
Cabernet Sauvignon and Blends
Palo Alto '08 Reserva
***
Best Blend, Best Buy!
Maule Valley
$10.99
Los Vasco '08 Reserve
****
Best Cabernet!
Colchagua
$16.99
Concha Y Toro '08 Terrunyo
****
Single Vineyard Cab!
Maipo Valley
$20
Montes '09 Classic
****
Another Best Buy!
Colchagua
$10.99
Porta '08 Grand Reserve
****
Another Favorite!
Aconcagua
$15.99
Our four-star rating system and how it might compare to the WS 100-point scale:
* Decent (80-83)
** Good (86-87)
*** Very Good (87-89
**** Excellent (90+)

All ratings are only the opinions of our tasters and not meant to offend your personal favorites.
May 2011
To contact Richard Fadeley, write him at webwineman@hotmail.com