<! - Page Contents Begin Here - >
Bordeaux on the Fly!
© by Richard Fadeley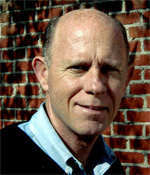 As I continue my quest to completely understand French wines, I recently made my annual pilgrimage, along with two fellow wine lovers. Due to the strong Euro, we knew this would be a short trip but for me a compelling one! My last two trips included most of the familiar wine growing regions such as Burgundy, the Rhone, Champagne and the Loire, but I had yet to visit my favorite, Bordeaux. We were beset with the usual airline connection problems and missed out initial flight to Paris, but a later flight got us there just a few hours behind schedule and it was a pleasant four-hour train ride down to Bordeaux, where we picked up a comfortable Citröen diesel. It had been a long day, so we checked into a motel, had dinner and went to sleep with dreams of tasting glasses and stately châteaux dancing in our heads.
With a 10 o'clock appointment we only had a short time to tour the Médoc and made it as far as St.-Estèph-and the storied façade of Cos D'Estournel and Château Lafon-Rochet--before turning back to make our appointment at the 2nd growth Château Leoville Poyferré in Saint-Julien. This was one of many sites where we were warmly received, having made arrangements in advance (always a good idea in Bordeaux and de regieur with the classified châteaux).
Our next stop was a short drive to Château Lagrange, where we took a complete tour of the barrel rooms, fermentation tanks, and grounds, and were treated to a most elegant lunch along with their wines (the white '04 Les Arums (most of this goes to Japan), and the reds, '00 Les Fiefs de Legrange, '98 Lagrange, '86 Lagrange). They actually produce more of their second label (Les Fiefs de Lagrange), than the grand vin. All the wines were exquisite and the food, very French. The lack of other tourist makes February and early March an ideal time to visit France if you are looking to connect with winemakers and get some quality time in the tasting rooms. That afternoon we revisited Poyferré and tasted the separate components of their '06 which was to be blended soon.
Then on to nearby Château Talbot, where the manager carefully walked us around to the north side so we could look longingly at Château Latour and the Gironde river in the distance, but nice wines here as well. On to Margaux and Château D'Issan, another storybook chateau surrounded by a moat. Château Giscours was our last stop and we stayed in one of their guestrooms that night. Dinner at the eclectic Lion d'Or in Arcin ('04 Giscours and '04 Du Tertre) made our day in the Médoc one I'll never forget.
Bordeaux production is 85% red wine. "Left bank" Bordeaux (also known as the Médoc) is usually 50%-75% Cabernet Sauvignon, 20-35% Merlot and lesser amounts of Petit Verdot and Cab Franc, whereas "right bank" Bordeaux is typically a blend of 70-80% Merlot and 20-30% Cab Franc. White Bordeaux is produced from Sauvignon Blanc and Sémillon and can be perfect with oysters or white fish and as an aperitif. These wines are rated, ranked and reviewed more than any other wines in the world, subjected to unbelievable scrutiny. Such is the fate of the world's most important wine region, but this pressure is what makes these wines so good. Bottle aging and decanting can put a few asterisks beside proper enjoyment of these sturdy wines, but they remain my favorites.
Friday found us on the "right bank" and the familiar Saint-Emilion. We visited a small dedicated producer in Côtes de Castillion (Clos Puy Arnaud) where Thierry Valette practices bio-dynamic viticulture (tasted the '04 and '05 Clos Puy Arnaud, and you can taste the dedication). I was able to purchase a few bottles here in the states for quite a bit less than the asking price in local stores. Then to Château Lassègue. This well situated property is owned by Jess Jackson (Kendall-Jackson) and his dedicated staff is turning out some lovely Merlot based wines for mainly the American market--their loss, our gain! We tasted through '04, '05, '06, and projected blend of the '07 of both of their wines, Vignot and Lassegue. Jackson has something to be proud of here. Look for these wines and you will be pleasantly surprised. Maybe there is something to this terroir thing after all!
Pavie-MacQuin, Trotteville, and an impressive cooperative (Union de Producteurs de St.-Emilion) occupied our afternoon. Apparently Valette has done work with Pavie MacQuin as well, as Pavie, and has them doing the bio-dynamic thing too. Their passion shows through in the wines.
Our last day in Bordeaux was spent touring Fronsac, Bourg and Blaye just across the river from the Médoc and source of good value wines. At Château Falfas John Cockran proudly showed us his vineyards and poured the '04 and '05's. An American, he has been in France since '89 and bought property and started making note-worthy wines. Another bio-dynamic practitioner.
A stop at Cave de Bourg-Tauriac revealed another coop with a good selection of vintages back to 2000 and a nice sparkler too! These coops set a solid "base-line" that keeps the pressure on the well-known châteaux. Very good, affordable wine and here and they are happy to open any bottle and let you taste before you buy.
On the train back to Paris we enjoyed an '04 red Graves with cheese before visiting a terrific seafood restaurant on the left bank with views of the Eiffel tower as we walked to dinner.
This adventure was much too short, but satisfying nonetheless. Now it's mine!
I have mentioned a few Bordeaux wines that you might enjoy. Just give the reds about a two-hour decant, then carefully pour back into bottle. Discard the last half-ounce to avoid fine sediment if present, and give the bottle a rinse too.) Serve with grilled chicken, beef or lamb, or just share with a friend! You can email me with questions or comments at webwineman@hotmail.com. Enjoy!
Free Times Bordeaux Review
Whites:
'06 Chateau Chartron La Fleur, Bordeaux *** A Best Buy! $8.99
'05 Chateau Coucheroy, Péssac-Léognan **** Personal Favorite! $14.99
'04 Chateau Carbonnieux, Péssac-Léognan ***** Will Keep for Years! $29.99
Whites:
'05 Chateau Désire Perrière, Côte de Blaye *** A Best Buy! $9.99
'05 Chateau Beaumont, Haut Médoc *** Good Basic Bordeaux! $15.99
'05 Chateau Caronne-St.-Gemme, Haut-Médoc **** Needs a Decant! $21.99
'04 Chateau Du Tertre, Margaux **** With Lamb Chops! $29.99
'04 Chateau Lagrange, Saint-Julien ***** Drink 2011-'25 $36.99
'04 Chateau Leoville-Poyferré, Saint-Julien ***** Drink 2011-'25 $44
Our four-star rating system and how it might compare to the Wine Spectator 100-point scale:
* Good (80-84)
** Very Good (85-88)
*** Very Good/Excellent (88-90)
**** Excellent (91+)

June 2008
To contact Richard Fadeley, write him at webwineman@hotmail.com