Southern Rhône Reds
© by Richard Fadeley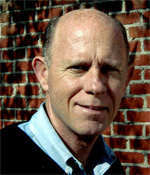 Between the French cities of Avignon and Orange along the southern Rhône Valley is the world-renowned wine producing area of Châteauneuf-du-Pape. This is the heart of the region known as the southern Rhône, and here they produce blended red wines based primarily on Grenache, Mourvèdre, and Syrah along with Cinsault (and 19 other varieties) ... unlike the northern Rhône where Syrah is the only red grape.
Eighty percent of the wines produced here are the more generic Côtes-du-Rhône and Côtes-du-Rhône-Villages (16 villages are allowed to append their name to the AOC along with 80 other villages) and quality can range from pedestrian to extraordinary. A small percentage of white wine along with rosé and sweet wine is produced from a variety of grapes and can be worthy of your attention, but the reds command center stage!
One of the best ways to sort through a confusing region like this is with a blind tasting. So, we assembled an assortment of southern Rhône reds, matching the basic Côtes-du-Rhône against the more substantial Gigondas, Vacqueyras and Châteauneuf-du-Pape and discovered some very nice wines to get you on your way to appreciating this region. We found some real bargains as well to once again convince you that good wine does not have to be a budget-buster. Of course we only looked at a small number of offerings from this area where they surpass the entire production of Burgundy and Beaujolais to their north; shop around and experiment.
We bagged up 18 wines, tasting and scoring each one on a twenty-point scale along with crudités, olives, salami, turkey, ham and roast beef sandwiches, home made bread and rolls, and an assortment of cheeses-D'Affanois, Gouda, and Pomona. D'Affanois is a soft cheese similar to Brie and was a hit with these medium bodied wines.
If you know people who think they don't like red wine, this might just be the break-through region for them to explore. Better examples of southern Rhône reds are juicy and rich, displaying earthiness and complexity without being too tannic or austere. While they will improve in the bottle they are usually ready to drink within 6 months to a year of release, and they will pair well with a wide variety of meats, stews, soups and cheeses. Sound good? They are, even with burgers, barbecue or a spicy chili!
Our favorite of the bunch was justifiably an '01 Châteauneuf-du-Pape from Mont Redon that seemed to cover all the bases. The well-known Paul Jaboulet showed us another well-made wine with his '99 Gigondas, and we picked out probably the top CdR, year-in and year-out, in the Coudoulet de Beaucastel. This wine is the second label from the esteemed Château Beaucastel - a top CdP - and is well worth the $22 price tag. For the value seekers, we found several wines to fit a budget. The 2002 vintage was a difficult one in the southern Rhône but persistent wine makers were able to produce a quality wine in spite of torrential rains that all but wiped out the crop and severely reduced yields. Surprisingly several of our top wines were from this difficult vintage, so don't automatically give up on the '02's.
The weak dollar is pushing prices up on all European wines but determined importers are doing everything they can to keep a lid on costs, nevertheless we see some price creep. But the French, Spanish and Italian producers still seem to offer quality wines at discounts compared to domestics. The trade-off is having to learn about the wines and the regions, but definitely worth the effort. Our tasting validated the reputations of the more delimited AOC's like Gigondas and Vaqueyras that were themselves one of the Cotes-du-Rhône-Villages just a few decades ago.
Whether you are familiar with southern Rhône reds, you should find these wines merit your consideration, with or without food. Let us know what you think via email, allsteel@msn.com, and tell us about your favorite Rhône wines.
Free Times Southern Rhone Review
Mont Redon '01 Châteauneuf du Pape **** Best of Tasting $34.99
Paul Jaboulet '99 Gigondas **** Another Favorite $22.99
Dom. Brusset '02 Côtes du Ventoux **** A Best Buy $10.99
Coudoulet de Beaucastel '01 Côtes du Rhône **** Top Scoring CdR $21.99
Perrin '01 Gigondas **** Delicious $22.99
Jean Luc Colombo '00 Châteauneuf du Pape **** Another Favorite $29.99
Perrin '02 Vacqueyras, Les Christins **** A Personal Favorite $20.99
Jean Luc Colombo '01 CdR, Les Abeilles **** A Personal Favorite /Best Buy $10.99
Dom. Beaurenard '02 Châteauneuf du Pape **** Classy Wine $32.99
Louis Bernard '03 Côtes du Rhône-Villages *** A Best Buy $11.99
Les Hauts du Villages '99 Rasteau *** A Top CdRV $15.99
B&G '02 Côtes-du-Rhône ** Another Best Buy $6.99

Our four-star rating system and how it might compare to the Wine Spectator 100-point scale:
* Good (80-84)
** Very Good (85-88)
*** Very Good/Excellent (88-90)
**** Excellent (91+)

March 2005
To contact Richard Fadeley, write him at allsteel@msn.com
Back to the WebWineMan index page
<!- Page Contents End Here ->