<! - Page Contents Begin Here - >
Wine Travels - the Loire Valley
© by Richard Fadeley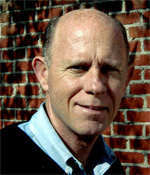 It is not more than a few hundred yards from the baggage claim area to the train station where you are magically transported via the high speed TGV to Tours. Another short walk takes you to the Auto-Europe car lot and voila, you are free as a butterfly to explore the enchanting Loire valley, with its chateaux, quaint villages, and seemingly endless vineyards.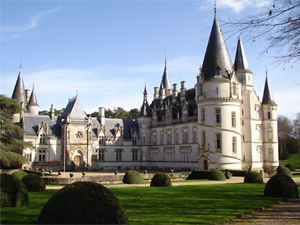 Chateau du Nozet is a lovely example of a Loire chateau.
Marie joined me this year for a week of sightseeing and wine tasting along the longest wild river in Europe. We based ourselves the first few nights in Chinon, a historic town on the north bank of the Vienne River, which flows into the Loire. A dramatic statue of Joan of Arc anchors the town square and the site of a street market twice a week.
We visited with Arnaud Couly-Dutheil, tasting through his wines and walking the tuffeau caves where they store and age more than 3 million bottles of wine. I copped a bottle of his '96 Clos de l'Echo, a first-rate Chinon, made from 100 percent estate grown Cabernet Franc.
On our way downstream we visited the history drenched Abbey at Fontevraud that once housed 2,000 monks and nuns before being converted to a prison after the French Revolution.
A quick stop at the recommended Filleatreau winery (Saumur-Champigny) and we are in the heart of the Loire. The wines were good to excellent at every stop and often punctuated with the ubiquitous sparkling wines from Saumur, Vouvray, or a Crémant de Loire.
After lunch in Saumur it was on to Bourgueil and St. Nicholas de Bourgueil on the north banks of the river and another excellent source of top-notch Cabernet Franc. Here we taste wines from Guenescheau and Joel Taluau - a bottle of his '02 Vielle Vignes came along with us as did several bottles from the former. Too tired to dine out, we had a simple meal of local cheese, paté and baguette and an outstanding '06 Rosé from Couly-Dutheil. It seems that rosés account for about a third of the wine production throughout the Loire valley, and understandably so, when tasted along with local food.
The next morning after a light breakfast we headed back to Tours and on to Vouvray to taste their famous white wines from Chenin Blanc. The wine caves of Marc Bredif and the exquisite Chenins from Domaine Huet were highlights.
A pleasant drive through the countryside took us to the town of Blois and another chateau. The Saturday morning market was a thrilling sight, with huge (4-foot) skillets full of paella, roasted chicken, and beef stew; large stalls of oysters and fish, sausages, produce, and tables full of cheese. We bought a small wheel of Rebluchon cheese and a sausage for our trip as we headed south to Chenonceau, a stunning chateau built across the River Cher; then on to Sancerre and Pouilly-sur-Loire, where the world-class Sauvignon Blanc is the featured attraction.
The Loire valley is chateau country and Chateau du Nozet (pictured) is a lovely example. They also make wine here, and we were treated to a private tasting and came away with a special bottle of their '02 de Ladoucette Pouilly-Fumé.
Sancerre proved to be the highlight of our trip. A five-course dinner at La Tour and tastings at Alphonse Mellot and Henri Bourgoise were memorable, as was the hillside picnic with a local goat cheese (Crottin du Chavignol). Early March was pleasant in the Loire, with 50's in the daytime and low 40's at night. The forsythia was in full bloom and the quince and cherry blossoms were starting to emerge, with no competition from other tourists.
Traveling to wine producing regions can be educational as well as a wonderful vacation. Our trip was one to remember, just too short! I've listed some Loire valley wines you might enjoy.
Let us about your favorite wine region and what wines and pairings you remember most. Send E-mail to webwineman@hotmail.com. We enjoy hearing from you.
Free Times Loire Valley Wine Review
White
'05 Domaine de la Quilla, Muscadet ** Solid Example Sevre et Maine $9.99
'05 Domaine de la Batardiere, Muscadet ** Another Star Sevre et Maine $8.99
'05 Chateau Montfort, Vouvray ** Consistent Winner Vouvray $10.99
'05 Dom. des Corbillieres, Touraine ** Great with Seafood! Touraine $9.99
'05 Salmon, Sancerre ** Clean and Crisp! Sancerre $15.99
'05 Marc Bredif, Vouvray ** 100% Chenin Blanc! Vouvray $14.99
'03 Champault, Menetou-Salon ** A Best Buy! Menetou $11.99
Rosé
'06 Dom. des Corbillieres, Pinot Noir Rosé *** 100% Pinot Noir! Touraine $ 11.99
'06 Couly-Dutheil, Rosé René Couly *** 100% Cab Franc Chinon $12.99
'05 Florent de Brie Rosé d'Anjou ** Off Dry! Anjou $9.99
'05 Henri Bourgeois, les Bonnes Bouches *** 100% Pinot Noir! Sancerre $12.99
Red
'04 Marc Bredif Chinon ** Another Favorite Chinon $15.99
'02 Taluau, VV, St. Nicholas de Bourgueil *** Buy it If You Can! St. N de B $25.00
'04 Dom. Filliatreau, Saumur-Champigny ** 100% Cab Franc Saumur $16.00
'05 Hardouin, Saumur-Champigny ** A Best Buy Saumur $13.99
Our four-star rating system and how it might compare to the Wine Spectator 100-point scale:
* Good (80-84)
** Very Good (85-88)
*** Very Good/Excellent (88-90)
**** Excellent (91+)
June 2007
To contact Richard Fadeley, write him at webwineman@hotmail.com