<! - Page Contents Begin Here - >
Feel Hot, Think Pink!
© by Richard Fadeley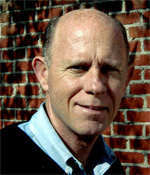 We are still in the grip of warm weather, and one of the best foils to summer heat is a good rosé. These pink wines are somewhat of an anomaly in the wine world and often misunderstood by consumers who expect them to be sweet variations of white Zinfandel, but a true rosé will be bone-dry, with crisp acidity and loads of subtle flavors.
These wines are made from red grapes with limited skin contact (8-48 hours) and hence the pink, salmon and light red colors that belie their alcohol levels. Wines don't get alcohol from their skins, but from the sugar in the juice, so the lack of color and tannins does not necessarily portend a "shrinking violet" kind of wine but in fact an "undercover agent" that will get the job done when paired with food.
This is what enables these charmers to perform like they do and when served chilled, fill in for their big brothers during sweltering summer days or lazy afternoon or evening picnics. Rosés are made from locally available and indigenous red grapes worldwide. For this tasting we sampled wines from Australia, South Africa, the US, and all of Europe, including wines made from Cabernet, Zinfandel, Pinot Noir and even Pinotage, to mention only a few.
The recent heat wave reminded us that we hadn't tasted rosés in a few years, so we collected 21 assorted wines, assembled our tasting group and made food assignments. With these "picnic" wines we served bread with assorted soft cheeses (Brie, D'Affanois, and Saint André), olives, caprese salad, chicken salad, taragon & bow tie pasta with chicken and grapes, deviled eggs, all centered around a spiral-sliced Heavenly Ham. The ham seemed to be just the right weight to pair with the rosés. Perfect summer fare and perfect with these red-wine wanna-bes.
The '05 Regaleali - endorsed by the "Soprano" series, and made with Nerello Mascalese grapes - took top honors with their Sicilian rosé, Le Rose de Regaleali, named in honor of the wide variety of roses grown on the property. Raspberries and cherries mark this bright-red Italian gem, made with estate grown and purchased fruit.
Isabella Mondavi teamed with brother Michael to produce a special effort - an obvious play on words - in her "I'M from Napa," a rosé of Cabernet. This effort follows the spin-off from the sale of the Robert Mondavi Winery last year, and they obviously still know something about making good wine! The younger Mondavis will not go quietly.
We were also treated to a limited-production pink from Sancerre in the '05 Salmon, with delicate red fruit and nice minerality, from Pinot Noir. Guy Mousset's '05 Côtes du Rhône was a personal favorite with good balance, acidity and fruit (raspberries and quince). With the '04 and '05 vintages we seem to be back to normal in Europe, so buy with confidence.
The New York Times recently proclaimed rosés to be the trendy pour for warmer weather, so get busy and brush-up on your "pinks" and make a fashion statement at your next cookout or football game. Even if you are still content with white Zinfandel, you will look like a cutting-edge wine geek as you sniff and swirl your rosé. Our favorites should give you a good place to start, but hurry, as the weather cools these wines seem to hibernate until spring. Let us hear from you about your favorite rosé and what you like with it, as well as other wines you would like to see us review. Send E-mail to webwineman@hotmail.com.
Free Times Rosé Review
Recommended Rosés:
Regaleali '05 Le Rose, Sicily **** Our Top Pink! Italy $11.99
I'M '04 Rosé, Napa **** Another Star! California $12.99
Salmon '05 Sancerre Rosé *** A Rare Treat! France $17.99
Guy Mousset '05 Cotes du Rhone *** A Best Buy! France $8.99
Aradon '04 Rioja *** Good Value Here! Spain $11.99
L'Estandon '04 Cotes de Provence *** Personal Favorite France $9.99
Falesco '05 Vitiano Rosé, Umbria *** A Best Buy! Italy $9.99
Fairview '05 Goats du Roam Rosé *** Down Under Pink! South Africa $12.99
Jaboulet '05 Parallel "45" Rosé *** Another CdR Pink! France $10.99
Marques de Caceres '04 Rioja Rosé *** A Best Buy! Spain $8.99
La Vieille Ferme '05 Rosé *** Another Best Buy France $8.99
Fat Ladies '05 Rosé *** Pinotage Rosé! South Africa $8.99

Our four-star rating system and how it might compare to the Wine Spectator 100-point scale:
* Good (80-84)
** Very Good (85-88)
*** Very Good/Excellent (88-90)
**** Excellent (91+)
August 2006
To contact Richard Fadeley, write him at webwineman@hotmail.com