<! - Page Contents Begin Here - >
A Shelter in the Storm!
© by Richard Fadeley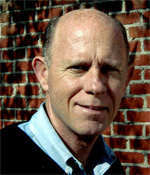 It seems that the world around us is changing at warp speed as financial gyrations keep us all on edge, climate change is supposed to scare you, political fulmination fills the airways with scary scenarios from both sides, seemingly endless "wars" and mounting job losses have us all edgy. And then there is your local wine store with interesting and non-controversial libations to help us get through another day or week.
Hardly a week goes by that I don't sing the praises of my favorite white wines, the oxy-moronic "white Burgundies". This is wine-speak for white wines produced in the Burgundy region of France, almost exclusively from Chardonnay and never blended. Burgundy is big enough to make several clearly different styles of wine with prices ranging from $10 upwards to three digits. The red wines in Burgundy are made from Pinot Noir, but that's another story.
Numerous books have been written about Burgundy so we can only stick our "toe in the water" here, but at least an introduction will help. We have never focused on these delightful and dependable wines and I find that many people are not familiar with the genre or the nomenclature. This is the earthier side of Chardonnay, with more minerality, less oak—if any—and perky acidity that makes them excellent as an aperitif or with salads and first courses.
We collected an assortment of wines and tasted them blind, area by area, to give you an idea of the stylistic differences that make these wines so exciting, starting with a Cremant de Bourgogne--sparkling wine made Method Champagnoise with approved grapes, in this case 100 percent Chardonnay--and a nice way to begin almost anything, as it sets the tone for Chardonnay from Burgundy. In the southern part of Burgundy the Mâcon produces an ocean of very nice everyday wines under the Mâcon-Villages AOC where numerous producers offer dependable $9-$13 bottles. When you get into "named village" status we see more structured and floral wines, as the price goes up ($12-$25). The signature AOC in the Mâcon is Pouily-Fuissé and its neighbor Saint-Veran might be familiar to some. Viré-Clessé is another named village that we tasted wine from, and it was a favorite. French wine labels can be confusing and a good reference book can be a big help. I like Wine Lover's Companion by Ron Herbst and the late Sharon Tyler Herbst to help sort-out all the confusing names and places. It makes the wine more enjoyable when you understand the labels and regional nuances, not to mention vintage variation.
Chablis is the northern most part and more than sixty miles removed from Burgundy proper. Here they produce the most austere Chardonnay in the world, with an almost electric acidity. A handful of the Kimmeridgian soil that these grapes are grown in will include thousands of tiny mollusks that lived here when it was an inland sea. Oysters, clams, mussels, and shrimp are natural pairing for these crisp dry whites, the best of which can age for 10-15 years. These wines sell for $18-$25 with the premier crus and grand crus reasonably priced in the $25-$50 range. This is "week-end" wine, and one that needs to be paired with appropriate fare. Home-made crab cakes are one of my favorites.
Bourgogne (French for Burgundy) can come from anywhere in Burgundy and typically will see a deft tough of oak. Nice wines also come from the Cote Chalonnaise where our Montagny 1st Cru is from. Technically a premier cru, it is priced more like a Bourgogne and we tasted it that way, it was a favorite. Rully is another AOC in that region to look out for. A real surprise to me was the Faiveley '06 Bourgogne, with a beautiful nose and nice round complete wine that seemed to cover all the bases. The village level wines and premier and grand crus (Mersault, Montrachet, Corton-Charlemagne et.al.) will set you back $30-$250 and need 6-15 years to show their best. Maybe when the recession is over! The wines we tasted for this article can make a lot of sense and keep you on budget, but still give you that comforting feeling that life goes on, in spite of all that noise and upheaval.
These wines should be served between 50° and 55°, if too cold, it kills the fruit. We only tasted a few of what is out there on the shelves, and most are comparable wines, worth a try. So get up to speed on your "White Burgundies", and expand you horizons!
Free Times Big Bottle Wine Review
Sparkling
Luquet Crémant de Bourgogne **** Delightful! Mâcon $20
Mâcon-Village
Debeaune '08 Dom. Lenoir M-V **** Tied for Best M-V! Mâcon $13
DuBoeuf '07 Mâcon-Village **** Another Star! Mâcon $10
B&G Mâcon-Village *** Good Value Here! Mâcon $9
Pouilly-Fuissé & Others
Chanson '06 Viré-Clessé **** This Has it All! Mâcon $18
Vincent '07 Pouilly-Fuissé **** Another Winner! Mâcon $21
Luquet '07 Pouilly-Fuissé **** Crisp Acidity! Mâcon $25
DuBeouf '07 Saint-Veran **** Good Value Here! Mâcon $17
Chablis
William Febvre '07 Chablis **** Favorite Chablis Chablis $18
Chateau Maligny '06 Chablis **** Another Nice Wine! Chablis $24
Chatelain '07 Chablis **** Crisp Acidity! Chablis $19
Bourgogne
Faiveley '06 Bourgogne **** My Favorite! Burgundy $20
Latour '06 Montagny **** Dependable Wine! Montagny $18
Bouchard '07 Bourgogne *** Good Value! Burgundy $17
JJ Vincent '07 Bourgogne *** A Best Buy! Burgundy $14
Our four-star rating system and how it might compare to the Wine Spectator 100-point scale:
* Good (80-84)
** Very Good (85-88)
*** Very Good/Excellent (88-90)
**** Excellent (91+)

All ratings are only the opinions of our tasters and not meant to offend your personal favorites.
October 2009
To contact Richard Fadeley, write him at webwineman@hotmail.com