<! - Page Contents Begin Here - >
Columbia Hosts the Bordelais!
© by Richard Fadeley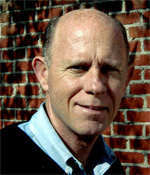 Thanks to the Gourmet Shop and local distributor "JP" Chambas, a few weeks ago Columbia hosted two distinguished wine luminaries from the Médoc region of Bordeaux.
This region in southwestern France is regarded by many wine lovers as the most important wine producing region in the world and there they make red wine from Merlot and Cabernet Sauvignon (often with smaller amounts of Cabernet Franc, Petite Verdot and rarely Malbec), and whites from Sauvignon Blanc and Semilion.
To give you some idea of the depth and breadth of this epicenter of the wine world we need to go back to 1855 and an exposition in Paris. Napoleon III asked the wine brokers (négociants) to rank the finest wines of Bordeaux since they were to be featured at the show in Paris.
They reluctantly agreed - only on the condition that the ranking not be used in the future. But as you might suspect, the ranking is alive and well for now and evermore, and for the most part is still a valid barometer of the top Médoc wines, with few exceptions. This area has almost 10 times the number of producers as the entire state of California, thus the importance of being one of the chosen "61."
We were graced by the presence of M. Marcel Ducasse (Chateau Lagrange, Saint-Julien) and M. Emmanuel Cruse (Chateau d'Issan, Margaux) along with M. Marc Ribet who represents these chateaux in the marketplace. These are both Third Growth chateaux - they ranked the wines in five "growths" or classés - with Lagrange located a little further north in the commune of Saint-Julien, while d'Issan resides in the commune of Margaux, along with the more famous Chateau Margaux (First Growth), a few miles north of the city of Bordeaux.
We were greeted with a glass of the '05 Chateau Chantegrive Blanc (Graves), a blend of 50% Sauvignon Blanc and 50% Semillion (this is a "white Bordeaux"). A nice way to start any gathering; crisp, clean and refreshing and comes in a convenient screw cap bottle. Its stable-mate, the '03 Rouge showed promise, but might benefit from another year or so of bottle aging.
Then on to the big boys! We started with two second wines - wines made with younger vines and secondary fruit - which most of the bigger chateaux produce, and can be good values that are ready to drink sooner than the grand vin. These second wines can make up 1/3 to over half of the production of these bigger chateaux. We were served the '03 Blason d'Issan and the '03 Les Fiefs de Lagrange, both of which indicated the promising future for this "hot" vintage, which has turned out to be better than first thought, with nice fruit and unexpected ageability.
Then the two chateaux winemakers led us through recent vintages including the '01 and '96 Lagrange and the '99 and '95 d'Issan along with interesting banter and characteristics of the various vintages and chateaux, as well as recent shifts in the focus of Bordeaux winemakers. Both chateaux use approximately 2/3 Cabernet Sauvignon and 1/3 Merlot in their blend, with Lagrange using as much as 10% Petite Verdot for added color and flavor.
The last two wines were the raison d'etre of the evening, proving the age-worthiness of Bordeaux in general and these two stars in particular, with the '90 d'Issan (from magnum) and the '89 Lagrange. The wines showed typical Bordeaux profiles, with earthiness, tabacco, cassis and dark fruit, and the Lagrange showing a little more muscle. For my palate I'll take the d'Issan with a Caesar's salad and the '89 Lagrange with a rare NY strip. And my wish list would also include a few bottles of the '96 Lagrange or the '95 d'Issan to go with the few bottles of '02 and '03 Lagrange that I am lucky to own. They were all exquisite wines and many thanks to M. Ducasse and M. Cruse. Columbia was lucky to score a visit from these Bordeaux stars.
Shop around for good Bordeaux under $20, it's out there and clearly, these prices are out of reach of most of our readers-including the author-but this should be a lesson, buy your Bordeaux young. The futures for the '90 d'Issan sold for $15 per bottle and the '89 Lagrange a mere $14. And both wines were under $25 on release.
Let us know your thoughts and impressions. Send E-mail to webwineman@hotmail.com. We enjoy hearing from you.
Free Times Bordeaux (Up Close & Personal) Review
RECOMMENDED WHITE
Chateau Chantegrieve '05 Blanc, Graves *** Clean Refreshing White France $14

RECOMMENDED REDS
Chateau Lagrange '90, St,-Julien **** My Favorite! France $199
Chateau d'Issan '89, Margaux (1.5 Lt) **** Another Favorite! France $125
Chateau Lagrange '96, St-Julien **** Another Top Wine! France $95
Blason d'Issan '03 *** Drink Now, with Food France $29
Chateau Chantegrieve '03 Rouge, Graves ** Affordable Bordeaux France $22

Our four-star rating system and how it might compare to the Wine Spectator 100-point scale:
* Good (80-84)
** Very Good (85-88)
*** Very Good/Excellent (88-90)
**** Excellent (91+)
March 2007
To contact Richard Fadeley, write him at webwineman@hotmail.com