The Other 'Down Under': South African Wines
© by Richard Fadeley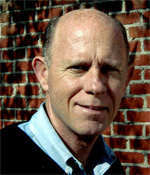 Without a doubt South Africa is one of the most spectacular wine-producing regions in the world, and also a rising star in the wine hierarchy. Currently ranked eighth in the world in total wine production, it's behind Australia and Germany but ahead of Chile and Portugal. Of course, volume does not equate with quality.
South Africa has been producing wine since 1659 when the Dutch settlers planted vines in and around Cape Town in the western edge of the southern end of the African continent. Some of the panoramas are the most breathtaking in the entire planet, and the wines can rise to the occasion if you know where to look.
More closely associated with "old world" than "new," this country has struggled with its future over the last 30 years, but when restrictions were finally lifted over their racial oppression issues their wine industry was unleashed and has never looked back. There are many dedicated winemakers here and their passion shows throughout the range. We gathered over twenty wines for this tasting, including sparkling, rosé, white and red and were pleasantly surprised with the quality and drinkability since the last time we looked in on these wines ten years ago.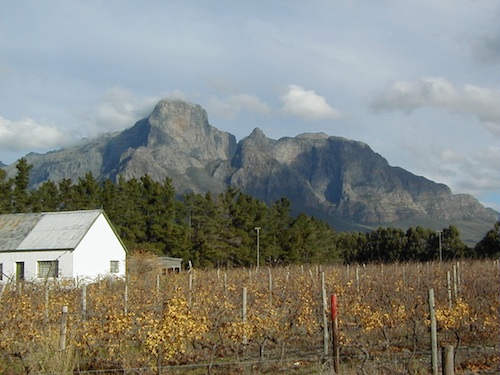 Vineyards near Stellenbosch. Photo: Richard Fadeley.
Pinotage is still the signature grape here in South Africa, but it is a difficult grape to grow and vinify and can yield off flavors when under-ripe or mishandled. Nevertheless they are determined to keep this variety as their flagship grape, if not among their most prized wines. It is a cross between pinot noir and cinsaut (also known as "hemitage") hence the nouveau cépage "pinotage". It has not become an international favorite (98% of the plantings are here in SA), but they seem reluctant to give it up, constantly adding it to various blends and occasionally as a varietal wine. We found a few that we liked. It is sort of an acquired taste and it does make a serviceable wine when handled properly. But it is theirs and theirs alone. You have to admire that perseverance and dedication; let them work out the details.
Reds from cabernet, shiraz, merlot, pinotage, and blends there-of make up a nice assortment of very drinkable and food friendly red wines.
Chenin blanc (they often call it "steen") is their most popular white and they are on-point with this grape. But there are tasty chardonnay and sauvignon blanc to tease your palate and we found a new grape that could be a stand-in for chenin or riesling: "Bukettraube".
In the final analysis I would suggest you try a few of the whites and several of the reds. Probably the most compelling red was the Flagstone '09 Dragon Tree, a blend of cab, shiraz and pinotage, remarkably complex and at the same time an easy drinking and compelling wine. This has to be one of the best red blends I've tasted under $20. There were several others and any mentioned here will not disappoint.
They are big on shiraz and cabernet with merlot playing a supporting role, but all of these were more than drinkable and some were quite good. Of course you would use the whites as aperitifs or with a fish or chicken dish and the reds with grilled meats, cheese or a good cigar, giving the reds a bit of a chill (20 minutes in the fridge). The Mandela line of wines is new to the US and seems to be worth a look along with anything from Fairview or the Flagstaff line.
South African wines are honest wines at honest prices, but who knows as the excitement builds? Now is the time to explore and familiarize yourself with what they have to offer. Good deals abound!
We have suggested a few selections, but let us know what you think.
South African Wine Review
Whites, Rosé & Sparkling:
Graham Beck NV Brut
****
A Special Occasion Wine
$18
Mulderbosch '12 Rosé
****
Very Tasty Pink
$10
Fleur de Cap '11 Chardonnay
****
Lightly Oaked Chard
$11
Doug Green '12 Sauvignon Blanc
****
Nice Crisp White
$10
Royal '12 Old Vines Steen
****
Our Favorite Chenin Blanc
$12
House of Mandela '13 Chenin Blanc
***1/2
Another Interesting Wine
$12
Cederberg '12 "Bukettraube"
****
A Stand in for Chenin or Riesling
$15
Man Vintners '12 Chenin Blanc
***1/2
Another Nice Chenin and Best Buy
$10
Reds and Blends:
Flagstone '09 Dragon Tree
****
Our Top Rated Red Blend
$17
Ernie Els '11 "Big Easy"
****
A Big Bold Blend
$18
Graham Beck '11 Game Reserve
****
Another Pleasant Blend
$17
Robertson '10 Shiraz
****
Very Drinkable Shiraz and a Best Buy
$11
Graham Beck '09 Railroad Red
****
Interesting Blend, Good Value
$14
Seven Sisters '12 Dawn
****
A Pinotage/Shiraz Blend
$12
Fairview '08 Shiraz
***1/2
Another Favorite
$14
House of Mandela '12 Pinotage
*** 1/2
Good Value Here
$12
Our four-star rating system and how it might compare to the WS 100-point scale:
* Decent (80-83)
** Good (86-87)
*** Very Good (87-89)
**** Excellent (90+)

All ratings are only the opinions of our tasters and not meant to offend your personal favorites.
September 2013
To contact Richard Fadeley, write him at webwineman@hotmail.com