<! - Page Contents Begin Here - >
It's Time to Cool Things Down
© by Richard Fadeley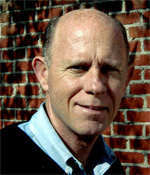 Summer is upon us! And for the next four or five months we will have the perfect excuse to explore the world of dry rosé wine.
To provide a little guidance, we arranged a tasting to make this process easier for you.
These wines (at least the ones that are fit to drink) are fairly new to the wine world. But rosé wine was what was mainly produced when the early Romans were making wine. It was safer to drink than the water, and when you don't allow much skin contact, what you get is a rosé. Time passes and we learn how to make compelling red wines with extended skin contact, barrel aging, malolactic fermentation, etc. and voila, you have modern red wine making techniques. So we forgot about rosé wine for a while, but now it has come roaring back, made it a dry style, with red grapes, this oenological tap-dance has firmly established itself as the "Crown Prince" of summer and summertime food pairings. For sure white wines aren't going anywhere, but we do find the French drinking more rosé than white wines these days, and for good reason. If these "pink" wines are new to you, drop your guard and enjoy one of these avant-garde wines. If you are already a fan here are a few that we think you will enjoy.
We bagged up 22 rosés from all over and tasted them blind, with food, to give you an insiders look at what is out there. This, by no means was a comprehensive tasting, but a good sampling, and I will say that most all of our wines were above average. We have listed the top twelve to provide a little insight into this style.
Rosés are some of the most food friendly wines out there, and we certainly think of them for picnics and tailgating, so we prepared a tasting table with typical food, fried chicken, pimento cheese sandwiches, deviled eggs, and pulled pork bar-be-que. We also served dips, hummus and homemade guacamole. Store bought tiramasu made a nice dessert, The wines were seamless with the diverse fare. Nothing goes better with a mixed shuffle of food like this than maybe a sparkler, and here again a rosé would be advisable, so we took the opportunity to take a peak at a few rosé sparklers, and again, not disappointed. We served our top scoring Domaine Carneros Rosé (Cuveé de la Pompadour) with a spicy salmon cake, the others with deviled crab, shrimp and smoked salmon. All were perfect with the wines.
As you might expect, the French garnered the most slots, but there were some pleasant surprises, like our top rated wine, the '09 Starmont Rosé of Cabernet from Napa (available on closeout at a deep discount at Morganelli's, a local wine store). But there were plenty of others at attractive prices, several below $10. So, with all the shops in town bringing out their latest "fashion show" of pink wine, it would behoove you to get in there and get your allocation. This should be at least a "mixed case" buy that you can enjoy over the summer. You will get the best prices that way and assure availability. Football season is not far away and a rosé or two will never disappoint. You will definitely make a fashion statement with your jewel-like ruby or salmon tinted wine with the typical tailgate spread. Everyone will want to know (and want a taste of) what you are drinking, so bring an extra bottle. And maybe a sparkler if we get lucky on the gridiron.
The New York Times recently proclaimed rosés to be the trendy pour for warmer weather, so get busy and brush-up on your "pinks" and make a fashion statement at your next cookout or football game. Our favorites should give you a good place to start, but get busy, as these wines seem to vanish when cool weather arrives. Drink these wine over the next year, they don't age. Let us hear from you about your favorite rosé and what you like with it.
Summer 2011 Wine Review
Recommended Sparklers:
Domaine Carnaros NV Rosé, CdP
****1/2
Our Top Rosé
California
$ 29
Lucien-Albrecht Crément d'Alsace
****
A Longtime Favorite!
France
$ 19.99
Alfred Metz Crémant d'Alsace
***1/2
A Best Buy!
France
$ 14.99
Scharffenberger NV Rosé
***
Crisp and Dry!
California
$ 22.99
Recommended Rosés:
Starmont '09 Rosé of Cabernet
****1/2
Our Top Pink!
California
$ 12.99
Cabernet de Saumur La Cabriole
****1/2
Previous Winner!
France
$ 9.99
Domaine Guy Mousset '10 Rosé
****1/2
Another Best Buy!
France
$ 9.99
Santi '09 Infinito Rosé
****
Nice Italian Blend
Italy
$ 11.99
Domaine de Campuget '10 Rosé
****
Another Best Buy!
France
$ 9.99
Charles & Charles '10 Rosé
****
Good Value Here!
Washington
$ 12.99
Domaine de Jarras '10 Rosé
****
Another Favorite!
France
---
Saintsbury '10 Vincent Vin Gris
****
Personal Favorite
California
$ 14.99
Billette '10 Rosé, Provence
****
A Bacchus Selection!
France
$ 13.99
Banfi '10 Cantine Rosé,
****
Best Value, My Fave!
Italy
$ 8.99
Prieure de Montezarques, '10 Tavel
****
Another Best Buy!
France
$ 24.99
Foley & Johnson '10 Santa Ynez Valley
****
Another Winner!
California
$ 17.99
Our four-star rating system and how it might compare to the WS 100-point scale:
* Decent (80-83)
** Good (86-87)
*** Very Good (87-89
**** Excellent (90+)

All ratings are only the opinions of our tasters and not meant to offend your personal favorites.
June 2011
To contact Richard Fadeley, write him at webwineman@hotmail.com