<! - Page Contents Begin Here - >
Sauvignon Blanc: Break Out the Beach Balls!
© by Richard Fadeley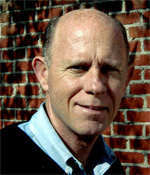 Here comes summertime and some of the best food and kickback opportunities of the year. So we thought we would take a look at one of the most food friendly wines going with our monthly blind tasting and maybe make a few suggestions for your next get-together. Of course we are talking about our favorite pool-side quaff, Sauvignon Blanc, wine's counterpart to "fresh-squeezed" lemonade.
A real "slap-in-the-face" refresher, Sauvignon can work as an apéritif or alongside a wide variety of foods. This grape is grown throughout the world, from New Zealand, with their tart citrus flavors, to the more elegant white Bordeaux often blended with Semillon and the distinctive Loire Valley wines of Sancerre and Poully Fumé. But California, Chile, South Africa, Spain and Italy are all making very good examples.
To show how versatile this variety can be just take a look at our tasting table. For appetizers we served several types of goat cheese (chèvre), olives (ripe and green), fried sausage (southern style paté), steamed asparagus, celery (with pimento cheese), apples, fresh garden salad, a corn/tomato/feta toss, and a roasted red pepper hummus. Capping things off with tuna and chicken salads with an assortment of breads. We went back and forth between the 16 wines and this culinary menagerie trying to bring some order to these refreshing wines.
For the most part our tasters could find little statistical difference among our top 12 wines, with the top wines barely nosing out the challengers. This was a blind tasting - all wines concealed in brown bags - which eliminates all pretense and gives each entrant an honest assessment without any preconceived notions.
Apparently New Zealand is "tuned in" to quality wine production taking six out of twelve places in this tasting, from a region fairly new to wine production but turning heads never-the-less. The top rated Nobilo hails from Marlborough as do the other NZ's. This stronghold for SB, on the north end of the South Island, seems to have just what it takes to make classy Sauvignon.
California does a nice job with this grape as well. As you noticed, we served goat cheese with these wines, as it is the perfect foil for Sauvignon Blanc and one of the all time classic pairings. Good chèvre is available in most grocery stores though specialty shops and delis will have more eclectic offerings. It can be plain, herb flavored, or even covered with ash. Don't miss this combination. Oysters are another pairing not to be overlooked, so make sure you have a few bottles of SB for you next oyster roast.
These wines are easy to buy; you have a better chance of getting a good one-even with your eyes closed-than with any other varietal. And it's hard to find a Sauvignon for over $15. Super-high-end Bordeaux can be $30-$40, but even that is on the low end of premium pricing.
We found a good value in a Sancerre ($14.99) which is probably the most recognizable wine-producing region for Sauvignon Blanc in France, along with Pouilly-Fumé, in the upper Loire valley where world class Sauvignon reigns supreme. And Chile, as in the past, weighs in with a "Best Buy" in the Casa Lapostolle. Chile seems to offer real value in a lot of their wines as they strive for recognition.
If you are new to Sauvignon Blanc, try one or two of these lip smackers by the pool or for your next picnic. We would like to hear about your favorite SB and what you like to serve with it. We welcome your questions and comments. Send E-mail to allsteel@msn.com. Enjoy!
Free Times Sauvignon Blanc Review
Nobilo, '03 Marlborough *** Best of Tasting New Zealand $8.99
Matua Valley, '03 Marlborough *** Another Favorite New Zealand $9.99
Rancho Zabaco, '02 Dancing Bull *** Pleasant Surprise! California $9.99
The Crossings, '01 Catherine's Run *** Single Vineyard New Zealand $14.99
Kendall-Jackson, '02 Vintner's Reserve *** Best Buy California $8.99
Salmon, '02 Sancere *** A Personal Favorite France $14.99
Casa Lapostolle, '03 *** A Best Buy Chile $9.99
Dyed-in-the-Wool, Marlborough, '02 *** WS 90 Points New Zealand $9.99
Villa Maria, '02 Private Bin *** New Zealand $11.99
Chateau Coucheroy, '02 Pessac-Leognan *** Nice White Bordeaux France $9.99
Murphy-Goode, '01 Fume Blanc *** California $9.99
Covey Run, '02, *** A Best Buy Washington $9.99
Our four-star rating system and how it might compare to the Wine Spectator 100-point scale:
* Good (80-84)
** Very Good (85-88)
*** Very Good/Excellent (88-90)
**** Excellent (91+)

April 2004
To contact Richard Fadeley, write him at webwineman@hotmail.com