<! - Page Contents Begin Here - >
Shiraz-a-ma-Taz
© by Richard Fadeley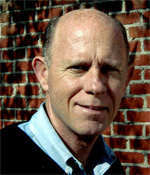 In the dead of winter, and the days only beginning to lengthen, a wine lover's fancy often turns to heavyweight red wines. And we are no different as we assembled friends, food and more than 20 Syrah and Shiraz wines from all over the world for our monthly tasting. Syrah - or Shiraz as it is known Down Under - is the ancient grape of Persia that found its way to France during Roman times. There it is the soloist red grape in the Northern Rhone Valley: Hermitage, Crozes-Hermitage, St. Joseph and Cote-Rotie.
It made its way to Australia in the early 1800's and is now their most widely planted red variety. It will show up in many different blends, usually along with its stablemate Grenache, and is one of the supporting actors in Southern Rhone blends.
If Sauvignon Blanc is a summer wine, Syrah is its seasonal counterpart. This bold assertive red is warming and lush with raspberries layered on top of black fruit, pepper, spice and even more fruit.
Based on the wines for this tasting this vine has a propensity for most areas as we had bottlings from South Africa, Australia, Argentina, Chile, France, Italy, California, Washington and a stowaway from North Carolina. And while these are quaffable wines they really came into their own when we brought out the food. Hearty winter fare screams for Syrah! We served grilled tenderloin along with pecan-topped sweet potatoes, roasted vegetables, salad and homemade bread. A cheese course consisted of aged Gouda, aged Australian cheddar, the Roaring Forties Australian blue, and several pates. Our favorite chocolate torte was a tasty finale and paired well with these robust reds. We could just as easily have served a beef stew, burgers, venison or any grilled meat.
Our top wine was surprisingly from the Biltmore winery in Asheville, NC. It seems that the "largest home in America" has an extensive winery, producing a full line of wines with locally grown and imported fruit. For our first-place wine, the fruit was grown in Sonoma County, California from the '03 and '04 vintages and makes a very user friendly Syrah. This is an "American" wine and when one is so labeled you are not allowed to put a vintage on the label, so this Syrah is non-vintage for more than one reason. Interesting, and good wine to boot!
Snoqualmie showed us a beautiful Syrah with moderate alcohol with their '03 Reserve. The alcohol levels can be a problem with these fruit-forward wines but most of these carried the alcohol nicely. That is something to be aware of when drinking any wine, the alcohol levels can vary dramatically, with 13% being a happy medium. Santa Barbara reminds us of their high profile reputation with a winning Syrah from Taz. But Washington won the numbers game as a precursor to what it will become in US wine production. They have an ideal climate - no problem with too much rain, with only 6"-8" per year, requiring drip irrigation - with good latitude and soils. I personally liked the French renditions with their more subtle flavors, but most of our tasters preferred the more fruit-forward new world styles like the Marquis Phillips Shiraz which showed well with its big bold '04 edition. There was little separation among our top 12 winners, which gives you a good chance of finding good Syrah at reasonable prices.
If you are tired of wimpy Merlots or bored with the Pinot Noir craze, grab a bottle of Shiraz or Syrah and hang on until spring gets here, but it will help to have some food handy.
You may request any of our menus from our tastings via e-mail, and let us hear from you about your favorite wines and what other wines would like to see us review. Send E-mail to webwineman@hotmail.com. Enjoy!
Free Times Syrah/Shiraz Review
Biltmore Estates Syrah *** Best of Tasting NC/CA $13.99
Snoqualmie '03 Reserve Syrah *** Another Star! Washington $24.99
Taz '02 Santa Barbara Syrah *** Plush & Full-Bodied California $23.99
Gordon Brothers '01 Columbia Valley *** Another Star! Washington $19.99
Marquis Phillips '04 Shiraz *** Big Wine Australia $15.99
Columbia Crest '01 Grand Estates *** A Best Buy! Washington $11.49
Hogue '01 Genesis *** Another NW Star Washington $14.99
Hess Select '03 Syrah *** Reliable Winery California $13.99
Fairview '02 Shiraz *** Good Value Here South Africa $11.99
Thorn-Clarke '03 Terra Barossa Shiraz *** High Profile Winery Australia $14.99
Nine Stones '03 Barossa *** Another Big Wine Australia $11.99
le jaja de jau *** A Steal! Best Buy! France $7.99

Our four-star rating system and how it might compare to the Wine Spectator 100-point scale:
* Good (80-84)
** Very Good (85-88)
*** Very Good/Excellent (88-90)
**** Excellent (91+)

February 2006
To contact Richard Fadeley, write him at webwineman@hotmail.com