<! - Page Contents Begin Here - >
Are You Ready for Something Nouveau?
© by Richard Fadeley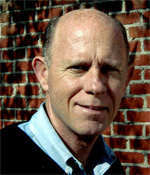 You probably knew that now is the season for Beaujolais Nouveau, or new Beaujolais, but did you know that it is precisely the third Thursday in November each year that this "new-wine" is released worldwide? Flown by plane to markets everywhere to celebrate the current vintage that was hanging on vines only a few months ago.
Make sure you try one or two bottles on Turkey Day, and maybe over the next few months. A "rule of thumb" is to drink this young wine by Easter weekend, as it is not to be taken seriously, but simply enjoyed, as a celebration of food, friends, and fermentation!
From the south-central part of France, Nouveau only accounts for about one third of Beaujolais production. The more serious side of this Burgundy appellation producing some of the most user-friendly wines in France, all from the Gamay grape, which is grown with distinction only in this southernmost region of Burgundy. It seems to be the granite soils of these rolling hills that provide ideal conditions for Gamay.
Of course these are reds – though we did find a delicious Chardonnay, from limestone – but they can be some real "no-non-sense" wines, not requiring bottle aging, decanting, and they even like a little chill, which makes them perfect for tail-gating. They seem to handsomely acquaint themselves with a wide arrange of food, much like their northerly cousins (Pinot Noir), but with much less fuss and disappointment. The Nouveau is fun wine to celebrate the vintage. "We made wine, it was a (very) good year!"
But now on to more full-filling wines from this picturesque region, just north of Lyon. Basic Beaujolais of a step-up from the Nouveau, but it gets interesting when you get into the Beaujolais-Villages appellation. Located in the northern part of Beaujolais where 39 villages are allowed to label their wines Beaujolais-Village. And then there are the crus, ten villages that are allowed to put only their name on the label, such as Brouilly, Morgon, or Moulin-A-Vent. Perhaps a Saint Amour for Valentines, or a Julienas with Thanksgiving dinner. Where else can you explore the top wines of a region for under $20?Beaujolais-Villages makes a nice party wine that pairs nicely with ham, burgers, pizza and chicken. We served our favorite crus with baked salmon, and drank a B-V with an "all-the-way" pizza.
The signature wine from Alsace would have to be their Riesling, and here they have to compete with their next-door neighbors in Germany, but they do it with a drier style and bracing acidity that promotes these wines as the drink of choice with Asian cuisine and seafood. We enjoyed our Rieslings with red snapper with a tomato salsa from one of our last tomatoes of the year, though it can be absolutely otherworldly with sautéed scallops. These wines can age gracefully over 5-10 years, picking up a honeyed character that is worth the wait.
So enjoy a bottle of the Nouveau, then get familiar with the more serious side of Beaujolais and expand your wine horizons. We've provided a few good examples of these wines, and if you find smaller producers they are worth a try, and if you see a white Beaujolais, give it a try. You won't be disappointed.
Beaujolais-Villages
Louis Jadot '07 Beaujolais-Villages **** Delightful! A Best Buy! France $10
Duboeuf '08 Beaujolais-Villages *** Good All Around Wine! France $9
Louis Latour '08 Beaujolais-Villages *** Another Nice Effort! France $13
The Beaujolais Crus
JC Debeaune '07 Fleurie, Cht. Des Déduits **** Spicy & Floral! France $18
Henry Fessy '07 Brouilly **** Another Star! France $16
Deboeuf '08 Brouilly, Dom. de Grand Croix **** A Winner! France $ 15
J.C. Debeaune '07 MaV,Dom. des Michelons **** Very Burgundian! France $18
Deboeuf '08 Fleurie Cht. de Capitans **** More than Pleasant! France $18
Deboeuf '08 Moulin-A-Vent (Flower Label) **** Good Value Here! Alsace $15
Beaujolais-Villages Blanc
Chateaux Des Jacques Clos de Loyse **** What a Surprise! France $25
Our four-star rating system and how it might compare to the Wine Spectator 100-point scale:
* Good (80-84)
** Very Good (85-88)
*** Very Good/Excellent (88-90)
**** Excellent (91+)

All ratings are only the opinions of our tasters and not meant to offend your personal favorites.
November 2009
To contact Richard Fadeley, write him at webwineman@hotmail.com