<! - Page Contents Begin Here - >
Spain does Sparkling
© by Richard Fadeley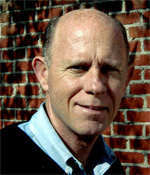 What Spain has done with Cava—their version of sparkling wine or Champagne—is truly one of the great competitive efforts in the wine world, and one of the least heralded! When the head of Codordui, Don José Raventos, traveled through Spain in the late 1860's he was not only impressed with the efforts of the Champenoise, but he set out to produce a local sparkler in the same style, but with local grapes (Parellada, Xarel-lo, and Macabeo). Thus was born "Cava", Spain's answer to France's famous bubbly. And they made their contribution to the wine world with the invention of the gyropallat, which mechanized the labor-intensive process of producing the secondary fermentation in the bottle that makes these wines so special.
Enough technical info! The resulting sparklers, produced via "Method Champenois", though aged only 9 months on the lies, are a credible lookalike to Champagne. But they're an incredible 60-75 percent cheaper.
You've all seen that "black bottle" on the shelf and wondered if it was worth a gamble? Well, we hope this tasting will convince you that this is more than a chance, but a sure thing, for a wide variety of foods and just an everyday celebration of "whatever". We all could use a little of that, as we persevere through out own "great recession".
A blind tasting would be the best way to assay these wines, so we went to work and did just that with brut and rosé Cava, along with appropriate food. We served smoked salmon, marinated shrimp, assorted shushi, manchego cheese with quince paste, papaya and mango sprears, quinoa salad and ham biscuits, merely scratching the surface of what would go with these food friendly wines. With the rosés we served the same food, along with desserts (chocolate mousse with whipped cream and raspberries and Key lime pie). The Key lime pie was particularly memorable with the brut Cava, while the chocolate was best with the rose'.
We've always been a fan of bubblies, they are fun wines and can transform any event into a special occasion—think Wednesday night sushi—but these Cavas really make sparklers a week-night treat. Just checkout the prices on our recommended wines. It is hard to find a Cava over $10. And they are "no-non-sense" wines in that they don't require any aging, certainly no decant, super food friendly, and will fit most any budget.
You are starting to see more traditional Chardonnay and Pinot Noir grapes being used in better Cava, but the local grapes are what make Cava what it is! A special salute to what one region can do as a tribute to the world's foremost sparkling wine. California has also done a credible job with their sparkling wines, but you won't find any "Method Champenoise" from there for much under $14 (California uses traditional Chardonnay and Pinot Noir grapes).
Cava is an excellent choice for weddings, large parties, week-night dinners, aperitifs, "Champagne toasts", or making sparkling cocktails like Bellini's, or Kir Royal, and the rosés are very nice with dessert. Don't hesitate to include a sparkling wine with your meal, as a palate cleanser, if nothing else, or with dessert. All of these locally available sparklers were tasted blind along with the food, and all are refreshing and lively and would highlight your party or just for fun with friends.
Next time you are in your local wine store pick up one or two of these sparkling wines, fix an appetizer or some sushi and it just might change your outlook on life! Let us hear about your favorite sparkler and what you like with it. You can write to us - we enjoying hearing from you.
Brut Cava
Cristalino Brut Cava **** Best of Tasting! Spain $10.00
Rene Barbier Mediterraneo Cava **** Personal Fav & A Star! Spain $8.00
Freixenet Cordon Negro Brut **** Familiar Black Bottle! Spain $ 8.00
Marquis de Monistral **** Personal Favorite! Spain $9.99
Freixenet Carta Nevada **** Another Favorite! Spain $11.00
Codornui Original Brut **** Bravo, Great Effort! Spain $8.99
Rosè Brut
Marquis de Monistral Rosè Cava *** Classically Styled Rosè ! Spain $9.99
Codornui Pinot Noir Brut Cava *** Pinot Noir w/Bubbles! Spain $14.00
Freixenet Cordon Rosota Brut *** My Best Buy!! Spain $9.99
Our four-star rating system and how it might compare to the Wine Spectator 100-point scale:
* Good (80-84)
** Very Good (85-88)
*** Very Good/Excellent (88-90)
**** Excellent (91+)

All ratings are only the opinions of our tasters and not meant to offend your personal favorites.
July 2009
To contact Richard Fadeley, write him at webwineman@hotmail.com