For A Summer's Red, We Taste Pinot Noir
© by Richard Fadeley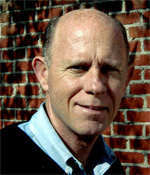 Summer is a tough time for lovers of big red wines. There's something about a big cabernet or even a more elegant merlot that is a bit of a turn-off, particularly before a meal, or even with it. I like a bit lighter wine when it is warm outside, and we've got a few suggestions that make these "famously hot" months a little more endurable. You might want to calibrate your palate for a lighter red, like maybe a gamay from Beaujolais, or a Loire valley cabernet franc; both will like a little chill and will work with lots of different food.
But my favorite red wine for warmer weather is a good pinot noir. They also like a little chill (60°-63°, or about 30 minutes in the fridge). This lighter style may take a little getting used to, but it is worth the effort. It will give you a broader spectrum from which to choose a dinner wine, and with a little more aplomb. They tend to pair well with the choices we make during summer months; favorites like chicken, grilled vegetables, portabellos, pork, salmon, and veal.
Pinot noir has garnered attention with recent movie exposure and gotten a much-needed bump in sales, with pinot noir grape prices easing ahead of chardonnay, but still far behind the more familiar cabernet and merlot. Nevertheless this grape has established a foothold in the US, and nowhere more than in Oregon. Willamette Valley is Ground Central for a concerted effort to produce world-class pinot, and they are getting closer every year. They host the International Pinot Noir Celebration in McMinnville, Oregon at the end of this month, a three-day fete to pinot noir.
No better way to check the temperature of these wines than a blind tasting. So we ordered up a cross-section of pinots from around the world, made appropriate food assignments, got score sheets, and we are in business!
We bagged up 19 pinots from the US, France, Australia, New Zealand, and Chile and tasted our way through the wines, along with cheese and bread. We found, for the most part, very pleasant wines, and noted a welcomed trend toward lower alcohol, making the wines more enjoyable with food, and easier to drink. There were still some holdouts, but we couldn't help but notice a break in the rush to astronomical alcohol levels. Pay attention: you will be surprised at the variations in published ABV's – they are allowed a variation of 1.5%. I tend to look for wines around 13 percent to 13.5 percent and find them not only more food friendly but easier to drink.
After the technical tasting we enjoyed the wines with a typical summer southern meal of grilled pork tenderloin with a cherry-plum sauce, baby lima beans, fresh-picked corn, new potatoes, a green salad, and crusty bread. The pinots were very much "at home" with this simple meal. A homemade blackberry cobbler was a nice way to finish off the wines.
In a tasting that has, in the past, been dominated by California wines, we found good wines from not only up and coming Oregon, but also Chile, New Zealand, and Australia. For some reason the two French wines we had didn't appeal to our tasters, though they were both in my top picks. To each his own!
Try a few of these pinots, with appropriate fare, and see what you think. There are quite a few to choose from but these will give you a baseline. Just remember to give them a slight chill and maybe a decant, too, then back into the bottle. You will definitely feel more at ease during the warm weather with a food friendly pinot to accompany your meal. Let us know what you think.
Our Favorite Pinots
| | | | |
| --- | --- | --- | --- |
| La Crema '09 Sonoma Coast | **** Tied for First, Best Buy | California | $ 14.99 |
| Villa Maria '08 Marlborough, CS | **** Tied for First, Nice | New Zealand | $ 26.99 |
| Colstream Hills '08 Yarra Valley | **** Also Tied for First! | Australia | $ 22.99 |
| Migration '08 Anderson Valley | **** Crisp and Dry! | California | $ 22.99 |
| Cono Sur '10 Chile | **** A Best Buy!! | Chile | $ 8.99 |
| SCV '09 Sonoma Coast, Firestone | **** A Personal Fave! | California | $ 36.99 |
| Coelho '08 Willamette Valley | ***1/2 Personal Favorite! | Oregon | $ 34.99 |
| Bethel Heights '08 Willamette Valley | ***1/2 Another Best Buy! | Oregon | $ 22.99 |
| Morgan '08 Twelve Clones, SLH | ***1/2 Nice Italian Blend | California | $ 23.99 |
| MacRostie '07 | ***1/2 Another Best Buy! | California | $ 23.99 |
| Veranda '08 Bio Bio Valley | ***1/2 Good Value Here! | Chile | $ 17.99 |
| Panther Creek '07 Verde Vineyards | ***1/2 Another Favorite! | Oregon | $ 36.99 |
| Willamette Valley Vineyards '10 WC | ***1/2 A Personal Fave! | Oregon | $ 16.99 |
Our four-star rating system and how it might compare to the WS 100-point scale:
* Decent (80-83)
** Good (86-87)
*** Very Good (87-89
**** Excellent (90+)

All ratings are only the opinions of our tasters and not meant to offend your personal favorites.
August 2011
To contact Richard Fadeley, write him at webwineman@hotmail.com