<! - Page Contents Begin Here - >
Drinking the Blood of Jove!
© by Richard Fadeley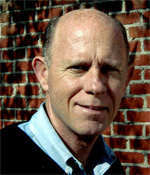 It is an interesting phenomenon in the wine world when a particular grape seems to flourish in one region of the world, whether it is due to climate, latitude, soil, or altitude, but it does seem to occur quite frequently. You have Gamay in Beaujolais, Temprenillo in north central Spain, Zinfandel in California, Nebbiolo in Italy's Piedmonte, and then, the focus of this tasting, Sangiovese, that finds its footing in central Italy, primarily in Tuscany.
It is the most widely vinified grape in Italy (just about the only place that it is grown with distinction) and either as a varietal wine, or more commonly, part of a blend. The name translates as "blood of Jove" and one look will explain the analogy. Not the darkest of wines — Petit Syrah or Zinfandel would be darker — it does have a sanguine resemblance to our life-giving juices. But here it is not only earthy, but very "fulfilling", with black fruit, round mouth-feel, and a nice little cherry "bite" at the end, that seems to say "take just one more bite of that pizza, or one more taste of the lasagna! And could it be from a more "food-centric" region than Tuscany? Here they celebrate food like we celebrate barbecue, with slow-cooked pasta dishes, game and rich sauces.
The central part of Tuscany, between Florence and Siena, is home base to the Sangiovese grape, the primary ingredient in Chianti and Vino Nobile di Montepulciano, as well as the only grape allowed in Brunello and the dominant blend in the popular IGT Toscana's (Super-Tuscans) that Tuscany is increasingly famous for. Nestled in the heart of Tuscany's hilly countryside is the Chianti Classico DOCG region — the black rooster on the capsule is their symbol — and the best Chianti is usually produced here.
All Chianti qualifies for a DOCG rating though quality varies widely, however in this tasting we did find some basic wines that were quite good. Under the recently revised rules regulating the production of Chianti, Sangiovese must make up at least 80 percent (up to 100 percent) of the blend with no more than 15 percent being non-traditional grapes such as Cabernet Sauvignon or Merlot. Canaiolo is also allowed though its use is declining, and though a few white grapes are permitted, you will rarely see them. Quality wines not conforming to these rules are often called "Super Tuscans" or IGT's and have a deservedly good reputation. And while many could qualify as Chianti under the new regulations, most prefer to maintain the mystique associated with the bold moniker of "Super Tuscan". You will see them labeled as "Toscana IGT", and they can cost anywhere from $10 to upwards of $125.
For this blind tasting we assembled typical Italian foods to accompany these medium bodied wines, with the tasting table complete with olives, carrots, celery, hummus, cheeses, pâtés, bread, bruschetta with artichokes and roasted red and green peppers with Italian sausage. Delightful, and perfect with the wines.
We tasted our way through 19 wines, looking for complexity, depth, earthiness and a pleasantly long finish. All of the entries were nice wines, but several really stood out with the qualities that make a wine memorable. As we tasted the wines with the food they really came into their own. I am finishing off one of my favorites as I write this article, along with pasta with marinara sauce.
Our top wines did seem to be from proven regions, but one of the best values came from outside of Tuscany, where you will find good everyday Sangiovese. If you haven't tried Sangiovese based wines lately you should pick up a few of these and see for yourself what happened when they changed the rules and took them out of the old straw covered bottles (fiaschi) in favor of the high shouldered Bordeaux package. Prices won't get any cheaper; so if you are thinking pasta, think Chianti. Now is a good time to experiment.
Chianti Review
Villa Antinori '05 Toscana, IGT **** Best of Tasting Tuscany $18.99
Querceto '07 L'Aura Chianti Classico **** Beautiful Wine Tuscany $20.99
Rocca delle Macie '05 Sant'Alfonso CC **** On Point Chianti Tuscany $22.99
Falesco '07 Sangiovese, Umbria **** A Best Buy! Umbria $10.99
Poliziano '05 Vino Nobile di Montepulciano **** Delicious! Tuscany $29.99
Banfi '07 Chianti Classico **** A Group Favorite Tuscany $17.99
Poliziano '07 Rosso di Montipulciano **** A Good Match w/Food Tuscany $15.99
Conti Contini '06 Toscana, IGT **** Another Best Buy Tuscany $9.99
Antinori '08 Santa Cristina, IGT *** A Personal Favorite Tuscany $10.99
Tiziano '07 Chianti *** A Best Buy! Tuscany $9.99
Stellina di Notte '07 Chianti *** Good Value Here! Tuscany $10.99
Ducarosso '05 Chianti Reserva *** Personal Favorite! Tuscany $14.99
Our four-star rating system and how it might compare to the Wine Spectator 100-point scale:
* Good (80-84)
** Very Good (85-88)
*** Very Good/Excellent (88-90)
**** Excellent (91+)

All ratings are only the opinions of our tasters and not meant to offend your personal favorites.
April 2010
To contact Richard Fadeley, write him at webwineman@hotmail.com