The Enchanting Grape
© by Richard Fadeley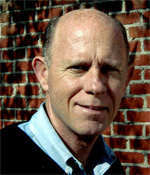 In the dead of winter, and the days finally beginning to lengthen, my go-to wine is often a brooding and earthy syrah, usually from France's northern Rhône. Syrah – or shiraz as it is known "down-under" – is the ancient grape of Persia that found its way to France during Roman times. Here it is the only red grape allowed in the northern Rhône (Hermitage, Crozes-Hermitage, St. Joseph and Cote-Rotie, and Cornas).
Syrah made its way to Australia in the early 1800's and is now their most widely planted red variety. You will often see it in many different blends, usually along with its stable-mates grenache and mouvedre, and is used extensively in southern Rhône blends. You will also find it as part of the mix in most of the rosés from southern France
If sauvignon blanc is a summer wine, syrah is its seasonal counterpart. Bold and assertive, these reds are lush and warming with raspberries layered on top of black fruit, white pepper, roasted coffee, spice and even more fruit.
The only hit on these wines is that they can often be a bit high in alcohol. Our favorite wines tended to be 14% or below while several were 14.5% or higher. Though still juicy and balanced, if you are sensitive to alcohol you would want to be mindful of the ABV. That said, these were awfully tasty wines. Wines that would be right at home beside grilled meats, pork tenderloin, or burgers. One of my favorite pairings is Cabot's Seriously Sharp White Cheddar, just seems to pair with the wine, and might be interesting sliced on top of grilled burgers.
California is doing a good job with this grape and it seems to be a perfect fit for the cooler climate in Washington State where it is becoming a major player. While it has clearly become Australia's signature grape, South Africa has also has embraced syrah, calling it shiraz, just like their "south-of-the-equator" cousins. Though we did not have any in this tasting, they would be worth a look.
And while these are quaffable wines they really "find their sea-legs" when you bring out the food. Hearty winter fare screams for Syrah! Stews and rich soups will both snuggle up to this rich red wine. We finished our wines with pork tenderloin sandwiches, bakes beans and potato salad. Tasty! And of course they would be perfect with any sort of chocolate dessert, the darker the better.
While California won the numbers game this time, Washington cannot be far behind, though California has six times as much land planted to syrah as the "Evergreen State". Washington has plenty of untapped potential, with an ideal climate--no problem with too much rain, with only 6"-8" per year, requiring drip irrigation – and a perfect cool latitude and soils.
If you haven't tried syrah/shiraz lately you owe it to yourself to sample a few of these delicious wines. They can be a stand-in for merlot or cabernet (while pinot noir will be a touch more nuanced and almost in a class by itself, pairing better with chicken, or salmon). Grab a bottle of shiraz or syrah and hang on until spring gets here, but it will help to have some food handy.
You may request any of our menus from our tastings via e-mail, and let us hear from you about your favorite wines and what other wines would like to see us review.
Syrah / Shiraz Wine Review
| | | | | |
| --- | --- | --- | --- | --- |
| Gordon Estates '10 Syrah | **** | Best of Tasting | Washington | $20 |
| Red Knot '12 McLaren Vale Syrah | **** | Another Star/Best Buy! | Australia | $14 |
| Cave de Tain '10 Haut du Fief, C-H | **** | A Personal Favorite! | France | $27 |
| Napa Cellars '10 Dyer Vineyard | **** | Another Star! | California | $16 |
| Penfolds '11 Thomas Hylands Shiraz | **** | Big Wine! | Australia | $16 |
| Wind Gap '10 Sonoma Coast Syrah | **** | Understated Elegance! | California | $36 |
| Dom. Mucyn '10 Crozes-Hermitage | **** | A Good Choice! | France | $17 |
| Qupé, Central Coast Syrah | **** | Another Big Wine! | California | $15 |
| Shingleback '10 Davey Estate | **** | Another Big Wine! | Australia | $20 |
| Kestrel '09 | ***1/2 | Good Value Here! | Washington | $20 |
| Morgon '10 Santa Lucia Highlands | ***1/2 | A California Star. | California | $17 |
| Fire Block '07 Clare Valley Shiraz | *** | Another Solid Wine. | Australia | $17 |
| Martin Ray '11 "Red" | *** | A Best Buy!! | California | $13 |
Our four-star rating system and how it might compare to the WS 100-point scale:
* Decent (80-83)
** Good (86-87)
*** Very Good (87-89)
**** Excellent (90+)

All ratings are only the opinions of our tasters and not meant to offend your personal favorites.
March 2014
To contact Richard Fadeley, write him at webwineman@hotmail.com