<! - Page Contents Begin Here - >
Hunting for bargains
© by Richard Fadeley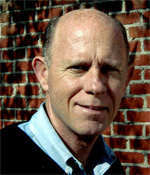 Lower-priced wines seem to be all the rage these days, what with the economy, the middle-east conflicts and escalating prices for basics such as bottled water, gasoline and a Starbucks latté one has little left over for the finer things in life. So off we go! Hunting for bargains, affordable and drinkable, for everyday quaffing and simple meals with a special touch that won't put the touch on your wallet. A good excuse for a wine tasting!
You have probably heard of the $2 wines - "Two Buck Chuck" - in California (they are $4 outside of CA at Trader Joe's). This is the result of overproduction by growers in the Golden State and is only the beginning of a worldwide surplus of good juice, with the resulting pressure to make better and more interesting wines. Let's enjoy it while we can.
We threw together a sampling of cheeses, with fruit and breads, celery, green olives and Spanish peanuts and some assorted wraps to accompany an assortment of both white and red wines. We set a limit of $8 on the whites and $10 on the reds and sparklers, something for everyday enjoyment. At this price level there are a lot of offerings but also a lot of mediocre wines. Labels from South America and South Africa, France, Italy, Spain and Australia occupy most of this market along with a few wines from our West Coast.
Starting with a sparkling wine always seems to perk up your palate and put you in a festive mood. We opened with a South African demi-sec that would work well with a light dessert too. In an upscale restaurant in Italy you would be greeted with a glass of Prosecco and we have recommended a good one for your next Italian-theme dinner party. Then we sampled 16 red and 9 white wines, all blind. We found some pretty decent examples of the most popular wines. To round out this list I included some personal favorites that have impressed me this year, wines that seem to indicate an extra effort by the winemaker and would justifiably cost $12-$18.
Our top scoring red - Vino Borgia - hails from Spain, is made with 100 percent Garnacha (Grenache) and is a deficit busting $7 a bottle and an all-purpose food wine to boot! Should work well with meats, stews, burgers and Mexican fare or on its own. Pepperwood Grove shows us a well-rounded Pinot Noir that would pair nicely with salmon or a chicken dish and does all this for only $8. A surprisingly good Bordeaux - Ducla - from the highly touted 2000 vintage is drinking well right now, and several reds from South America were worth a second look. The Norton Malbec seemed almost Bordeaux-like as it showcased this minor French grape that has found a home in Argentina. A French Merlot - Pierre Jean - comes in at $5 a bottle and is about as close to "Two Buck Chuck" as we will see in these parts.
The large South African co-op KWV offers a nice Steen (as they often call Chenin Blanc) for $7, and we liked both the Camelot and Prosperity Chardonnay from California, as well as a South African Rhone blend - Goats do Roam - and another South African wine, Thorntree Chardonnay. All of these are decent wines, so now you don't have an excuse for not serving a nice wine with you next meal. Be adventuresome and use this wine surplus to experiment with different varieties and regions and let us know about your favorite everyday pour. Send E-mail to webwineman@hotmail.com.
Free Times Wine Values Review
Reds
Vina Borgia, Campo de Borja, '02 *** Best of Tasting/Best Buy Spain $6.99
Pepperwood Grove Pinot Noir, '01 *** Tasty Pinot California $7.99
Ducla Bordeaux Superieur, '00 *** Great Vintage France $9.99
Jindalee Shiraz, '01 *** Bar-B-Que or Burgers Australia $6.79
Pierre Jean Merlot, '02 *** A Best Buy France $4.99
Norton Malbec, '00 *** A Personal Favorite Argentina $9.49
Casillero del Diablo Cabernet, '02 *** Red Meat Match Chile $8.99
Covey Run Cabernet, '00 *** Red Meat or Lamb Washington $7.99
Santa Ema Merlot, '01 *** Vanilla Nose Chile $7.99
MacPherson Shiraz, '02 *** Another Best Buy Australia $5.99
La Vielle Ferme, Cotes de Ventoux Rouge'00 *** Another Best Buy France $6.99
Condesa de Leganza, La Mancha, '99 *** 100% Tempranillo Spain $7.99

Whites
KWV Steen, '02 *** Interesting Chenin Blanc South Africa $7.99
Camelot Chardonnay *** Group Favorite California $6.99
Prosperity Chardonnay *** From Firestone Vineyards California $6.99
Lindemans Bin 65 Chardonnay *** Better than Average Chard Australia $6
J&F Lurton Les Fumées Blanches, *** Crisp & Juicy Sauvignon France $7.99
Bolla Pinot Grigio *** Best Buy, w/Citrus and Pears Italy $6.99

Sparklers
Freixenet Cordon Negro Brut, NV *** Fun Wine/Best Buy Spain $7.99
Zardetto Prosecco Brut *** Great Apéritif Italy $8.99
Seaview Brut *** Aussie Bubbly Australia $9.99

Our four-star rating system and how it might compare to the WS 100 point scale:
* Good (80-84)
** Very Good (85-88)
*** Very Good/Excellent (88-90)
**** Excellent (91+)

All ratings are only opinions of our tasters and not meant to offend your personal favorites.
November 2003
To contact Richard Fadeley, write him at webwineman@hotmail.com