Chardonnay Challenge
© by Richard Fadeley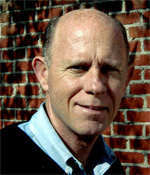 The grape that seems to be at home in every viticultural area, the grape that seems to work well regardless of the latitude, the grape that is the most familiar and easy to pronounce, one of the grapes that is responsible for the world's great sparkling wines, and the one grape that is truly the "winemaker's canvas" is the ever-popular Chardonnay.
Though not the leader - the prolific if relatively unfamiliar Spanish Airén, Italian Trebbiano (Ugni Blanc in France) and Russian Rkatseteli outrank it - Chardonnay is the most widely planted "noble" white-wine grape in the world, and thus fair game for a blind tasting.
We chose 22 examples of Chardonnay from all over, and bagged them up, along with an assortment of cheese (a goat cheese torta, Huntsman, D'Affanois, and Danish Blue), and chicken salad with homemade bread. We even had celery with pimento cheese, olives, almonds, a Vidalia onion dip and a big bowl of steamed mussels, all of which complimented the wines that were tasted blind and scored on a 20-point scale. We uncovered some really nice wines from interesting places and quite a few good values. A screw cap closure embellished one of our top wines (Twin Fin) and is only a preview of what we predict will be a popular closure for many good mid-level wines in the near future. Much more pleasing than artificial corks, convenient, and free from TCA, the compound that is responsible for the "corked" taint that spoils 2%-5% of wines with off aromas and flavors.
Because of the regional climatic differences and the flexibility of this versatile variety the winemaker has the final say as to what goes into the bottle. Oak is a favorite treatment for aging Chardonnay and even here the choices are limitless. A typical blend in Burgundy for instance would be aging 30 percent of the blend in new oak and the balance in 1- or 2-year-old barrels. Some winemakers will employ wood chips to impart oaky flavors, while others will use no oak at all, using only stainless steel and bottle aging. Another variable is the use of malolactic fermentation which again can be employed in all or just part of the final blend. This bacterial fermentation converts malic acid into a softer lactic acid resulting in buttery overtones at the expense of crisp fruitiness.
Enough technical information! Let's talk about the wines. Our top pick was no surprise, being a well-vetted Premier Cru from Chablis. This is the most northern part of Burgundy and here they make the most austere Chardonnay in the world. The price tag was a reasonable $22 for this wine that would pair well with oysters, first course entrees, salads or simply cheese.
Our second-place wine was another clean and crisp effort - almost like a Sauvignon Blanc - from South Africa. We're starting to see classy wines from this fascinating country, with a rich wine tradition, now that they have embraced democracy. And more will surely come.
A new line of wines from California - Twin Fin - is doing a nice job across the board in the sub-$10 price point (even without an animal on the label!) and their Chardonnay was a crowd-pleaser in this tasting. It's nice to see a domestic fighting back against the rising tide of low-cost industrially produced imports. Chile weighed in with another "Best Buy" with the '03 Veramonte.
Our tasters seemed to prefer wines with less oak and nice crisp acidity and California seems to be trending that way. This style is much more food-friendly, and we did taste these wines with food, after all that is what wine is for.
As you can see our list of favorites reads like a "World Atlas of Wine" and shows just how popular this variety is. So the next time you order a "white wine" pay a little attention to what's in the glass: Try a few of these to compare with each other. Questions or comments, you can contact us via E-mail at allsteel@msn.com(editor@free-times.com) and tell us about your favorite Chardonnay.
Free Times Chardonnay Review
Drouhin Chablis '02 1st Cru Vaillons **** Best of Tasting France $21.99
Louisvale '04 Unwooded **** Another Favorite South Africa $14.99
Twin Fin '04 California **** A Best Buy California $8.50
Veramonte '03 **** Another Best Buy Chile $6
Chavy '99 Puligny-Montrachet **** Delicious France $38
St. Francis '03 Sonoma County **** Best Buy/WSJ Fav California $10
Cht. St. Michelle '02 Cold Creek **** An Oaky Delight Washington $20.99
Javillier '02 Bourgogne **** A Personal Favorite France $19.99
J. Lohr '03 Riverside **** Another Best Buy California $9
Catena '03 Mendoza **** Excellent Effort Argentina $18.99
Cambria '03 Katherine's Vineyard *** Oak Lovers' Dream California $15.99
Chartron & Trebuchet '03 Macon-Villages *** A Best Buy France $12.99
Our four-star rating system and how it might compare to the Wine Spectator 100-point scale:
* Good (80-84)
** Very Good (85-88)
*** Very Good/Excellent (88-90)
**** Excellent (91+)

March 2005
To contact Richard Fadeley, write him at allsteel@msn.com
Back to the WebWineMan index page
<!- Page Contents End Here ->