Sparkling Wine Wingding!
© by Richard Fadeley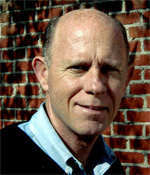 What better way to get in a holiday mood than a Champagne tasting? While you tend to last-minute shopping and food selections we are taking care of business, sorting through a bevy of bottles to find the best of the current crop of sparkling wines for your entertaining.
While we enjoy sparklers throughout the year, it seems most appropriate to feature them during the holidays, and you will be presented with a huge selection - all good, some better - at your local wine store! The real stuff is only produced in the Champagne region of France, but good bubblies are made in most wine producing areas using similar techniques to those the French employ (méthode champenoise or traditional method).
Champagne is located 90 miles northeast of Paris, and here in the northernmost vineyards in France the grapes struggle to mature, yielding unripe fruit with higher acids which happens to be what the doctor ordered for distinctive sparkling wine. Most Champagne is blended with still wines from different vineyards and years to produce a consistent house style (NV or Non-Vintage). While Champagne is made only with only with Chardonnay, Pinot Noir and Pinot Meunier grapes, producers in other countries and regions often use different varieties (our top wine this year is made with Riesling, Pinot Gris, and Pinot Auxerrois).
We reviewed wines from the U.S., France, Italy and Spain for this tasting. These countries account for most sparkling wines, and the U.S. is apparently holding its own when it comes to the bubbly, copping five places out of the top 12 this year.
We prepared a Lucullan feast to accompany these "special" wines. Smoked salmon, shrimp, scallops and calamari seviche, ham biscuits, oysters-on-the-half-shell, as well as caviar, baked Brie and mousse trouffé backed up with plenty of fruit and bread. Prosciutto and asparagus with cream cheese in chicory leaves completed our tasting table. For dessert we had a chocolate cheesecake topped with fresh raspberries and blueberries; it was the perfect match with a lovely sweet cherry-red sparkling wine from Italy's Piemonte (Banfi's Rosa Regale), and with only 7 percent alcohol, a nice way to see that your guests get home safely.
Champagne is an excellent apéritif giving a lift to your appetite and a bounce to your spirits, but it can work well with a wide variety of foods - steamed lobster or roast chicken, turkey, ham, pasta dishes and medium-bodied fish like swordfish, halibut or sea bass. It goes well with vegetarian fare, creamy soups, stews and Cobb or Caesar salads. All of these sparklers were tasted blind along with the food.
Our favorite wine came from Alsace followed by last year's top wine from a French producer who has set up shop in California (the mother wine from France showed nicely, too). We also found good bubblies for the budget minded. When the occasion calls for the cachet associated with the genuine article, you can plan on spending $30 plus for a good Champagne. Shop around though, there are some deals out there.
Many of the non-French wines were delightful and affordable. Freixenet again showed why it is the world's largest-selling sparkling wine, and a surprise from New Mexico, Gruet, took a bronze medal. The familiar Korbel Chardonnay Champagne (Blanc de Blancs) scored high marks, and Paul Cheneau from Spain rounded out the "Best Buys." Any of the French efforts would not disappoint, they are all refreshing and lively wines to highlight your holiday parties or compliment a meal. Look for the best value.
Next time you are in your local wine store, pick up one of these sparkling wines and see if it won't change your outlook on life. Let us hear about your favorite bubbly and what you like with it. E-mail webwineman@hotmail.com. Happy Holidays!
Free Times Sparkling Wine Review
BRUT
Lucien Albrecht Crémant d'Alsace **** Best of tasting France $14.99
Domaine Carneros, 1999 **** Consistent star California $20.99
Gruet, Brut **** A Star/Best Buy New Mexico $12.99
Taittinger Brut La Francaise **** Best of the real thing France $32.99
Freixenet Cordon Negro Brut **** A consistent best buy Spain $8.99
Korbel Chardonnay Champagne **** Recommended California $12
Gloria Ferrer Sonoma Brut **** Recommended California $18.99
Paul Cheneau Blanc de Blancs Brut *** A Best Buy Spain $7.99
Pol Roger *** Elegant France $34.99
Pacific Echo Brut *** Classy domestic California $18.99
Laurent Perrier Brut L-P *** NY Times favorite France $29.99
Piper Heidsieck *** WS 91 Points France $29.99
Dessert Wine
Banfi Rosa Regale Brachetto d'Acqui **** Perfect with chocolate Italy $19.99
Our four-star rating system and how it might compare to the WS 100 point scale:
* Good (80-84)
** Very Good (85-88)
*** Very Good/Excellent (88-90)
**** Excellent (91+)

December 2002
To contact Richard Fadeley, write him at webwineman@hotmail.com