<! - Page Contents Begin Here - >
'Think Pink' to Beat the Heat!
© by Richard Fadeley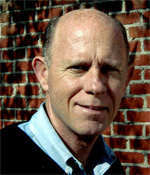 One of the bright spots in the wine world is the rising popularity of an often overlooked and misunderstood segment of the market. We're talking about rosé, or "pink" wine, made with red grapes, but limiting skin contact to produce a jewel-like translucent dry wine.
Wines don't get alcohol from their skins, but from the sugar in the juice, so the lack of color &emdash; as well as tannins &emdash; does not necessarily mean a sweet or off-dry blush wine like white Zinfandel. Rosés are made just like their red siblings, just with less pigmentation from the skins, so you have a wine with an unusual flavor profile. And surprisingly, a very good wine to pair with a wide range of food, not to mention a refreshing summertime quaffer, since you serve these chilled (50°F-55°F).
Check out the prices on some of our favorites (see below) and you will immediately notice another reason these wines are becoming popular. It's hard to spend over $20 for a good rosé &emdash; though Domaine Ott has been a big seller in New York @ $40 plus!
Rosés are made from indigenous red grapes worldwide, so we assembled twenty rosés from all over, including several past favorites, made food assignments, bagged the wines and went to work. We started things off with a easy drinking sparkling rosé from Italy &emdash; Botter &emdash; made with Prosecco and Raboso, it's an affordable aperitif at $10 and a nice way to start our tasting. Then we tasted wines from Australia, New Zealand, the US, Spain, Italy, and, of course, France. The French are big fans of rosé, where, according to Portfolio.com they are drinking more pink than white wine. We tasted wines made from Sangiovese, Pinot Noir, Grenache, Syrah and even Zinfandel and Nebbiolo, to mention only a few, but you get the idea: rosés can be made from any dark grape.
I will admit that it took me several years to warm-up to the idea of "pink" wine. It just seemed a bit feminine, and a poor substitute for a nice red. But as a fill-in for a white wine, or with food, these wines are winners. Just look at what we served with our rosés: An assorted fruit tray, with strawberries, pineapple, and melon. Green olives and celery. Roasted almonds and pistachios. Home-made ham biscuits. We finished off the wines with barbecued baby-back ribs, deviled eggs and dill Cole slaw. Delicious! And we had homemade macaroons and coconut cupcakes for dessert.
Just throw one of these into the cooler and you're on your way to a fun picnic or tail-gate. They would be nice with soft cheeses (Brie, Camembert, and Saint André), cornichons, salami, an Oriental slaw, chicken salad, ham and pimento cheese sandwiches, even hot dogs. The wines performed beautifully with our "tailgating" menu. Perfect summer fare and perfect with these versatile wines.
The Europeans drink a lot of rosés so, as you might imagine, European wines dominated our tasting, but a California wine from Napa claimed top honors: an '07 Menage a Trois with a blend of Merlot, Syrah, and a bit of Gewurztraminer to spice it up a little (it worked!). The '07 "Eye of the Toad" from Toad Hollow placed fourth with a nice "Best Buy" and was one of my favorites. The French and the Spanish weighed in with rosés from Syrah, Grenache and the traditional blends from the south of France. Tavel is a village in the heart of the southern Rhône &emdash; not far from Chateauneuf-du-Pape that produces only dry rosés, staking their reputation on it, and they usually do well in our competitions. These are fun and refreshing wines that need to be in your repertoire for summer drinking, and most of them are "stimulus" wines that are easy on your wallet.
So get busy and brush up on your "pinks" &emdash; and make a fashion statement at your next cookout or football game. Our favorites will give you a good start, but really we found something to recommend in all of the wines we tasted. You can write to us or see recent reviews.
Recommended rosés:
Folie a Deux '07 Menage a Trois **** Group Favorite! California $11.99
Remy Pannier '07 Rosé d'Anjou **** Another Star! France $11.99
Chateau de Nages '08 Costieres de Nimes **** A Best Buy! France $9.99
Toad Hollow "07 Eye of the Toad, Sonoma *** Another Winner! California $8.99
Marques de Caceres '08 Rioja *** Spanish Star! Spain $9.99
Les Vignes des Precheurs, '08 Tavel *** Personal Favorite! France $16.99
Perrin Reserve '06 Cotes-du-Rhone *** Another Best Buy! France $ 9.99
Dom. Ott '07 Cht. Romassan, Bandol *** Stylish Wine! France $40.99
Kim Crawford '07 Gisborne Rosé *** Kiwi Favorite! New Zealand $13.99
El Coto '08 Rioja Rosé *** A Best Buy! Spain $11.99
Wild Rock '08 Vin Gris Rosé, Hawkes Bay *** Another Best Buy New Zealand $16.99
Cht Desclans '07 Whispering Angel, Provence *** Lovely Wine ! France $19.99
Sparkling rosé:
Botter Prosecco-Raboso **** A Fun Sparkler! Italy $10.00
Our four-star rating system and how it might compare to the Wine Spectator 100-point scale:
* Good (80-84)
** Very Good (85-88)
*** Very Good/Excellent (88-90)
**** Excellent (91+)

All ratings are only the opinions of our tasters and not meant to offend your personal favorites.
July 2009
To contact Richard Fadeley, write him at webwineman@hotmail.com