Live report from
MOCOOL XVI
Sweet, Sixteen, & Bubbly!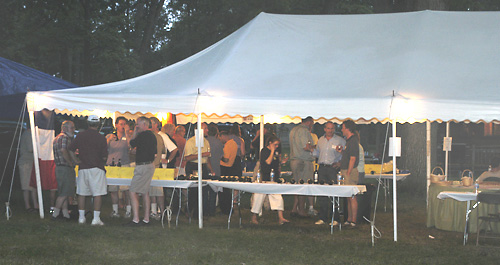 Dinner's over, darkness falls, and the tasting revelry continues into the night.
Hail, hail, the gang's all here, or a lot of 'em are, anyway. The annual MoCool hordes began gathering Friday afternoon - I got in to the Ann Arbor Hawthorn Suites around 3:30 p.m., with John Fiola (who met me at the airport), and it wasn't long before we found our way to an in-room tasting with Julia B., Bob H., two of the three Noland brothers, Jim Grow and ... I'm probably missing someone, but anyway ... there was wine all over the place, JB lent me a stemless Riedel O glass, which suited me just fine, and we tasted a few wines:
---
Hotel tastings
Rex Hill 2004 Oregon Pinot Noir - Clear light garnet. Light, red berry and truffle, a bit herbaceous. My kind of Pinot.
Hart's Wine Cellars 2005 Gamay - Howie's home wine, made from grapes he brought home from Niagara-on-the-Lake. I had tasted it earlier this summer at NiagaraCool, and was blown away. It's just as good now: Cherries and strawberries, mouth-watering and fresh. Great home wine, a potential prize-winner.
Peninsula Cellars 2005 Old Mission Peninsula Manigold Vineyard Gewürztraminer - Pale gold. Very floral, 3g/l. RS presents as bone-dry; 14.5% alcohol perceptible as body and warmth. Peach pit/bitter almond in the finish. Interesting, a bit awkward.
Peninsula Cellars 2005 Old Mission Peninsula Gewürztraminer - Very pale gold. Perfumed, floral, orange blossom and a whiff of wool. Both of these Gewurzes are considered among Michigan's strongest efforts. They're idiosyncratic to my taste buds and not really strong on varietal character. I don't think anyone would mistake them for Alsatian Gewurz. Still, they're impressive, and I like them both.
Hart's Wine Cellars 2004 Blanc de Noir - Another of Howie's home wines, made from Pinot purchased from the folks at Warm Lake in Niagara Falls. Clear gold, nice bubble stream. Yeasty, crisp, good fruit. Good effort.
---
Dinner at Joel and Sally's
Friday evening, many of the out-of-town visitors gathered for more wines and a beef-on-the-grill dinner at Joel and Sally Goldberg's. A fine group of people, wine friends who mostly meet just once a year at MoCool, gathered for fine fare and a remarkable collection of wines that all the participants had pulled from their cellars and generously shared. I'm sure I only caught a fraction of them, and didn't even try to cram into the traditional "cellar stuffing" downstairs, but I scribbled brief notes on quite a few:
Ch. Chantal 2005 Old Mission Peninsula Krupka Vineyard Cabernet Franc - Clear cherry red. Good red berries and herbs, Chinon style, crisp and acidic.
Laurel Glen 1987 Sonoma Mountain Cabernet Sauvignon - Sweet red fruit, a lot of barnyard. Mature or maybe a bit more than mature, but still going strong.
Carlisle 2000 Russian River Valley Two Acre Red Wine - Bright red berries, fruit-forward but nicely balanced. A bit New World and oaky for me, but well-made from a curious batch of grapes: Mourvèdre, Petite Syrah, Valdepeñas and Alicante Bouschet.
Cuvaison 2003 Carneros Estate Pinot Noir - Clear bright ruby. Lovely, forward and complex, spicy black and red cherries. All on the palate plus cocoa and warm cherry cordial. New world style, but very fine; several tasters concur that it shows unusual depth and complexity for a big California Pinot. One of my contributions, a California Wine Club Connoisseurs' Series wine selected by Charlie Olken.
Storybook Mountain Vineyards 2002 Estate Reserve Napa Valley Zinfandel - Very dark reddish-purple, bright garnet edge. Deep bramble fruit, intense, a touch of cherry cordial. Long and deep, a wine that will benefit from a few years in the cellar. Another CWC Connoisseurs' Series wine from my stash.
Domaine des Brureaux 1997 Chénas - Ruby, light. Stony, mineral, light red fruit, funky; on first tasting it seems past peak but alive, but Mike Conner, who brought it, speaks more highly of it, so I return to it after an hour open and find much of the funk has blown off to reveal startling minerality and still-vibrant fruit.
Brun 2000 Terres Dorees L'Ancien Beaujolais - Strawberries and earth, beautiful balance. Give me more!
René Michel 1995 Macon Clessé - Clear light gold. Mature but beautifully alive, pineapple and butterscotch.
Franck Peillot 2000 "Altesse" Roussette de Bougey Montagnieu - Pale straw. Whoa! Apples and in-your-face oxidative and resiny notes. It's good, though. No, really!
J.L. Chave 1997 Hermitage - Red fruit, subtle nutlike oxidative aromas, full-on acidity. Maybe my palate's tiring or I'm missing something here, but I'm not getting much out of this.
Flor de Pingus 2001 Ribera del Duero - Black. Plums and earth and oaky vanilla. Parkerized but promising, needs time.
Edmunds St. John 1997 Story Vineyard Amador County Zinfandel - Showing a little oxidation, but mostly dark chocolate and lovely old-red claret-like sweet red fruit. Remarkably good mature-red, although I don't know that I'd have picked it as Zin in a blind tasting.
Williams-Selyem 2001 Sonoma Coast Hirsch Vineyard Pinot Noir - Big, forward, oaky, a little hot and monolithic. Tasted alongside the Cuvaison reserve, this one's just not a hit for me.
Williams-Selyem 2001 Anderson Valley Ferrington Vineyard Pinot Noir - This is a little more like it. Still big and brawny and not overly complex, at least at this point in its evolution, but there's some complexity and Pinot character here, and it gets better still with a bite of rare grilled beef.
Montes Alpha 1998 M Chilean Red Wine - Classic Bordeaux blend, complex and balanced, cassis and subtle earth. Thanks to Bob H. for cellaring and sharing this treat.
Schweiger Vineyards 2000 Spring Mountain District Napa Valley Cabernet Sauvignon - Big and bold, cassis and eucalyptus and dark chocolate, classic Napa Cabernet. I don't hear much chatter about this wine, but to me it's one of the wines of the night albeit fiercely immature; promising, but needs cellar time.
Kosta Browne 2004 Sonoma Coast Pinot Noir - Perfumed red fruit, big and bold, one-dimensional. This goes a step beyond the Williams Selyems down the wrong branch of the Pinot road for me.
Hendry 2003 Hendry-Block 7 Napa Valley Zinfandel - Cherry cordial, big and smooth as velvet. One of the best Zins of my recollection; I liked the Storybook Mountain well enough, but this one passes it in the stretch and wins by several lengths.
Domaine La Combe Blanche 1999 La Dessous de L'Enfer Vin de Pays des Cotes de Brian - Dark, ripe plums and cherries, balanced and intense. Tempranillo from France! I hear a lot of excitement about it, and it is impressive, but a little too "international" to be Wine of The Night for me.
Darioush 1999 Napa Cabernet Sauvignon - Forward black cherry and overt oak, firm acidity and loads of tannin. Ehhh ... not my style, give me some more of that Schweiger instead. Might gain from cellaring, though.
Quilceda Creek 2003 Washington State Cabernet Sauvignon - Fruit bomb! Lots of oak and tannin, too. Drinks well, and it's fun to encounter a Washtington classic, but ... Someone said it's a 100-pointer. Hmm.
Ch. Haut-Bages-Liberal 1986 Pauillac - Cassis, tarragon, balanced and intense. Drinking well, but it's still got plenty of life yet.
Mike's mystery red - Served from a brown bag, it'sd dark, earthy, sweet red fruit, reminds me very much of some fine, well-cellared old California Cabernets, including a couple of wonderful Louis Martini Cabs from the '60s drunk 30 years later. Turns out I'm way off in the wrong direction, though (although at least I got the variety right) ... it's 1970 Chateau Palmer. Durn!
Ch. Leoville-Barton 1986 - This one's served in the open, so I have no problem discerning that it's Bordeaux. [wink] Black cherries, toast and leather. Mature, balanced, another great wine.
Moulin Touchais 1979 Anjou - Pale straw. Luscious and rich, strawberries and cream, incredibly youthful. A Loire classic.
1975 Vouvray - Amber. Stone fruit, butterscotch, creme brulee. Tasted from another reveler's glass, I was never able to track down the bottle for the details.
Ch. Leoville Las Cases 1967 St.-Julien - Cassis and leather, fully mature but very much alive. Amazing. Caps off the night; after the Moulin Touchais and this, a quiet cup of coffee is all I want or need ... no point in tasting anything else to follow this.
---
Saturday hotel tasting: Chateau Musar vertical
A dozen revelers gathered Saturday morning in the Noland brothers' hotel room, at what would normally be an unseemly hour for a wine tasting, but when a serious vertical tasting of Serge Hochar's Chateau Musar is up for analysis, everything changes. Musar, of course, is the great winery in Lebanon's Bekaa Valley, a place that's been in the news recently for less pleasant reasons, and we started the event with an informal toast to the Hochar family and their ventures: May they thrive in safety from attacks by both sides.
First we went to the reds, which are made from a blend of Cabernet Sauvignon and Rhone red varieties, mostly Cinsaut and Carignane, says O.W. First up was dead or near it, sadly ...
Chateau Musar 1989 - Hazy purple. Horsey brett, oxidized, past it for me.
But all the rest were splendid, each surprisingly different in character (as is typical of Musar) but all so good that it was very difficult to pick a favorite. First I lined up the four samples from the '90s.
Chateau Musar 1991 - Clear ruby, rather light. This is more like it! Perfumed red fruit, plums and pepper. Luscious and sweet, youthful, Musar in a "clean" style.
Chateau Musar 1993 - Ruby, showing a little bronze. Plums, black olives. Mouth-filling, sweet red fruit, a distinct whiff of brett but well within the limits that I find pleasant.
Chateau Musar 1994 - Ruby, dark center. Plums and very distinct pomegranate, very subtle earth; a bit more tart in the finish than most, and possibly the weakest of the '90s, but only by a slim margin.
Chateau Musar 1995 - Clear ruby, purplish at the center, fading to pale brick at the edge. Sweet red fruit, "lf velvet had a smell, it would smell like this." Smooth and sweet, abundant red fruit, mouth-watering acidity. I think maybe this is my favorite of the '90s, but it's a very, very close call.
Then, separated out for study because of its significantly greater age:
Chateau Musar 1966 - Clear, medium-dark ruby, youthful color belies its age. A bit of a "damp laundry " old-wine funk is in there, but Musar sweet-cherry aromas ride over it, and it's a delight on the palate, crisp and balanced and remarkably youthful.
Finally, an intriguing white-wine match. Knowing that Bob H. planned to contribute a 1998 Musar white, I brought along a very fine Southern Rhone white to compare and contrast. Different grapes - the Musar Blanc is Merwah and Obediah (probably Chardonnay and Semillon wearing Lebanese trappings), and the Vieux-Telegraphe is made from a blend of Chateauneuf-du-Pape white varieties - probably Marsanne and Roussanne, mostly, with Grenache Blanc and maybe Bourbolenc; they were certainly different, and yet I found a kinship in their full-bodied aromatics, richness and potential for great longevity.
Chateau Vieux-Telegraphe 2000 "Le Crau" Chateauneuf-du-Pape Blanc - Pale gold. Lovely scent, apples and honey, subtle "leafy," "green" notes. Full-bodied, flavors follow the nose, "drier than it smells." Outstanding, still young, years to go yet.
Chateau Musar 1998 Blanc - Light golden-bronze, a look of age. Lovely aromatics, beeswax and roasted almonds. Rich white fruit, full-bodied, balanced acidity. Wonderful but perhaps closing down a bit, decanted 12 hours in advance and probably could have stood even more.
---
Saturday picnic: Sweet, Sixteen and Bubbly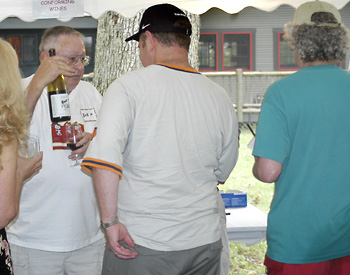 Bob H. pours for Errol Kovich and Geo T.

The minor deities who seem to watch over MoCool came through again, and defying the forecast threat of severe thunderstorms and high winds, delivered a reasonably fine last-summer afternoon with mixed sunshine and clouds, humidity and mosquitoes. Hey, it's August in Michigan! No one minded, much, and the usual event went forward with a good crowd of 100 wine enthusiasts or so, all bearing generous selections of excellent wines from their cellars and wine racks for sharing.

The "Sweet, Sixteen and Bubbly" theme seemed to inspire folks, who dug deep into their collections for some truly amazing wines. By most estimates, there must have been close to 200 wines poured. I managed to get around to about one-quarter of them, sampling most of the Bubbly category and a random share of the "Sixteens" (1990s) before pocketing my PDA and indulging in just a taste or two of Ports at the "Sweet" table.

My notes follow, but first, it would be wrong to fail to take public note of the massive effort by the generous group of volunteers who knock themselves out every hear to make this non-profit, non-commercial venture happen. Many thanks to all the MoCool organizers and volunteers. You are appreciated.

My tasting started with an off-topic tasting trio set up for the volunteers who helped set up the tents and tables at the picnic venue, a pretty lakefront grove west of Ann Arbor:

Allegrini 1997 Palazzo della Torre Veronese - Dried cherries and cinnamon, nice. Juicy fruit and fresh acidity in balance, easy pick as best of the three.

Allegrini 1999 Palazzo della Torre Veronese - Darker than 1997. Black fruit, chocolate and licorice. Intense, tart acid, drying tannins, good potential but still young and immature.

Allegrini 2001 Palazzo della Torre Veronese - Ruby. Mouth-filling, sweet-tart. Doesn't seem well-balanced, and frankly doesn't seem likely to improve with aging; most tasters read it as an unfortunate shift by Allegrini toward a more "international" style.

Then, another off-topic wine left over from a tasting the previous nitght:

Vérité 1999 La Muse Sonoma County red wine - Cabernet Sauvignon dominates rather herbaceous red fruit, oak, a load of tannin. Not a favorite for me.

And finally, on to the theme wines with a quick taste of a 1990 to set the scene:

Ch. Lafon-Rochet 1990 Saint-Estephe - Clear garnet. Currants, cocoa, maybe a whiff of volatile acidity. Tart, tannic, still needs time.

And a fairly thorough trip past the "Bubbly" table, where I tried to undertake a comprehensive tasting of as many of the sparklers as possible. A number of contributors (including me) had come up with 1990 Champagnes to satisfy two of the three themes, although - perhaps luckily - nobody came up with a single wine that was sixteen, bubbly and sweet.

Pol Roger 1990 Brut Rosé - Pretty, pale salmon. Truffly, tart and dry. Holding up well, perhaps the best bubbly on the table for me.

Pol Roger 1990 Brut - I brought this one (a recent purchase) and was glad I did. Gold. Truffles, mushrooms, apples and honey. Creamy, rich, full-bodied. Fine.

Guy Larmandier 1998 Champagne Cramant - Rich, leesy, a style I like.

Trouillard 1990 Cuvée du Fondateur - Pale gold, not highly carbonated. Lovely delicate lemon scent.

Lenoble 1996 Champagne Blanc de Blancs - Appley, yeasty, fizzy.

Champagne Delamotte 1990 Blanc de Blancs - Clear light gold. Some oxidation, nuts and apples, but very much alive.

L. Mawby Leelanau Peninsula "Sex" Brut - Light gold. Apples, yeasty, tart.

Veuve-Cliquot-Ponsardin NV Brut - Light, tart apples. Okay bubbly, but doesn't diminish my prejudice that this house hasn't been living up to expectations in its basic cuvée.

Mumm 1990 - Bright gold. Rich, truffles and lemons, very fine.

De Faveri Extra Dry Prosecco - Pale pink, a simple, refreshing quaffer.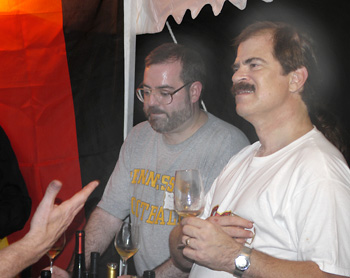 It's getting late, but Mike Conner and Joel Goldberg continue analyzing 1990s at the French table.

Finally it was time to get serious about the "Sweet Sixteen" (1990s) tables, which were divided geographically, with much (but certainly not all) of the action around the United States and France. As noted, the generous outpouring was remarkable, and I indulged in only a fraction of all the wines available, but it was still an amazing wine experience.

Chateau la Roque 1990 "Cupa Numismae" Coteaux du Languedoc Pic Saint Loup - Dark ruby. Red fruit. Slight oxidation, losing its fruit, still alive but past peak. This excellent QPR red from Kermit Lynch, a blend of 60% Syran and 40% Mourvèdre, was a "cellar orphan" from my wine racks, the last of a case purchased in the early '90s and mostly consumed before 1999. It's a good table wine and was a great value at its original under-$10 price tag, but I had no expectations for it and was frankly surprised that it was still drinkable.

Benziger 1990 Sonoma Mountain Red Table Wine - Garnet. Herbaceous cassis. Not a favorite.

Albert Morot 1990 Beaune-Marconetts 1er Cru - Pale ruby. Ethereal, delicate mineral iron-rust scent; sweet red-fruit flavor. Wonderful, one of the most intriguing older Burgs of the day for me.

Santa Rita - Casa Real 1990 Maipo Valley Cabernet Sauvignon - Rich Cabernet, big and balanced. Cassis and chocolate, acid and substantial tannins. Offers strong testimony against the charge that Chilean reds don't stand up to age, an outstanding wine.

1990 Cos d'Estournel - Mature red fruit, a hint of barnyard, excellent mature Bordeaux.

Il Latini 1990 Vino da Tavola di Toscana - Cherries and dark toast. Still very tannic, raising the question whether the fruit can last until the tannins resolve.

Bernard Latour 1990 Domaine de l'Espagouette Cotes du Rhone - Very barnyardy, earthy, high acid. Fine if you like the "challenging" old-Rhone character that's redolent of the chicken coop.

Ch. La Louviere 1990 Pessac-Leognan - Red fruit and leather, top of its form.

Ch. Larose-Trintaudon 1990 Haut-Medoc - Funky barnyard and leather, but good sweet old-red fruit too, holding up better than you might expect of a relatively low-end Bordeaux.

Les Hauts de Montmirail 1990 Gigondas - Sweet, funky, old but very much alive.

Pahlmeyer 1990 Caldwell Vineyard Napa Valley Cabernet Sauvignon - Concentrated. Oddly, it's both a little oxidized and still immature.

1990 Chateau de Pommard - Light ruby. Cherries, tart and tannic, still youthful.

Forman 1990 Napa Cabernet Sauvignon - Cassis and eucalyptus, classic Napa Cab. Very nice.

Shafer 1990 Hillside Select Stags Leap District Cabernet Sauvignon - Beautiful balance and structure, a great Napa Cabernet. Despite my Europhile inclinations, I'd match this against most of the French '90s.

Ridge 1990 Lytton Springs Zinfandel - Red fruit and leather, claret-like, holding up very well.

Chateau LaGrange 1990 Saint-Julien - Cassis, herbal notes, hints of anise and white pepper. In a wine-geek experiment, two bottles are compared, one with five hours' breathing, the other just uncorked. The "breathed" wine may be a bit softer and more complex, but perhaps surprisingly, there's really not much perceptible difference.

Ch. Lafite-Rothschild 1990 Pauillac - Amazing. A burst of cassis right out of the glass, beautiful structure and balance. Oh, yeah!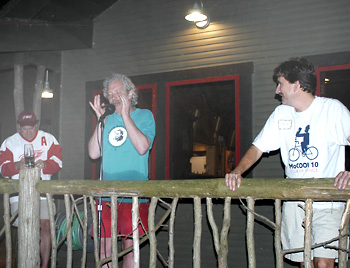 With this wine, who needs entertainment? Still, Geo T.'s harmonica riffs win approval from those who stopped to listen. He's flanked on "stage" by John Wolf (left) and Dave "Guido" Guimond.

These old reds all went well with Chef Alan Kerr's grilled beef, although there's some truth in the argument that great mature reds deserve to be contemplated on their own, away from the distractions of food:

Mommessin 1990 Clos de Tart - Perfumed, intense, splendid with the steak.

A. Clape 1990 Cornas - Pure essence of Syrah, still young. I arrive just as the dregs are being poured and get about a 1/4-ounce taste that just films the bottom of my glass, but I love it.

Joseph Matrot 1990 Volnay-Santenots - Barnyard and a touch of Sherry, aromas seem almost past it, but still delicious sweet red fruit on the palate.

Domaine Pierre Ponnelle 1990 Clos de Vougeot - Tart red fruit, intense.

Jaboulet-Vercherre 1990 Beaune Clos de l'Ecu - Barnyard, leather and sweet red fruit.

E. Guigal 1990 Hermitage - Earthy plums, black olives, anise and leather. Peppery, smooth, very nice.

Louis Jadot 1990 Corton-Pougets Grand Cru - Bit o' leather, bit o' barnyard, but mostly dark Pinot fruit. Still young.

A couple of off-theme wines tasted during the afternoon:

Edmunds St. John 1999 El Dorado County "Wylie-Fenaughty Syrah - Dark purple. Lovely, intense plums and cherries; subtle pepper, mouth-watering acidity. World-class Syrah.

Wyncroft 2002 Lake Michigan Shore Madron Lake Riesling - Light gold. Apples, pine and petrol; very dry, excellent Riesling, demonstrates that Michigan Riesling, at least, can stand comparison to the world's top wines.

And finally, a brief stop at the "Sweet" table for a quick taste of a couple of Ports:

Pocas Porto Seguro 1990 Vintage Port - Stone fruit and anise, acidic and very sweet. Another of my contributions, I had double-decanted it at home to remove the sediment, then re-corked, spun the capsule back on, and transported it in my checked luggage with fingers crossed that it wouldn't leak or attract unwanted attention from TSA ...

Graham's Malvedos Centenary 1990 Vintage Port - Deep fruit, searing tannins; great potential, still very young. Same year as my Pocas, but it's Port on a completely different level.
---
Boilerplate information about MoCool
HOTEL: Many out-of-town MoCoolers stay at the Hawthorn Suites, (http://www.hawthornannarbor.com/) a spiffy all-suite hotel on the northeast side of Ann Arbor at US 23, Exit 41 (Plymouth Road). Other hotel chains at the same exit include Microtel, Red Roof and Hampton.
SHUTTLE BUS: In past years, MoCoolers have often private arrangements with a bus company for transportation to and from the picnic. Check with participants at the Hawthorn Suites or post a query on the Wine Lovers' Discussion Group for information.
MAPS, ADDRESSES: Location info, with detailed directions, will be distributed privately before the event.
WEB SITINGS: The MoCool web site continues to be graciously sponsored and maintained by Robin Garr at his Wine Lovers Page, one of the web's leading wine destinations. You'll always find current MoCool information, plus lots of prior year photos and tasting notes at: www.wineloverspage.com/mocool. That's also where to send your cyberwine friends to join the MoCool email list.
Kim Adams and Geo "Bastardo" Heritier, founders of Detroit's notorious Gang of Pour, have posted lots of digital photos and irreverent first-hand reports from the several MoCools they've attended. Be regaled at: www.gangofpour.com/mocool/mocool.htm
WANT TO SPEND MORE TIME IN THE AREA? Some good starting points for local info are at Arborweb (www.arborweb.com) for Ann Arbor and Detroit Guide (www.detguide.com) for the Detroit area.
STILL HAVE QUESTIONS? Email any of the organizers below, for answers or more information about the weekend's events, travel and lodging help, suggestions for things to do in the area, etc.
---
MoCool is non-profit and non-commercial, organized since 1992 by a volunteer group of wired wine lovers in the Ann Arbor/Detroit area. Since last year, we're now a corporation - MoCool Ltd. Our goal is a non-snobby, cooperative, affordable weekend for cyberwine fans to get together and enjoy wine, food, and each other's company.
© Copyright 2006 MoCool Ltd.
Previous Events ...

For more information, and to get a sense of what these events are all about, check out the complete online archive:
MoCool '95, Que Syrah, Shiraz
MoCool '96, MO'LYMPICS
MoCool '97, Mediterranean Madness
MoCool '98, Anything but California
MoCool '99, Hail that Cab!
MoCool 2000, Below the Belt
MoCool 2001, Tour de France
MoCool 2002, Pinot Envy
MoCool 2003, California Dreamin'
MoCool 2004, PIGS will fly!
MoCool 2005, The Hunt for Rhone Rangers!
MoCool 2006, Sweet, Sixteen and Bubbly