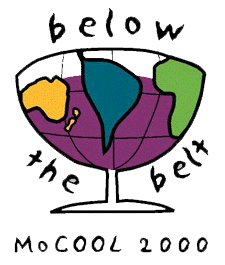 MoCool 2000
This is the final tasting and event report for MoCool 2000 -- the 9th Annual MOtown COoperative Off-Line, the world's longest-running off-line tasting for wired wine lovers.

MoCool 2000's theme was BELOW THE BELT -- Wines of the Southern Hemisphere. A record 130-plus participants spend the long weekend of Aug. 25-27, 2000, socializing with cyberwine buddies, tasting all kinds of wines from below the Equator, and enjoying piles of great food!

MoCool Thursday Night Warmup

In an "unofficial" event that has become a durable tradition, Gary and Georgine Kahle open their home on the Thursday night before MoCool weekend for a grill-out dinner and BYO tasting for event organizers, other local participants, and early arrivals. Traditionally separate from the MoCool theme, this allows participants to share special and unusual bottles that would be "off topic" for the official events, such as ...
Mugging for the camera, Gary Kahle (left) opens a bottle while Manuel Camblor (center) and Mark Looker hoist empty glasses.

Willow Vineyard 1998 Leelanau Peninsula Chardonnay Reserve - Pale straw, ripe apple and chestnut. Full and rich, good balance.

Huet 1971 Le Haut-Lieu Vouvray Demi-Sec - Bright greenish-gold. Asparagus, earthy and herbal. Clean, tart-sweet, unctuous. Amazing.

Marcassin 1993 Hudson Vineyard Carneros Chardonnay - Clear gold. Oak and tropical fruit. Buttery, off-dry.

Sine Qua Non 1996 Omadhaun and Poltroon California White Table Wine - Clear straw. Butterscotch and Bourbon barrels, sweet and woody.

Didier Dagueneau Silex 1997 Pouilly-Fumé - Very pale. Grassy and "catty," ripe fruit and steely acidity.

Robert Mondavi 1991 Cabernet Sauvignon Reserve - Hazy dark garnet. Blackberries, full fruit, tannic. Still quite young.

Chateau Montfort 1983 Vin Jaune Arbois - Pale gold. Walnuts and lemons, Sherrylike, dry.

Stags Leap Wine Cellars 1974 Merlot - Hazy reddish-amber. Green, maderized aroma but still very much alive with sweet red fruit.

Chave 1989 Hermitage - Hazy ruby. Smoke, meat, leather and minerals over ripe black fruit. Full, tannic.

Chateau Petit Village 1982 Pomerol - Bright ruby. Leathery, plummy. None too young, but lovely sweet old fruit.

Jamet 1983 Cote-Rotie - Grilled meat, leather and barnyard. Loads of fruit and earthy notes.

Les Cailloux 1989 Cuvee Centenaire Chateauneuf-du-Pape - Bretty, barnyard ... "it's good, though."

Turley 1997 Moore "Earthquake" Vineyard Napa Zinfandel - Big, jammy, caramel.

René Lamy Pillot 1995 Montrachet Grand Cru - Toasty apples and caramel. Rich and complex.

Chateau Rayas 1990 Chateauneuf-du-Pape - Black fruit, restrained barnyard, leatler. mineral. Complex, delicious.

Chateau Lynch-Bages 1989 Pauillac - All the Pauillac stereotypes: cigar-box, lead pencil and blackcurrant. Tannic but still showing lots of fruit. Young.

Much more ... Four Mauros from Castillo y Leon in Spain, older La Lagune and Talbot ... An Inniskillin sparkling ice wine I brought down from Ontario ... And more.

MoCool Friday Dinner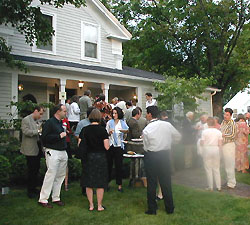 The fancy dinner component of MoCool 2000 took place at Cousins Heritage Inn in Dexter, Mich., a well-known restaurant in the country a few miles west of Ann Arbor. The MoCool group of 90 (leaving behind more than 35 procrastinators who didn't get off the waiting list) took over the entire restaurant for an excellent dinner, planned by the MoCool organizers, featuring Southern Hemisphere dishes with regional wines selected and discussed by Dick Scheer, proprietor of Ann Arbor's first-rate wine store, Village Corner.

With hors d'oeuvres, Crab-stuffed smoked salmon, New Zealand Cervana venison paté and three-onion and goat-cheese croustine:

Huia Marlborough Brut - Clear straw. Good apple and yeast aromas; fresh and crisp, good bubbly.

Vinterra San Juan Malbec - Dark garnet. Grapey, a whiff of smoke, soft and quaffable.

Not tasted: Mitchelton 1998 Marsannne and St. Hallett 1998 Poacher's Blend.

With the first course, New Zealand green mussel soup:

Palliser Estate 1999 Marlborough Sauvignon Blanc - Pale greenish-gold. Characteristic NZ green-chile and grapefruit aromas. Full and fresh, but loses points for perceptible sweetness.

With the second course, pistachio-crusted Chilean sea bass with blackberry and papaya coulis:

Catena 1997 Mendoza Chardonnay - Toasty, smoky, oak dominates appley fruit. Oak and tropical-fruit flavors, fat and off-dry.

Third course, mixed baby greens with lemon poppy seed dressing and Stilton cheese: (No wine.)

With the fourth course, roasted Argentine strip loin with white bean ragout and summer vegetable succotash:

Catena 1997 Alta Malbec - Very dark garnet. Black cherry and light mineral aromas. Black fruit and sweet oak.

Kanonkop 1998 Stellenbosch Pinotage - Inky reddish-purple. Bretty, barnyard and earthy black fruit. Deep and ripe, earthy and tart.

With the dessert course, mango tart with passion fruit curd:

Klein Constantia 1995 Vin de Constance - Clear gold. Fresh, juicy apricots and grapefruit on the nose and palate. Delicious fresh-fruit sweetness structured with lemony acidity and a light, pleasing bitterness in the finish.

Passed separately:

Bredell's 1994 Cape Vintage Reserve - Very dark ruby. Deep stone fruit aroma and flavor. Port-like, very fine.

MoCool Saturday - Australian Shiraz presentation
Wine educators Ray and Eleanor Heald presented an informative Shiraz tasting and discussion.

Ray and Eleanor Heald, well-known and respected wine educators in the Ann Arbor and Detroit area, won the applause of a sizable crowd of MoCool participants for their Saturday morning presentation on Australian Shiraz.

Pouring eight excellent wines for discussion, the Healds talked about the history of Shiraz (the Australian name for the French Syrah, a grape likely brought back to France from the Middle East by 13th Century Crusaders) and about its style and tradition in Australia and how it varies from cool-climate regions like Barossa to cooler climates such as Coonawarra. They also showed slides of their visit to the Adelaide region.

The presentation was a worthy addition to MoCool, and was particularly helpful in setting a conceptual framework for the many Australian wines to be tasted at that afternoon's picnic.

First flight: Hunter and Coonawarra

Hope Estate 1998 Hunter Valley Shiraz ($12) - Inky dark reddish-purple. Blackberry jam and fragrant pepper, balsamic, conifer notes. Sweet oak and grapey fruit with flowery pepper in a long, lemony-tart finish.

Penfolds 1996 Coonawarra Bin 128 Shiraz ($19) - Slightly hazy dark garnet, almost black. Faint aroma, earthy black fruit. Full flavors follow the nose, structured and balanced.

Second flight: Clare and Barossa

Kilikanoon 1998 Clare Valley Oracle Shiraz ($33) - Blackish-purple, opaque. Plummy black fruit and whiffs of licorice and leather. Tart fruit, unexpectedly piercing acidity. Awkward, unbalanced. Unimpressive.

St. Hallett 1995 Barossa Old Block Shiraz ($35) - Very dark garnet. Ripe mixed-berry fruit on the nose and palate, subtle pepper in the finish.

Third flight: McLaren Vale and Victoria

Rosemount Estate 1997 McLaren Vale Balmoral Syrah ($40) - Very dark ruby, black at the center. Black fruit, caramel, wood. Sweet oak and juicy fruit, seems off-dry.

Mitchelton 1996 Victoria "Print" Shiraz ($45) - Inky dark garnet. Delicious, ripe raspberry aromas, surely some Grenache in the blend, a touch of mint. Ripe and appetizing fruit, well-balanced and full. Most appealing wine thus far.

Fourth flight: Brown-bagged

Blind Pair "A" - Inky garnet. Spicy, minty, dank, slight sherry-oxidized note. Cooked? David Traeger 1997 Victoria Shiraz ($28)

Blind Pair "B" - Very dark reddish-purple. Black fruit, anise, berry. Fragrant pepper and plummy fruit. Tannic, hot. D'Arenberg "The Footbolt" 1998 McLaren Vale Shiraz ($18)

MoCool Saturday picnic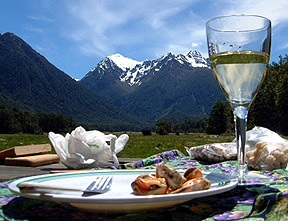 The Saturday picnic at Joel and Sally Goldberg's house in suburban Ann Arbor is the traditional centerpiece of MoCool weekend, and this year's deliberations were no exception. With more than 130 participants on hand, the crowd filled the Goldbergs' house and yard, focusing on the large white tent set up to shade the wine-tasting tables (and, when thunderstorms moved in around twilight, to provide protection from a brief spell of heavy wind and rain).

Celebrants brought more than 200 wines, mostly adhering to the "Below the Belt" (Southern Hemisphere) theme of this year's event, and generosity was evident, with a number of truly rare and expensive wines on hand for sharing including several vintages of Penfolds Grange (which I managed to miss, unfortunately, being involved with the South African table when they were opened).

In fact, I managed to sample and take notes on about 65 wines, approximately one-third of those available; and after making a serious effort at the Australian table in the early going, found myself tiring of the big, fruity and oaky style that so many of Australia's wineries are affecting nowadays, and fled to the Chilean and, in particular, South African departments in search of wines with more European-style balance and elegance.

Australia

Longleat 1986 Goulburn Valley Cabernet Sauvignon - Hazy dark ruby, some sediment. Plummy, slightly oxidized. Still drinking well.

The Hattrick 1998 McLaren Vale Shiraz-Grenache-Cabernet - Sweet oak and ripe, plummy fruit.

Fox Creek 1998 McLaren Vale Reserve Shiraz - Inky purple. Sweet oak dominates, fruit lurking behind it.

Riddoch Estate 1991 Coonawarra Shiraz - Dark ruby. Plummy, acidic; balanced and accessible.

Wild Duck Creek Estate 1998 Heathcote Alan's Estates Vat 1 - Perfumed, meaty, Odd.

Penfolds 1996 South Australia Bin 707 Cabernet Sauvignon - Inky dark purple. Heavy dill over delicious black fruit.

Barossa Estate 1997 E&E Black Pepper Barossa Valley Shiraz - Plummy fruit, sweet oak and fragrant pepper. Better balanced than most.

Yalumba 1997 Barossa Bush Vine Grenache - Dark ruby with ripe, jammy raspberries.

Rockford 1994 Dry Country Barossa Valley Grenache - Hazy light ruby. Fruity, faint walnuts. Oxidized?

Ashton Hills 1998 Adelaide Hills Pinot Noir - Ruby. Jammy and soft.

Yarra Yering Vineyard 1995 Pinot Noir - Hazy light ruby. Herbaceous, tomato and acid.

Yarra Yering Vineyard 1996 Pinot Noir - Dark ruby, good Pinot character.

Yarra Yering Vineyard 1997 Pinot Noir - Earthy, barnyard, complex.

Yarra Yering Vineyard 1996 Dry Red Wine No. 1 - Very dark garnet. Toasty, dusty, ripe black fruit. Earthy fruit, good balance.
Manuel Camblor, Mike Conner and Bob Henrick (from left) get their mitts on a bottle of Chateau Tahbilk.

Henschke 1992 Mount Edelstone Keyneton Vineyard Shiraz - Ripe, jammy black fruit and saddle leather.

Grant Burge 1994 Meshach Barossa Valley Shiraz - Deep and textured, plummy black fruit. Excellent.

Lashmar 1999 Kangaroo Island Cabernet Sauvignon - deep and brooding, young and tight. Much potential. (Barrel sample provided by Matt Cooper.)

Lashmar 3 Valleys Shiraz - big and ripe, minty eucalyptus and black fruit; a healthy dose of black pepper, "a wine you can chew." (Barrel sample provided by Matt Cooper.)

Viking wines 1997 Barossa Grand Shiraz - Black fruit and pepper, well balanced.

Mount Horrocks 1999 Clare Valley Cordon Cut - Clear gold. Beautiful peach-apricot aroma and flavoa. Intense, lasting sweetness.

New Zealand

Fairhall Downs 1999 Marlborough Brancott Valley Pinot Gris - Pale gold. Melon and mint, rich and dry.

Huia Marlborough 1999 Pinot Noir - Dark ruby, excellent plummy fruit, good balance and structure.

Highfield Estate 1998 Elstree Pinot Noir - Lean red fruit, balanced and long. Very fine.
In an unofficial annual tradition, thirsty revelers cram into Joel's cellar for a ritual "cellar stuffing."

South Africa

Rozendal Farm 1989 Stellenbosch Rozendal - Ruby-amber. Some warm and nutty age notes but plenty of sweet, delicate old fruit.

Rozendal Farm 1990 Stellenbosch Rozendal - Dark ruby, earthy plums and sour cherries, nice.

Rust en Vrede 1994 Stellenbosch Estate Wine - Dark garnet. Plummy, warm and structured. Very appealing.

Nederburg 1982 Private Bin R163 Paarl Cabernet Sauvignon Auction Selection - Blackcurrant and leather, Bordeaux-like. Delicious.

La Motte 1987 Franschhoek Valley Cabernet Sauvignon - Black, plummy fruit, beautiful balance and structure.

Landgoedwin 1994 La Maison du Roi Franschhoek Valley l'Ormarins Optima - Light, pleasant red fruit.

Libertas 1996 Coastal Region Pinotage - Earthy, red fruit, juicy and tart.

Meerlust 1996 Stellenbosch Pinot Noir - Pale ruby. Earthy and pleasant.

Sinnya 1998 Robertson Merlot-Cabernet Sauvignon - Ripe and fresh, chocolate-covered cherries, good easy quaff.

Klein Constantia 1996 Marlbrook Constantia Cabernet Sauvignon-Merlot - leather, barnyard and black fruit.

Stellenzicht 1995 Stellenbosch Cabernet Sauvignon - Black fruit, leather and cedar; full, balanced and stylish.

Klein Constantia 1996 Constantia Cabernet Sauvignon Estate Wine - Earthy black fruit over a firm acidic structure, balanced and elegant.

Hidden Valley 1997 Stellenbosch Pinotage - Very dark ruby. Ripe black fruit, smoky and earthy. Good blend of Pinotage character and fruit.

Africa (Other)

Mateppe Estate 1988 Bin 16 Zimbabwe Crisp Dry White - pale gold, light nuts - oxidized.

Juja Winery 1992 Kenya Negro Amaro - Dark ruby. Funky green aromas, minty and chocolate, tastes better than it smells.

Chile

Concha y Toro 1971 Cabernet Sauvignon - Ruby, slightly hazy, a bit earthy and leathery but plenty of good, sweet old-Cabernet fruit.

Concha y Toro Terrunyo 1998 Peumo Valley Carmenere - Inky reddish-purple. Spicy oak and black fruit. Delicious black-cherry fruit punches through the fruit.

Concha y Toro 1988 Don Melchor Maipo Cabernet Sauvignon - Leather and ripe, fresh fruit. Tannic, youthful, good potential but still needs time.

Cousino-Macul 1995 Antiguas Reservas Cabernet Sauvignon - balanced and structured, softly tannic; ageworthy.

Cousino-Macul 1996 Antiguas Reservas Cabernet Sauvignon - Similar to the 1995, more immediately approachable.

Cousino-Macul 1995 Finis Terrae - Earthy, oaky, international in style.

Cousino-Macul 1996 Finis Terrae - Big black fruit and oak, another "international-style" wine.

Argentina

Catena Zapata 1995 Mendoza Cabernet Sauvignon - Blackcurrant and cigar box, Bordeaux-like.

Uruguay

Pisano 1998 Progreso Coastal Region of Origin Tannat RPF (Reserva Personal de la Familia) - Dark ruby. Warm, plummy fruit, earth and leather. Interesting.

H. Stagnari 1996 Tannat Viejo - Inky ruby. Leather and sour cherries, tannic and tart.

Catamayor 1998 San Jose Cabernet Franc - Clear ruby, jammy berry fruit and sweet oak.

Varela Zarranz 1999 Canelones Sauvignon Blanc - Pale. Grassy and citric,crisp and fresh.

Brazil

Almadén 1986 Palomas Zinfandel - Prunes, almonds and caramel, red-fruit and acid.

Casa Valduga 1997 Cabernet Franc Vinho Fino Tinto de Mesa Seco - Grapey, raw meat elements, fruity and tart,

Valduga 1997 Merlot - simple, grapey fruit.

Walnut Crest 1995 Rapel Valley Merlot - Fat, fresh cherries and dark chocolate. Simple, but balanced and a good under-$5 value.

United States

VIRGINIA

Barboursville Vineyards Ivy Creek Vineyard Monticello Traminer Aromatico - Very pale gold. Delicate litchee and grapefruit, crisp and fresh.

White Hall Vineyards 1997 Virginia Gewurztraminer - Pale gold. Litchees, light and off-dry.

MICHIGAN

Chateau Grand Traverse 1998 Old Mission Peninsula Select Harvest Dry Johannisberg Riesling - Pale straw. Delicate melons and apples, crisp and fresh.

Chateau Grand Traverse 1998 Old Mission Peninsula Whole Cluster Johannisberg Riesling - Pale brass color, delicate but intense pure Riesling, apples, mango and a hint of "petrol."

Chateau Grand Traverse 1996 Late Harvest Michigan Johannisberg Riesling - Good Riesling character, slightly sweet, a bit soft.

Canada

Pelee Island Winery 1998 Ontario Baco Noir - Typical Baco at first, odd "bacon fat" and rather one-dimensional dark fruit character. Wakes up with time in the open bottle, though, developing open and appealing juicy raspberry fruit.

Pelee Island Winery 1997 Pelee Island "The Vinedressers" Cabernet Sauvignon - Dark in color and in flavor, ripe, structured black fruit with chocolate overtones. Very fine Canadian red.

Henry of Pelham 1998 Niagara Peninsula Cabernet-Merlot - Good, full but tart cherry-berry aromas and flavors, excellent wine; consistent with my tasting at the winery earlier in the week.

MoCool Sunday "Spurgles" Brunch

"Spurgles," Australian slang for "sparkling Burgundies," were the topic of attention for the concluding event of MoCool 2000, a presentation of a dozen mostly Australian red sparkling wines, followed by a brunch arranged by Laura Kokkalis, the sales director of Polo Fields Country Club near Ann Arbor.

The brunch was outstanding. The spurgles were ... educational. Frankly, they weren't all impressive, or perhaps red sparkling wine is an acquired taste that I have yet to acquire. Still, at their best they were very good, and all but a few were at least interesting.

Aperitif

L. Mawby non-vintage Leelanau Peninsula Michigan Red Sparkling Wine - Dark garnet with lasting bubbles. Perfumed red fruit. Light, fresh and crisp. (50% Pinot Noir, 40% Marechal Foch, 5% De Chaunac, 5% Cascade)

Flight One - "Other" Varietals:

Capercaillie 1996 Hunter and Hastings Valleys Sparkling Chambourcin ($17) - Dark ruby. Grapey. Frothy, simple, tart-sweet. My score: 70/100 (eighth); group: 84 points (tied for fourth).

Mount Pleasant 1992 Hunter Valley Sparkling Pinot Noir ($13) - Dark ruby. Sulfury, bubble-gum. My score: 55/100 (eleventh); group: 83 points (tied for tenth).

Brands 1996 Coonawarra Sparkling Cabernet Sauvignon ($15) - Inky dark reddish-purple. Pleasant cranberry aroma. Less attractive on the palate, green-bean vegetal. My score: 75/100 (tied for sixth); group: 83 points (tied for tenth).

Tatachilla non-vintage Padthaway Sparkling Malbec ($10) - Opaque, black, persistent frothy mousse. Ripe black fruit and anise. Grapey, candied fruit. My score: 65/100 (ninth); group: 84 points (tied for fourth).

Flight Two - Blends:

Stephen John non-vintage Clare Valley Sparkling Burgundy Traugott Cuvee ($16) - Dark plum color. Grapey fruit and a whiff of vinegar. Juicy fruit flavor, tart and quite bitter. My score: 57/100 (tenth); group: 81 points (twelfth).

Hippocrene non-vintage Polish Hill Region Clare Valley Bin 93 ($15) - Very dark garnet. Plums and raisins, warm fruit. Good blackberry fruit, off-dry, balanced and fresh. Best so far. My score: 87/100 (second); group: 87 points (third).

Fox Creek non-vintage McLaren Vale "Vixen" Sparkling Shiraz Cabernets ($20) - Blackish-purple. Yeasty, bread-dough, raisins. Odd scorchy burnt-toast quality. Doesn't smell like wine, doesn't taste like wine. My score: 49/100 (twelfth); group: 84 points (tied for fourth).

Geyser Peak 1994 Alexander Valley (California) Sparkling Shiraz-Cabernet ($30) - Inky dark purple. Fresh, ripe and simple but appealing black fruit. Juicy, sweet, simple and fresh. My score: 82/100 (tied for fourth); group: 84 points (tied for fourth).

Flight Three - Shiraz:

Morris non-vintage Mia Mia Vineyard Rutherglen Victoria Sparkling Shiraz-Durif ($13) - Dark garnet. Plummy, light mint. Good juicy fruit flavor, crisp and balanced, a whiff of oak. My score: 84/100 (third); group: 84 points (tied for fourth).

Peter Rumball non-vintage South Eastern Australia Sparkling Shiraz Special Cuvee ($20) - Very dark reddish-purple. Plummy, perfumed and aromatic ... Incense? ... appealing at first but becomes increasingly oaky in the glass. Sweet fruit and aromatic oak; intriguing, bears a startling resemblance to Vernor's Ginger Ale. My score: 82/100 (tied for fourth); group: 84 points (tied for fourth).

Seppelt 1987 Great Western Vineyard Victoria Show Sparkling Shiraz ($40) - Blackish-purple. Amazing aromas, full and ripe, tropical fruit, olives and something pleasantly evocative of a summer salad, cucumbers and fresh tomatoes. Intriguing on the palate, less so on the palate, wild mushrooms. Better at first, falls apart in the glass. My score: 75/100 (tied for sixth); group: 88 points (second).

Tanunda non-vintage Barossa Valley Rockford Black Shiraz ($50) - Inky dark garnet. Jammy, peppery and oaky. Big and full, chewy black fruit and oak, a "Parkerized" Oz Shiraz ... with bubbles. My top wine of the tasting. My score: 90/100 (first); group: 91 points (first).


MoCool is non-profit and non-commercial, organized since 1992 by a volunteer group of wired wine lovers in the Ann Arbor/Detroit area. Our goal is a non-snobby, cooperative, affordable weekend for cyberwine fans to get together and enjoy wine, food, and each others' company.

Email mocool@voyager.net, or any of the organizers below for answers or more information about the weekend's events, travel and lodging help, suggestions for things to do in the area, etc.

Joel, for the MoCool bunch:

Jay Baldwin jaybaldwin@mediaone.net
Cindy Baldwin cindybaldwin@mediaone.net
Joel Goldberg jgoldberg@voyager.net
Sally Goldberg sgoldber@flintink.com
Dave Guimond dave.guimond@midata-ebs.com
John & Jennifer Wolf jwolf@voyager.net





The 8th Annual MoCool, took place Aug. 20-22. 1999. United by the theme HAIL THAT CAB!, hundreds of cyberwine buddies from around the globe gathered to socialize, taste and compare cabernets and cab-blends from around the globe, and enjoy lots of great food! Here's the full report, with tasting notes!.

For more information, and to get a sense of what these events are all about, check out the MoCool '95, MoCool '96, MoCool '97, MoCool '98 and MoCool '99 Notes Pages.

TOP BELOW-THE-BELT WINE SITES:

ARGENTINA:

www.argentinewines.com/english/default.htm
The English side of "ArgentineWines.com" is a colorful, content-rich site largely based on the book "Wine Routes of Argentina" by Alan Young.

www.argentinewines.com
If your Spanish is passable, flip over to the other side of the same site for even greater depth and variety of information on the history, grapes, and producers in this rising star.

www.nicolascatena.com
The first Argentine winery to achieve international breakout status is owned by the Catena family. They had the courage to declassify their entire 1998 high-end ("Alta") line of wines due to the results of "El Nino".

AUSTRALIA:

www.winestate.com.au
Australia's magazine answer to the Wine Spectator; their site features many reviews and stories from the print edition, a searchable tasting-notes database and, the editors say, an early peek at new wine reviews before the print edition is released.

www.auswine.com.au
Gavin Trott, long-time cyber-communicator and wine-board traveler, hosts "The Australian Wine Centre," a one-stop-shopping opportunity to keep up with what's new Down Under, including articles, interactive forums and online wine sales - with shipment available in the U.S. through partner wine shops. Get your MoCool BYO wines here!

www.top100wines.com
The web home of Warren Mason's "Sydney International WIne Competition," in which Australia's best annually take on all-comers to select the 100 best wines in the world.

www.sofcom.com.au/Nicks/
Thanks to Murray Almond for pointing out "Vintage Direct," another large Australian wine shop that will ship to the U.S. and around the world.

http://www.winewise.com.au/
"Winewise" is billed as an independent and objective wine publication founded by wine enthusiasts as a response to the commercial slant of the Australian wine press. It is primarily a print publication available by subscription only, but this site offers some tasting notes and articles.

CHILE:

www.vinasdechile.com
The Chilean Wine Association's new site provides considerable content (in English and Spanish) about Chilean wines and vines as well as the association's member wineries.

www.winesofchile.com
Jorge Valdes's "Guide to Chilean Wines and Wineries" - although lacking in recent updates - is another good source of general information, in English, on Chilean wine, along with links to a number of the wineries' own sites.

NEW ZEALAND:

www.wineoftheweek.com
Sue Courtney's "Wine of the Week" is a first-rate source of information and notes about New Zealand and its wines.

www.nzwine.com
The official site of the Wine Institute of New Zealand.

SOUTH AFRICA:

www.wine.co.za
The one-stop-shopping website of the South African Wine and Spirits Exporters Association - wines, wineries, maps, tour information and - just for MoCool - links to companies selling South African wine online.

www.winenew.co.za
From the same folks who bring you the site above, the latest in South African wine news and events.

www.pinotage.org
Peter May's Pinotage Club spreads the word and joy of the Pinotage grape, a cross of Pinot Noir and Cinsaut, developed in South Africa and still mostly grown only there.

If you know of other good Southern Hemisphere wine links,
please let us know!