MoCOOL 2005!
WHAT: The 14th Annual MOtown Co-Operative Off-Line Tasting
THEME: To be announced
WHEN: August 2005
WHERE: The Ann Arbor - Detroit, Michigan, area
WHO'S WELCOME: YOU!
Plans for each year's event are usually announced during the preceding winter. Watch for details here, or sign up below to be notified by E-mail.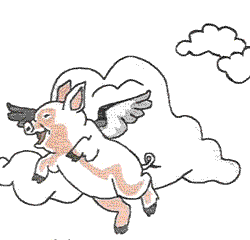 MoCool 2004 report:
PIGS Will Fly!
Follow these links to tasting notes and photos from MoCool 2004.

"Unofficial" Friday gathering

Hotel tastings

Saturday Picnic, "PIGS Will Fly"
---
About MoCool
MoCool 2004 brought together more than 100 online wine lovers on Saturday, Aug. 28, with the food and wine theme of PIGS - "Portugal, Italy, Germany (plus Greece) and Spain."

The good news - especially for those of you who have commented that MoCool had lost its "soul" from the early years, is that this was an "early year-style" MoCool. One event - the picnic - under one slightly-smaller tent, and many more opportunities to socialize with a greater percentage of the people there, and taste a higher percentage of the wines that people bring. The location was the same as last year's picnic - that incredible lakefront property near Ann Arbor. (Details available to registrants.)

- Joel

Now, here are some of those details, haphazardly pasted here, raw and unedited, by your Press Secretary:

(1) The whole picnic will be downsized - more a return to the early-year MoCool Saturday picnics. Still a rain-or-shine tent, great location near Ann Arbor, etc. But no imprinted glasses, t-shirts, constant waves of appetizers, etc.

(2) Alan Kerr will again be doing the chefing (is that a word?) The food will be on-theme (PIGS) and plentiful but simpler than recent years.

(3) Cost per person also down-sized to $40.

(4) Picnic will start the usual time - 3 p.m.

- Jay

LOGISTICS & INFORMATION:

REGISTRATION CLOSED If you're not signed up at this point, we're sorry we'll miss you, but it's necessary to set a firm registration deadline for budgeting and planning. Hope to see you next year! Meanwhile, watch this space for photos, MoCool stories and tasting reports.

GETTING HERE & AWAY: The Ann Arbor/Detroit area is five hours or less driving time from Toronto, Chicago, Cleveland, Cincinnati, and Indianapolis, and five hours or less flying time from anywhere in North America. The nearest major airport is Detroit Metro (DTW), which is halfway between Ann Arbor and Detroit; it's a Northwest hub. The usual assortment of rental cars is available. Sometimes you can find a bargain fare on AirTran from the southeast to Flint (FNT), about 45 minutes away.

HOTEL: Many out-of-town MoCoolers stay at the Hawthorn Suites, (www.bricton.com/hawthorn_ann_arbor/default.htm) a spiffy all-suite hotel on the northeast side of Ann Arbor at US 23, Exit 41 (Plymouth Road). Other hotel chains at the same exit include Microtel, Red Roof and Hampton.

SHUTTLE BUS: A group of MoCoolers has made private arrangements with a bus company for transportation to and from the picnic. Check with participants at the Hawthorn Suites or post a query on the Wine Lovers' Discussion Group for information.

MAPS, ADDRESSES: Location info, with detailed directions, is distributed privately before Aug. 28.

WEB SITINGS: The MoCool web site continues to be graciously sponsored and maintained by Robin Garr at his Wine Lovers Page, one of the web's leading wine destinations. You'll always find current MoCool information, plus lots of prior year photos and tasting notes at: www.wineloverspage.com/mocool. That's also where to send your cyberwine friends to join the MoCool email list.

Kim Adams and Geo "Bastardo" Heritier, founders of Detroit's notorious Gang of Pour, have posted lots of digital photos and irreverent first-hand reports from the several MoCools they've attended. Be regaled at: www.gangofpour.com/mocool/mocool.htm

WANT TO SPEND MORE TIME IN THE AREA? Some good starting points for local info are at Arborweb (www.arborweb.com) for Ann Arbor and Detroit Guide (www.detguide.com) for the Detroit area.

STILL HAVE QUESTIONS? Email mocool@comcast.net, or any of the organizers below, for answers or more information about the weekend's events, travel and lodging help, suggestions for things to do in the area, etc.
---
MoCool is non-profit and non-commercial, organized since 1992 by a volunteer group of wired wine lovers in the Ann Arbor/Detroit area. Since last year, we're now a corporation - MoCool Ltd. Our goal is a non-snobby, cooperative, affordable weekend for cyberwine fans to get together and enjoy wine, food, and each other's company.
| | |
| --- | --- |
| The MoCool bunch is: | |
| Jay Baldwin | jaybaldwin@comcast.net |
| Joel Goldberg | jgoldberg@voyager.net |
| Sally Goldberg | |
| Dave Guimond | |
| John Wolf | |
© Copyright 2004 MoCool Ltd.
Previous Events ...

For more information, and to get a sense of what these events are all about, check out the complete online archive: MoCool '95, MoCool '96, MoCool '97, MoCool '98, MoCool '99, MoCool 2000, MoCool 2001, MoCool 2002 and MoCool 2003 Notes Pages.