MoCool 2005: The Hunt for Rhone Rangers!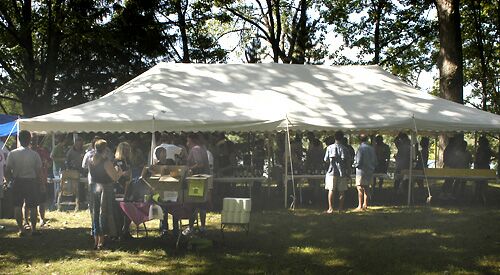 MoCool Saturday picnic
Aug. 27, 2005

Weather-wise, things didn't look promising for MoCool on Saturday morning. The day broke gray and drizzly, and by late morning, while a small, stalwart crew of volunteers worked to set up the scene at a private lakefront lodge not far from Ann Arbor, a pounding, gusty rainstorm moved through the region. With more of the same in the forecast, it looked as if this might be the first seriously dismal-weather MoCool ever. But Bacchus or Dionysius must have been smiling, as the skies started to clear after lunch, and the sun broke through just as the crowd started to gather, unveiling an almost painfully bright, beautiful and breezy summer afternoon.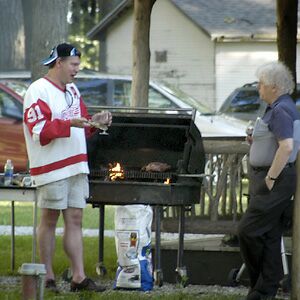 John Wolf (left) and Alan Gardner keep an eye on the grilling legs of lamb.

More than 100 wine enthusiasts joined in the festivities, bringing far more than that many Rhone and Rhone-style wines to share, and Chef Alan "Canadian Zinfan" Kerr and associates outdid themselves as usual, providing a steady stream of gourmet-style munchies all afternoon, followed by a dinner (roast lamb two ways) that made a spectacular accompaniment to the wines.

It was good to see lots of old friends again, and a few new ones. As usual, it wasn't humanly possible to get around to all the wines, but I did my best to catch a random sample, and jotted close to 50 into my Palm. Balancing stylus and wine glass in an outdoor setting doesn't inspire garrulous notes, so most of these reports are rather telegraphic. Some might say this is a good thing ...

Thanks again to the all-volunteer MoCool organizers, volunteers and participants who make this a memorable event every year. All the work they do does not go unappreciated, and it deserves a standing O from all of us. Here's hoping we'll do it again next year!

U.S. whites

Tablas Creek 2001 Paso Robles Esprit de Beaucastel Blanc - perfumed, floral. Soft but sufficient acidity, good balance. The Hass-Perrin partnership seems to be hitting its stride, with the whites, in my opinion, generally showing a slight edge over the reds.

Tablas Creek 2003 Paso Robles Roussanne - Honey, almonds and flowers, balahced and rich, similar to the Esprit but, in a direct side-by-side comparison, showing a bit more structure and richness.

Isenhower 2004 Columbia Valley Washington State Roussanne-Vlognier - Pale gold. Almonds and white fruit, crisp and dry.

Alban-Gangloff 2003 "Conversation" Edna Valley Viognier - Everyone who sees this rarity does a double-take to see the unexpected pairing of famous names from the California Central Coast and Cote-Rotie. It's a good effort, too, if much more New World in style than Old: Butterscotch and caramel-coated pears, powerful and rich.

Copain 2002 Broken Leg Vineyard Anderson Valley Viognier - Pale greenish-gold. Floral and peach, a beauty, one of the best California Viogniers I've ever tried.

Other whites

Tahbilk 1995 Marsanne - Bright gold. Pure honey, but dry. A Bob H. contribution that shows why his affection for this producer and variety is well-placed. Alas, a newer model brought for comparison was corked.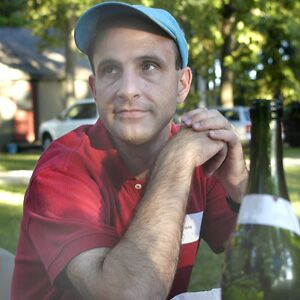 Sporting his trademark turquoise cap, John Fiola in a pensive moment at the dinner table.

Rosé wines

Hess 2004 Monterey-Napa Syrah Rosé - Bright pink. Good berries and white pepper, dry and fresh. One of the first wines I tried, a nice way to start a summer afternoon of alfresco wine-tasting.

Paul Jaboulet Ainé 2004 Cotes du Rhone Rosé - John Fiola seems to make it a custom to bring a really nice rosé to every MoCool, and this year is no exception. His entry is a pretty pale pink color, showing delicious aromas of ripe strawberries. Crisp and dry, it's an excellent benchmark example of Provence Rosé while it's still deliciously young and fresh.

French reds

Domaine de Coyeaux 1999 Gigondas - Burnt match and barnyard, a lot of sulfury reductiveness. Better on the palate, sweet fruit and structure.

Jasmin 1977 Cote-Rotie - Amazingly, two different people independently brought this same wine, same vintage. The one I tasted showed good color, still plenty of ruby in the bronze. It's a bit oxidized, torrefied black-coffee aromas, but there's still ample dark fruit and acidic structure. Very much alive.

Domaine Rochevine 1994 Saint-Joseph - Red fruit and pepper, animal notes, good balance, mature.

Eric et Joël Durand 1999 Cornas "Emreintes: - Plums and leather and sweet fruit.

Le Vieux Donjon 1999 Chateauneuf-du-Pape - Black fruit and "animal" Rhone Syrah character, showing well.

Le Sang des Cailloux 1999 Vacqueyras - Plums and pepper, tannic, good balance, a personal favorite that's showing well.

L'Oratoire St. Martin 2001 Haut-Coustias Cairanne - Perfume, pepper, lot of structure, still a baby.

Montirius 2000 Gigondas - Raisins, some oxidation. A 2000 shouldn't be like this. "Cooked"?

Domaine Delubac 1998 Les Bruneau Cairanne - Plums, pepper and a hint of animat fur. Balanced and appealing.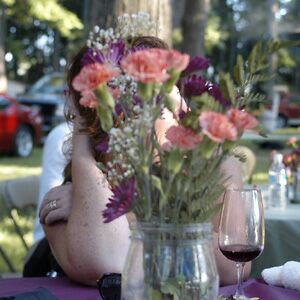 A strolling paparazzo grabs a shot of the elusive Julia B, published with her permission ...

JB's long-awaited Guigal vertical offered a good opportunity to compare and contrast four fairly recent Chateauneuf-du-Pape vintages:

E. Guigal 1998 Chateauneuf-du-Pape - Menthol, mint, a bit closed; I also detect slight oxidation, although I seem to be exceptionally sensitive to this.

E. Guigal 1999 Chateauneuf-du-Pape - Bright red fruit, again with just a slight hint of walnuts that doesn't seem to bother anyone else.

E. Guigal 2000 Chateauneuf-du-Pape - Plums and berries, ripe and full; a forward-fruit vintage that's drinking very well. Easily my preference of this quartet, regardless of my instinct to rant against the "California-style" French vintages.

E. Guigal 2001 Chateauneuf-du-Pape - Lighter in color, plums and pepper, a startling contrast in vintage difference from the 2000.

J. Vidal-Fleurie 1985 Cote-Rotie Cote Blonde - Dark purple. Black fruit, grilled meat, bacon. Still on the uphill path, I'd say ... a treat.

Jean-Louis Chave 1982 Hermitage - Elegant, black fruit and red meat, beautiful balance. Thanks to Frank McCloskey for bringing this one and its predecessor over to my dinner table; I'd otherwise have missed them, and that would have been a shame.

Stellenzicht 1994 Stellenbosch Shiraz - Inky and intense. Joel Goldberg says it's one of South Africa's top Shirazes. Imposing, but still needs lots of time.

Chateau-Fortia 2000 Chateauneuf-du-Pape - Dark ruby. Plums and pepper and animal fur. Very appealing, and perhaps typical of the 2000 vintage, not disappearing into a "dumb" stage as one might expect of a five-year-old Chateauneuf.

California reds

Ridge 2001 Buchignani Ranch Carignane - Red-berry fruit and distinct animal notes, earthy. An interesting wine, but a bit simple and short, doesn't do anything to sway my prejudice against Carignane as a single-varietal wine.

Cline 2003 Contra Costa County Ancient Vines Carignane - Jammy, fruit-forward, red berries, a crowd-pleaser.

Peay 2002 Sonoma Coast Syrah - Plums and menthol, fruit-forward, one-dimensional.

Trinitas 2003 Contra Costa County Old Vine Mataro - Plums, prunes and pepper, tannic. Very nice wine from Cline, reminiscent of Bandol.

A coincidental trio of Edmunds Saint John goodies, brought by three different participants but tasted together.

Edmunds St. John 1999 El Dorado County Wylie-Fenaughty Syrah - Remarkable black fruit perfume, a lovely, lovely wine, one of my "wines of the day."

Edmunds Saint John 1993 Durrel Vineyard Sonoma Valley Syrah - Intense plummy fruit and earth, ready to enjoy but still very youthful, likely to last another decade.

Edmunds Saint John 2003 California Rocks and Gravel ($18.99) - Ripe Syrah fruit, abundant tannins, drinkable for its fruit and balance, but will reward a little cellar time.

Joseph Phelps 1978 Napa Valley Syrah - Ruby-bronze. Some nutty Sherrylike notes (as I said, I'm sensitive to this, which tends to diminish my enjoyment of a lot of older wines) but plenty of sweet fruit remains. Inspires a discussion about how many ageworthy California reds - Zin, Cabernet and Syrah in particular - all veer toward "claret" style with considerable age.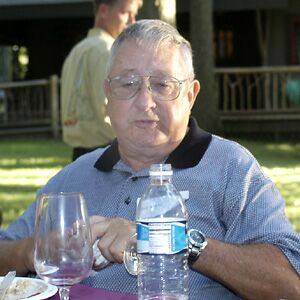 All's well in the wine world as BobH. relaxes over dinner.

Thanks to Bob H. for pouring these two with dinner. They're winners!

Qupé 1995 Bien Nacido Reserve Syrah - Ripe, sweet cherry-berry fruit, balanced and long. Plenty of life left in it.

Qupé 1995 Bien Nacido Hillside Estate Syrah - Very ripe but beautifully balanced; oak present but well integrated.

Tablas Creek 2002 Pasd Robles Panoplie Mourvedre (80%) Grenache (13%) Counoise (7%) - Inky. Plums, menthol and pepper. Good fruit and balance.

Novy 2003 Sonoma County Syrah - Menthol, plums and tannin. Good acid, but rather one-dimensional, big and hot at 14.7% alcohol. Parker will likely praise it, but I do not.

Cline 2001 Small Berry Mourvedre - Berries and powerful, aromatic eucalyptus. Interesting wine, the big eucalyptus aroma is remarkable, making for an interesting but almost overwhelming wine.

Clos des Papes 1998 Chateauneuf du Pape - Very attractive, black fruit and smooth tannins, open and showing well.

Other reds

Beaumont 2001 Walker Bay (South Africa) Mourvedre - Very dark. Tart red fruit, bright but tannic.

Mike Brenton and I both brought Walla Walla Syrahs, setting up an interesting side-by-side.

Tyrus Evan 2001 Walla Walla Syrah - Inky, intense, a Syrah label from Ken Wright, who's famous for the Pinots that he makes under his own name. "Blockbuster" style, a big whack of forward fruit and oak, but it's nicely balanced and not at all monolithic. Very good Syrah in the riper style.

K 2003 Cougar Hills Walla Walla Syrah ($37.99) - Inky dark blackish-purple. Very open and full, blueberries with spicy dashes of smoke and meat. It may be just the paternal pride that comes with a wine I brought, but I spot its potential with grilled lamb and save a glass to enjoy with dinner.

MoCool Friday dinner
Aug. 26, 2005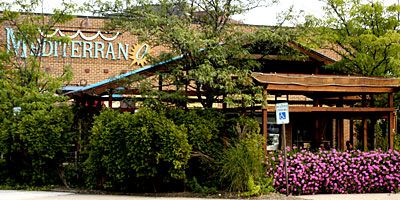 The 14th annual MoCool events opened with about 40 revelers gathering for dinner and wine at Mediterrano, 2990 South State Street in Ann Arbor. I wasn't initially reassured when I saw it was in a modern shopping center and had a vaguely chain-like look, but the food was very fine ... I should have known that the organizing committee wouldn't lead us astray.
Dave Guimond had pre-selected a diverse array of a dozen Rhone and Rhone-style wines from around the world with the idea that restaurant management would craft courses to match. That didn't exactly happen, but Jay Baldwin jumped in shortly before dinner and did a great job of lining up the wines with the courses. It wasn't a small challenge, considering for example that there were only two whites, one of which had already been opened for service as aperitifs. But when the going gets tough, etc. ... and all went well.
Here's a quick listing of the courses, and my brief notes on the wines served with each.
Aperitifs with walk-around appetizers, fried calamari, hummus and pita points.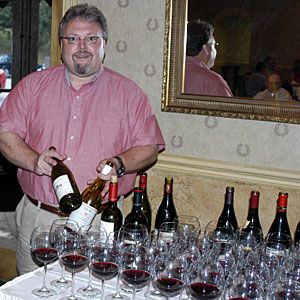 Sommelier Jay discreetly bangs two bottles together to get attention.

Domaine de Vieux Chene 2004 Cuvee des Seigneurs Cotes du Rhone Villages Blanc (J.C. et B. Bouche)
Clear pale gold. Simple white fruit, pears. More forward flavor, good acid balance. Nice aperitif but not really a memorable wine. Importer: J et R Selections Ltd., Mt. Pleasant, Mich.

Capçanes 2001 Mas Donis Montsant Barrica
Clear dark garnet. Sappy raspberry, full and warm (14% alcohol). There's a lot of speculation about this wine and its Spanish region, but we're all caught without our wine books. Tastes like a Garnacha to me, and vague memories and a Catalan-sounding name make me think of Spain's far northeast. I'll look it up when I get home. Importer: Eric Solomon European Cellars Direct, NYC.

With Hudson Valley foie gras on crostini atop a salad of celery root and white button mushrooms, shaved Romano, truffle oil and lemon.

Peter Lehmann 2002 Barossa Shiraz
Very dark reddish-purple. Menthol, licorice, smoke and oak. Standard-issue Barossa, but just a little too one-dimensional and oaky for me. Importer: The Hess Collection, Napa, Calif.

With sea bass steamed in parchment with olive oil, whole sweet butter, capers and fresh basil:

Qupé 2004 Santa Ynez Valley Marsanne (75%) - Roussanne (25%)
Pale straw. Lovely scents of tangerine and honey. Dry, crisp and brightly acidic flavors follow the nose; excellent wine, and particularly well-matched with the dish.

With mezzaluna ravioli stuffed with pheasant and chanterelle, sauced with fresh cream and Marsala and garnished with prosciutto:

D'Arenberg 2002 d'Arry's Original McLaren Vale Shiraz-Grenache
Very dark garnet. Attractive aromas, plums and chocolate. Fruit and oak, nose scores higher than the palate, frankly, but it's still one of the more enjoyable Ozzies of the evening. Importer: Old Bridge Cellars, Napa, Calif.

Clos de la Granière 2000 Châteauneuf-du-Pape
Dark ruby. Lovely perfumed raspberries, crisp and "sweet." Just a hint of "animal fur" adds a pleasant earthy note. It's pleasing, particularly in contrast to the much more one-dimensional d'Arenberg, but it's on the light side for Chateauneuf. Importer: A French Paradox, Peoria, Ill.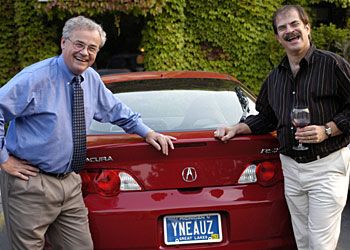 O.W. Holmes (left) and Joel Goldberg yuk it up about Joel's new "YNEAUZ" license plate. Can you pronounce it?
With slow-cooked fresh polenta wild boar sauce with crushed red pepper, celery, carrots and onions:
Tres Picos 2003 Borsao Garnacha
Dark garnet. Raspberries and alcoholic heat. Not as complex or balanced as I recall of previous outings with this QPR favorite. Importer: Veritas Distributors Inc., Detroit.
Neil Ellis 2001 Coastal Region (South Africa) Shiraz
Dark garnet. Cassis and herbs, soft and smooth, sufficient acidity for balance, oak present but in balance. Decent restaurant red. Importer: Vineyard Brands, Birmingham, Ala.
With cold roasted tenderloin of beef and charcuterie sun-dried tomato, pine nut and olive relish:
Domaine les Pallières 2001 Gigondas (Brunier)
Garnet. Cherry-berry fruit is framed but not overwhelmed by perceptible oak. Good structure and balance, a bit young, but steps up to the plate nicely with this rare-beef dish. From the stable of the Bruniers, producers of Vieux-Télégraphe. Importer: Kermit Lynch Wine Merchant, Berkeley, Calif.
Epiphany 2001 Santa Barbara County Revelation
Blackish; day-glo violet edge. Raspberry, some leafy and peppery notes. Mouth-filling and ripe, seems oaky, warm but carries its 16.9% alcohol well. A lot of speculation about its blend of grapes, which is apparently not disclosed. Syrah, certainly. Some guess it bears a shot of Zinfandel, but I think its Santa Barbara source makes that a little unlikely. I'm guessing GSM, a Rhone-style Grenache, Syrah and Mourvedre blend. It reportedly won a 90-plus Parker rating, and I can see why, but to its credit, it's a well-handled New World blockbuster.
With a cheese tray of mountain aged Gorgonzola, Brie Couronne (60%), Boucheron and Saint-Maure with peaches roasted with thyme and honey:
Kunin 2002 Santa Barbara County Syrah
Plums and prunes, earth, even a hint of barnyard, fruit-forward but interesting and complex, probably best New World red of the evening for me.
Step Rd. 2002 Langhorne Creek (South Australia) Shiraz
Dark reddish-purple. Plummy, oaky, fat, soft and sweet, boring. I'm surprised to see a wine of this style coming from this importer, Kysela Pere et Fils, Winchester, Va.
My wines of the night? The Gigondas in its own right, and the Qupé with extra creds for its stunning partnership with the sea bass en papillote. Stinkers of the night, in general, were the Australians, I'm sorry to say ... the aggressively oaked Peter Lehmann and the fat'n'happy Step Rd. were particularly disappointing.
Boilerplate information about MoCool
HOTEL: Many out-of-town MoCoolers stay at the Hawthorn Suites, (http://www.hawthornannarbor.com/) a spiffy all-suite hotel on the northeast side of Ann Arbor at US 23, Exit 41 (Plymouth Road). Other hotel chains at the same exit include Microtel, Red Roof and Hampton.
SHUTTLE BUS: In past years, MoCoolers have often private arrangements with a bus company for transportation to and from the picnic. Check with participants at the Hawthorn Suites or post a query on the Wine Lovers' Discussion Group for information.
MAPS, ADDRESSES: Location info, with detailed directions, will be distributed privately before the event.
WEB SITINGS: The MoCool web site continues to be graciously sponsored and maintained by Robin Garr at his Wine Lovers Page, one of the web's leading wine destinations. You'll always find current MoCool information, plus lots of prior year photos and tasting notes at: www.wineloverspage.com/mocool. That's also where to send your cyberwine friends to join the MoCool email list.
Kim Adams and Geo "Bastardo" Heritier, founders of Detroit's notorious Gang of Pour, have posted lots of digital photos and irreverent first-hand reports from the several MoCools they've attended. Be regaled at: www.gangofpour.com/mocool/mocool.htm
WANT TO SPEND MORE TIME IN THE AREA? Some good starting points for local info are at Arborweb (www.arborweb.com) for Ann Arbor and Detroit Guide (www.detguide.com) for the Detroit area.
STILL HAVE QUESTIONS? Email any of the organizers below, for answers or more information about the weekend's events, travel and lodging help, suggestions for things to do in the area, etc.
---
MoCool is non-profit and non-commercial, organized since 1992 by a volunteer group of wired wine lovers in the Ann Arbor/Detroit area. Since last year, we're now a corporation - MoCool Ltd. Our goal is a non-snobby, cooperative, affordable weekend for cyberwine fans to get together and enjoy wine, food, and each other's company.
| | |
| --- | --- |
| The MoCool bunch is: | |
| Clay Johnson | clay@chartermi.net |
| Jay Baldwin | jaybaldwin@comcast.net |
| Joel Goldberg | jgoldberg@voyager.net |
| Sally Goldberg | |
| Dave Guimond | |
| John Wolf | |
© Copyright 2004 MoCool Ltd.
Previous Events ...

For more information, and to get a sense of what these events are all about, check out the complete online archive: MoCool '95, MoCool '96, MoCool '97, MoCool '98, MoCool '99, MoCool 2000, MoCool 2001, MoCool 2002, MoCool 2003, MoCool 2004 and MoCool 2005 Notes Pages.