Saturday hotel tastings: Mas la Plana, Allegrini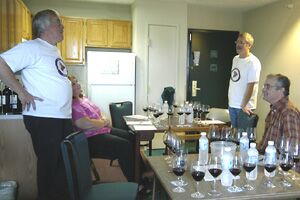 The Noland brothers and O.W. Holmes (right) ready for tasting.
Bring together a critical mass of wine enthusiasts geared up for tasting and equipped with plenty of wine, many of whome are old online friends but may not have met in person - at least not since the same time and place last year - and you've set the scene for plenty of socializing and a lot of thoughtful tasting.
Most out-of-town visitors to MoCool stay in the Hawthorn Suites or nearby Microtel on the east side of Ann Arbor, and Hawthorn guest rooms quickly evolve into tasting stations as friends get together to open a bottle or two in advance of the "official" events.
Many of these gatherings are informal, developing on the spot as old friends meet and mark the occasion by opening something of interest. This year, one tasting in particular saw a bit more advance planning as a group of enthusiasts - organizing the event in advance on the Wine Lovers' Discussion group - took (free) reservations in advance for an intriguing "vertical" tasting of four vintages of Mas La Plana, a noteworthy Catalan Cabernet Sauvignon with a long history of critical acclaim. The same midday Saturday event featured another interesting "vertical" group of three Veronese reds from Allegrini, and an quick interim "palate cleansing" session that offered an educational comparison between a Spanish Albariño and a French Viognier.
Many thanks to the Noland brothers for sharing their stash of Mas La Plana, and to O.W. Holmes for contributing the Allegrinis. It is just this kind of generosity that makes MoCool a particularly memorable wine event.
Mas La Plana Vertical Tasting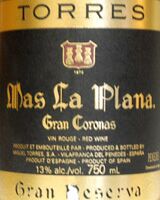 Tom Noland offered a quick overview: Mas La Plana Cabernet Sauvignon has been the flagship bottling of Miguel Torres's Spanish wine empire in Penedés for nearly 35 years. Originally labeled Torres Gran Coronas, the name "Mas La Plana" was added to the label by the early 1990s. Throughout the period, most wine lovers recognize it - and nickname it - by its distinctive black label.
That first vintage, the 1970, caught public attention when it received awards in a tasting in Paris that pitted it against big-name Bordeaux. A few years later, the American wine writer Robert M. Parker Jr. declared the 1978 one of the best Cabernets he ever tasted, likening it to Chateau Lynch-Bages. Some might consider that an exaggeration, but tasting certainly proved the wine to be exceptional. The 1998, 1997, 1994 and 1991 vintages were presented "blind," poured from brown bags, and the group tasted, was polled for preference - and encouraged to guess the vintages - before the bags were removed.
A: Torres 1998 Mas La Plana Penedés Cabernet Sauvignon - Dark garnet. Clean scent, spicy oak. Sweet fruit, smooth but substantial tannins. Is it the 1998? Fresh, clean but unevolved fruit suggests a young wine. Yes, it is. Many in the group get this one right.
B: Torres 1997 Mas La Plana Penedés Cabernet Sauvignon - Lightest of the four (but still dark), with a slight bronze edge. Big aroma; black Cabernet fruit and vanilla, subtle and nuanced; tobacco-leaf, dark chocolate and toast. Consensus pick as best of the flight with 8 votes among 10 tasters, it's the 1997.
C: Torres 1994 Mas La Plana Penedés Gran Coronas - Darkest, almost black. Earthy, not quite "barnyard" but a little "ripe cheese." Clean frult on the palate; "sweet," balanced and long. Earthy character suggests an older wine, but the color looks young, a puzzlement. In fact, it's the 1994.
D: Torres 1991 Mas La Plana Penedés Gran Coronas - Dark ruby, very slight browning at the rim. Shy aromas, needs coaxing, opens up to straightforward Cabernet frult. Ripe, tart and still quite tannic. It's the 1991, but except for the very slight hint of age in the color, it's a youthful wine that should last for many more years.
Break: Albariño and Viognier
Nora 2003 Rias Baixas Albariño - Light greenish-gold. Flowers and spice. Quite full, crisp and tart, a typical young Albariño makes me wish there was some seafood handy - it would be a treat with simple peel-and-eat shrimp.
I casually mention that I've often thought a side-by-side tasting of Albariño and Viognier would be an interesting experiment, considering that both present somewhat similar floral aroma profiles and good acidity. No sooner do the words pop out of my mouth than our friend Niki runs out of the room, soon returning with the chilled remains of a bottle opened the night before:
Laurent Miquel 2003 "Nord Sud" Viognier Vin de Pays d'Oc - Pale brass. Floral, somewhat oaky. Bitter almond in the finish. A little too cold for a perfect comparison, and made in an "international" style, but still fun to compare, and I think it supports my assertion that these two unrelated grapes share a somewhat similar profile.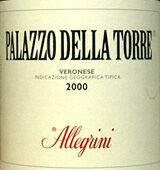 Allegrini Vertical Tasting
Allegrini 1996 "Palazzo della Torre" Valpolicella Classico Superiore This was the last year that Allegrini produced this wine as a Valpolicella DOC, made from the standard Valpolicella blend of Corvina, Rondinella and Molinara grapes, put through the "ripasso" process, undergoing a late secondary fermentation in the previous year's empty Amarone barrels. Dark ruby. Good dried-cherry character of Valpolicella, full-bodied, with a spicy but less traditional edge of oak.
Allegrini 1997 "Palazzo della Torre" Veronese IGT No longer a Valpolicella, this year's production replaces the traditional Molinara with Sangiovese; still made in the ripasso process. Cherries, caramel and spice, oak present but restrained; good acid balance, attractive wine, but it seems closer kin to Tuscany than the Veneto.
Allegrini 2000 "Palazzo della Torre" Veronese IGT The same blend of Veneto and Tuscan grapes as in the '97, but a new style - 30 percent of the grapes were dried into raisins, then introduced in a second fermentation. Very dark reddish-purple. Deep plum and vanilla, very full and ripe. Impressive but overly oaky, an "international style" wine that's likely to earn critical points from the usual suspects but has little identifiable character of the Veneto or even Italy.
Aug. 28, 2004
Saturday picnic report
<!- Page Contents End Here ->