"Unofficial" Friday gathering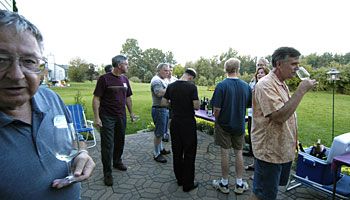 The crowd gathered on David and Mary's deck, sipping wines, snacking and socializing. That's my neighbor Bob H. eyeballing the camera on the left.
This was supposed to be the year of the "scaled-back" MoCool, a back-to-the-basics event that would return to the simpler, smaller roots of the 13-year-old tradition with a one-event, one-day picnic to bring together online wine lovers from the Midwest and beyond.
But it was hard to detect any real reduction of fun, food, wine or fellowship in the "unofficial" event that kicked off the weekend: An enjoyable dinner and bring-your-own winefest hosted by Dave G. and Mary A. at their home in the suburbs outside Ann Arbor. Buffet-style fare provided by the hosts and guests was appetizing and wine-friendly, from pesto-sauced penne and wild-mushroom risotto to a great assortment of cheeses, crackers, cheese-stuffed finger foods (including memorably noteworthy ham-wrapped asparagus spears) and even homemade beef jerky.
Everyone brought wines in that kind of amiable wine-enthusiast attitude that has nothing to do with snobbery or trying to outdo your peers but everything to do with sharing wines that you really like in company with friends who feel the same way. There must have been 50 wines on the tables - I tasted about 30 of them and must have missed as many more. Here's a summary of my quick notes on most of those I tasted.
Les Cailloux 1998 Chateauneuf du Pape Blanc - Clear pale gold. White frult and almonds, oxidative but nicely balanced.
Schloss Schönborn 1995 Winkeler Hasensprung Rheingau Riesling Spätlese - Clear brass. Musky melon and citrus. Tart-sweet and luscious. "Petrol" on the palate but not the nose.
Heart of the Vineyard Winery 2003 Lake Michigan Shore Muscat Ottonel - Pale straw. Good full Muscat fruit, candied grapefruit. Off-dry.
Bel Lago 2001 Leelanau Peninsula Chardonnay - Golden. Apples and toast, a whiff of chestnuts, nicely balanced.
Peninsula Cellars 2002 Old Mission Peninsula Gewurztraminer - Bright straw. Classic litchees and grapefruit, classic Gewurz; dry, a hint of peach-pit bitterness.
Lemon Creek Winery 2001 Lake Michigan Shore Cabernet Sauvignon - Clear garnet, not too dark. Pleasant, lean, a bit austere. Tobacco leaf and spice, not overripe but a good balance of herbaceous frult and acidity.
Bowers Harbor 2002 "2896 Langley" Red - Cab Franc and Merlot. Clear reddish-bronze. Herbal, cherries and plums. Bright and tart, lots of frult over snappy, mouth-watering acidity.
Hospices de Nuits 1991 Nuits-Saint-Georges Ier Cru "Les Saint-Georges Cuvee des Sires de Vergy - Dark rosy red. Aging, a little oxidized, still showing much earthy complexity.
Trimbach 1998 Cuvee Frederic Emile Alsace Riesling - Pale brass. Apples and petrol. Big and rich, off-dry, velvet over steel.
Remoissenet 1994 "Diamond Jubilee" Corton-Charlemagne Grand Cru - Bright brass. Apples, butter and spice, Rich, a bit "New World," delicately earthy but holding up very well.
Hait's Celebration 2002 Sparkling Cayuga - Pale greenish gold, good bubbles. Appley, crisp. Nice.
Etienne Sauzet 1992 Puligny-Montrachet Ier Cru Les Combettes - Beautiful. Golden, brassy; butter and apples, earthy and complex.
Fulkerson 2002 Finger Lakes Traminette - Smells like an excellent Gewurz, litchee and grapefruit; soft and fat.
Chateau Musar 1994 Bekaa Valley - Earthy, plummy, peppery; classic Musar.
Drew 2001 Purisima Mountain Santa Ynez Valley Grenache - Raspberries, luscious and ripe. Good acidity for balance.
Dioro 2001 Rioja - Full, strong, oaky, one-dimensional. Parkerized.
Fairview 2001 Paarl Shiraz-Mourvedre - Grapey, but good earthy notes and acid balance.
Las Rocas 2001 San Alejandro Catalayud Garnacha - Garnet. Raspberry and caramel, a touch of sweetness over a crisp acidic core.
St. Julian Michigan Light Solera Cream Sherry - Clear copper-bronze. Good true-Sherry scent, earthy pecans and hazelnuts; brown sugar and lemon peel. Sweet but not sticky: I like it ... and learn to my amazement from David Creighton that it's made entirely from Niagara, a labrusca grape.
Drouhin-Laroze 1995 Clos de Vougeot Grand Cru - Rosy red. Earthy and "green," acidic, complex. Still seems young.
Clos Rougeard 1998 Saumur Champigny (Louis/Dressner) - Clear light ruby. Herbaceous and tart cherries on the nose and palate, funky but fun.
Bois de Boursan 1999 Chateauneuf du Pape - Cherry-red. Full, bright ahd balanced, drinking amazingly well for a '99.
Esperão 2000 Alentejo Reserva - Bright berry frult, luscious and ripe.
Peninsula Cellars 2003 Old Mission Peninsula Semi-Dry Riesling - Pale brass. Good limey citrus aroma. Gently sweet, steely acidity.
Later in the evening, squadrons of Michigan mosquitoes and a shower drove most revelers indoors, where the sipping, snacking and socializing continued.
Vidal-Fleury 1995 "La Chatillonne" Cote-Rotie Cote Blonde
- Light ruby. Charred plums, earth, red meat. Good mature Cote-Rotie.
Avignonesi 1998 Vino Nobile di Montepulciano - Tart black cherries, well balanced by tangy lemon-squirt acidity. Still seems young.
Chateau de Beaucastel 1979 Chateauneuf du Pape - Amazing! Funky but not over the top, Abundant sweet red frult and earth, crisp acidity in perfect balance. A candidate for "wine of the night," amid keen competition.
O'Shaughnessy 2000 Howell Mountain Cabernet Sauvignon - .Very dark. Mint and blackcurrant, beautiful structure and balance. Young, but drinking beautifully. A Gary Kahle discovery.
Louis Michel et Fils 1991 Chablis Grand Cru Grenouilles - Clear pale gold. Apples and earth, crisp white frult and steely minerality. A great wine, near peak but will last. Or maybe this was wine of the night. Or was it the Musar? Or the Corton-Charlemagne? Or ... or ... there was a lot of very good wine here, and very good people with whom to enjoy it.

More notes submitted by Dave Guimond, who modestly notes, "these are from memory, but I think they're fairly accurate." They look good to me!
1990 Sorrel Hermitage Le Greal – Very dark, with a reticent nose. Tannic an almost impenetrable on the initial attack, but there is a truckload of fruit waiting, not to pounce, but to be slowly released over the next decade or so. This could be excellent someday.
1982 Clos Rene Pomerol – Garnet with an amber edge. Classic bouquet with more secondary cedary/earthy elements in evidence than fruit. The medium-weight palate is soft and round, and really at its apogee just now. The last of the six bottles I purchased on futures.
1985 Guigal Cote Rotie Brun & Blonde – A bit brownish looking. Is this corked? No, maybe just a bit oxidized. There is something fairly attractive in there on the palate, but this bottle is not quite right. A pale shadow of the 83 opened last winter that had been stored side by side for many years.
1991 Beringer Private Reserve Cabernet Sauvignon – Still quite dark, but with just a hint of mint alongside a good dollop of oak on the nose. A fairly rustic palate in the very best sense, with excellent intensity and a long chunky finish. Very nice.
1991 Laurel Glen Cabernet Sauvignon – Not quite as dark as the above. The nose is an LG classic – lots of interest and earthiness. Excellent concentration and balance here and a good long finish. Elegant - but not a little too thin ;-).
Aug. 27, 2004
Saturday hotel tastings
<!- Page Contents End Here ->