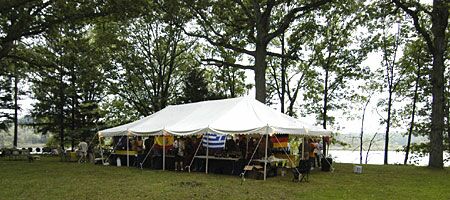 This large tent housed the MoCool tasting tables at the lakeside picnic location. It proved duly waterproof when a shower came through during the afternoon.
Saturday picnic report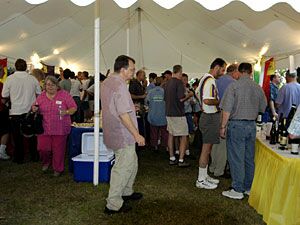 Happy crowds filled the tent, selecting tasting samples from a half-dozen tables marked with large flags representing the nations whose wines they bore.
Just like Friday night, if the Saturday picnic - traditional centerpiece of the MoCool festivities - was "scaled back" in any way, it was hard for the casual observer to tell. With some 100 wine lovers in attendance (about an equal mix of Ann Arbor and Detroit-area locals and out-of-town visitors), the crowd was about the same size as last year's.
Although the weather was threatening - cloudy and cool with only a few "sunbreaks" during the day, it turned out to be not quite as awful as forecast, and only one brief shower interrupted the festivities, driving a good-size crowd under a tent that was just barely large enough to fit everyone at once.
But if the tent was slightly smaller and the meal a bit less grandiose than in recent outings, the differences weren't noticeable. In fact, applause to Chef Alan Kerr and company for delivering an outstanding range of munchies (pictured below) and an appetizing roast-beef dinner.
A crowd of volunteers helped set things up on the attractive, wooded lakefront property west of Ann Arbor, and a thirsty, hungry crowd began trickling in within moments of the 3 p.m. start time, lugging wines by the box full. Revelers pasted on name tags, and stuck labels bearing their names to the bottles they brought. (Under MoCool etiquette, any open bottle is fair game for tasting, but only the individual who brought each wine owns the right to open it.)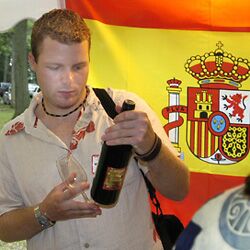 Bostonian Joe Perry, perhaps the No. 1 advocate of Rioja on the Wine Lovers' Discussion Group, is framed by the Spanish flag as he scrutinizes a bottle of his favorite.
To sort tastings in accord with this year's MoCool theme, large tables around the permiter of the tent were identified by the flags of the nations that make up the acronym "PIGS" - Portugal, Italy, Germany, Greece and Spain - plus the less familiar navy-blue flag of Michigan to represent the "non-conforming" table, where wines that don't fit the assigned wines of the weekend (from California to the New York Finger Lakes to France) were placed. Each table was also fitted with long metal troughs lined with plastic-packaged ice for cooling white wines.
Two more tables down the center of the tent bore large platters of good things to eat, again generally adhering to the pan-European ethnic theme: Pizza, German meats and sausages, Italian eggplant caponata, Greek pitas, Portuguese salt-cod brandade and more.
Beyond the loosely enforced constraints of the theme, there's not much of an organized agenda about MoCool. It's an hours-long, walk-around tasting, with participants welcome to set their own pace and make their own choices about what to taste from the open bottles. More sought-after and unusual wines are generally opened by the owner and consumed on the spot by an attendant crowd; other bottles simply remain available for random sampling, and participants understand the simple premise of taking only small tastes to ensure that a bottle will last as long as possible.
(Indeed, people who aren't familiar with moderate wine tasting often express amazement that an event featuring several hundred bottles of wine with no constraint except each individual's sense of moderation doesn't turn into a drunken brawl. But that's the way it is with serious wine. If you want to drink to forget, you might as well do it with something less expensive.)
A clang of the dinner bell generated a Pavlovian response right on schedule at 6:30 p.m., as participants lined up for roast beef with a Chianti-reduction sauce, mesclun salad, a big bowl of delicious caprese (fresh tomatoes, mozzarella, olive oil and fresh basil) and Italian bread, to be enjoyed around picnic tables and accompanied with favorite wines from the tasting tables. Another hour or two for tasting the Ports, Madeiras, sweet Sherries and German dessert wines that had been reserved for after-dinner tasting, and the crowd eventually began offering their fond farewells and dispersed into the drizzly Michigan night.
Many thanks go, as usual, to all the volunteers who made this cooperative, non-profit venture a huge success. A tremendous amount of work behind the scenes goes into MoCool, and the work of the organizing committee should not go without public thanks and praise.
As a veteran of many MoCools, I no longer make any effort to taste every wine on the tables. This time, I took notes until my PDA's battery ran out, then sampled a few more wines, but mostly grazed through the tables, looking at a lot of labels but tasting only a few, not always going for the most pricey and sought-after but often trolling the less with-it realms of unknown wines from unfamiliar places. Following are the notes I recorded. If you were at MoCool and have notes that you would like to share, please send them to me by E-mail, and I will gladly add them to this report with credit in your name.

ITALY
As a matter of instinct and personal preference, I gravitated to the Italian table, where I admired but passed over most of the more youthful reds from Tuscany and felt a little disappointed to see no wines on the table from the South and relatively few from the Northeast, an imbalance that I sought to redress slightly with a couple of my contributions.
Vigneto Pittaro "Apicio" Vino da Tavola - Pale gold. Intensely floral; very sweet, but medium body and crisp acidity maintain balance. A particularly interesting wine that I will look for again.
Palladino 1997 Vigna Broglio Barolo - Light and brownish ruby, looks oxidized. Better on the nose and palate; earthy and "sweet," seems older than the vintage date.
Lungarotti 1999 Rubesco Rosso di Torgiano - Ripe and sweet red-berry frult; a crowd-pleaser.
Matteo Correggia 1998 Roero Arneis - Light brass. Musky melon and spice, crisp and full, a delicious white wine from Piemonte.
Livio Felluga 2000 "Terre Alte" Rosazzo Colli Orientale del Friuli - Pale gold. Very aromatic. Flowers, almonds, honey and banana oil. Full and round, good acidic balance. One of my contributions, hand-carried back from the winery, and representative of the intriguing white-varietal blends coming from Colli Orientale and Collio.
Alois Lageder 2003 Alto Adige Lagrein Rosé - Pretty pale rosy pink. Lucious strawberry aroma and flavor, dry and crisp. Thanks to John Fiola for bringing this beauty, and pointing it out.
La Spinetta 1999 "Pin" Monferrato Rosso - Dark ruby. Plummy, good floral and herbal notes, aromatic oak. Somewhat international in style, but impressive.
Foradori 1996 Vigneto Sgarzon Teroldego Rotaliano - Clear, deep reddish-purple. Spicy and earthy, bright red frult, snappy acidity and an intriguing minerality. Another of my contributions to the table, a Trentino-Alto Adige red that Luca Mazzoleni gave me during a visit to Italy.
PORTUGAL
Quinta do Cotto 1991 Douro - Earthy, "sweet" red frult, carrying its years well. More recent vintages of this modest Portuguese red have been noted for quality-price ratio ... it's amazing to discover how well it ages.
I returned to the Portugal table for a Port or two after dinner, after my PDA had expired, but without formal notes would note that a Graham's 1977 Oporto was memorable, complex, sweet and "grippy," still on the uphill side of the aging curve.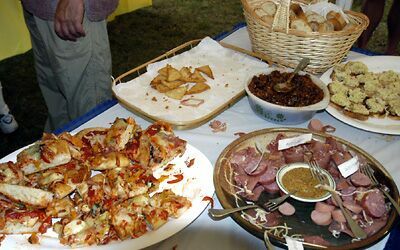 Chef Alan Kerr prepared a roast beef feast and on-theme appetizers, including those pictured: Pizza and a selection of German sausages and hams (front row); fried pita wedges, eggplant caponata and Portuguese salt-cod brandade (second row) and a basket of Italian bread.
GREECE
Added to the agenda as a second "G" nation in honor of the Athens Olympics. Because the wines are unfamiliar, this table seldom attracted a crowd, but I love Greek wines thanks in part to having lived in a Greek-American neighborhood in New York City and having had a pleasant introduction to this ancient nation's food and wine from people who knew them well, so I tasted everything on the table.
Unfortunately, the relative unfamiliarity of Greek wines in the U.S. makes them a hard sell, and many of the labels available nationally fall into, or near, the "mass-market" level. That being said, all the wines save for the cork-tainted Santorini were passable, and the last two noted - the Cretan "Nostos" and the Nemean "Pape Johannou," were quite fine.
Asyrtico 2000 Santorini - Corked and oxidized, not the wine's fault but disappointing.
D. Kourtakis n-v "Apelia" Greek Dry Rosé - Palest pink. Crisp and dry. A touch of musky melon.
Ktima Biztos 1999 Nemea Agiorgitiko - Rather light ruby. Spicy, tart.
Skouras 2001 Nemea Grand Cuvee - Light garnet. Red frult and vanilla, crisp and tart.
Manousakis 1999 "Nostos" Crete - Clear ruby. Spicy red fruit and herbs, a whiff of anise. Good frult and acid, some oak but handled well.
Pape Johannou 1999 Nemea Old Vines "St. George" - Dark garnet. Spicy red-berry frult, crisp and "sweet," a good, subtle red wine capable of standing up to international competition.
SPAIN
I like Spanish wines and was surprised at the end of the day to discover that I had taken notes on only three from this table; a few more Sherries from Alvear - a sampling presented by Alan Jarvis as a demonstration of the various Sherry styles - were fine, but went unrecorded.
Campillo 1995 Reserva Especial Rioja - Cherries, toast, bacon, vanilla; great depth and balance, one of the wines of the day for me.
Panarroz 2003 Jumilla - Fragrant pepper and big, sweet berry fruit. An excellent Monastrell (Mourvedre), among my favorite Spanish red-wine styles.
Sandeman "Imperial Corregidor" Rarest V.V.O. Oloroso Sherry - Clear bronze. Toasted walnuts, deep and complex and intense. Presented by Alan Jarvis, a wonderful Sherry, a bottle made from the world's last "butt" in a century-old solera that the Sandemans discontinued before age finally made it impossible to maintain at its long-term high standard.
Also, not recorded but memorable, with many thanks to Joe Perry for pouring me a glass of this treasure for dinner, Vega Sicilia 1995 Valbuena, one of the world's great red wines.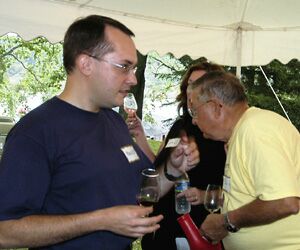 Where else but the "Other" table would you expect to find the WLDG's Paul B. (left), perhaps in search of French hybrids. Also pictured (yellow shirt), Bob H.
GERMANY
Since the treasures at the German table - many of them provided by German-wine fanatic John Trombley - attracted huge crowds of aficionadoes, which I'm not, I generally passed by this table in order not to use up the limited supplies for those who are more fond of the type. I did eventually enjoy, but did not record, a couple of exceptional Eisweins and a non-botryzed TBA that John passed around during dinner.
OTHER
Laurence Feraud 2003 "Pelican" Vin de Pays d'Oc Grenache/Syrah - A bomb of raspberry frult with good acidity and spice. Sold under $10, a crowd-pleasing wine of real value.
Dr. Konstantin Frank 2003 Finger Lakes Rkatsiteli - I couldn't resist taking a taste of this well-known but rarely seen bottle, one of the few U.S. wines made from this Russian variety. Very pale, pours with a fizz, it's slightly sweet, tart, bearing some resemblance to Portuguese Vinho Verde. Unfortuantely, it smells better than it tastes, simple and one-dimensional, with a pungent twang in the finish.
Batic 1999 Valentino - One of my contributions, a delicious dessert wine hand-carried back from a visit to Slovenia, which I jokingly proposed as an alternative "S" nation under the "PIGS" theme. Quite a credible dessert wine, perhaps distant kin to the Picolit of Fruili across the border, it's golden-bronze in color, with delicious caramel and orange-peel aromas and flavors somewhat reminiscent of Tokaji.

Aug. 28, 2004
Saturday hotel tastings
<!- Page Contents End Here ->