MoCool 2008
Bordeaux x Cinq x Five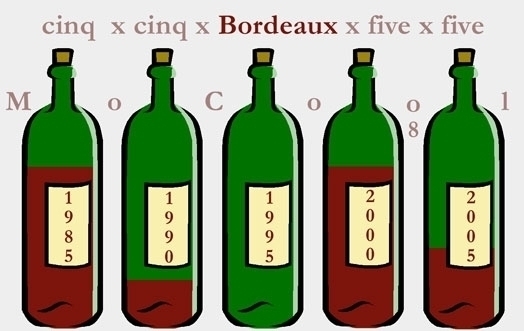 NOTE: This is a long report. Please take a few minutes to read it through for all the info about MoCool 2008 -- especially some new twists in GOT BEDS! and GOT DUDS! below.
GOT BORDEAUX!
So here we are, smitten by Michigan's economy and watching the dollar's ongoing swan dive against the Euro. Most folks around here aren't visiting French wine country this year -- which makes it a perfect time for MoCool's first-ever trip to Bordeaux!
You may have noticed: like clockwork, every five years Bordeaux produces another "Vintage of the Century." (If you understand how the Mississippi River has its 500-year flood every decade, that's a leg up on the logic.) This, in turn, lets the Bordelaise dramatically raise prices so they can slap a new wing on the old Chateau.
Who are we to argue? Fact is, the last five fives, dating back to 1985, have actually been excellent vintages. Some of us who were old wise enough to start collecting back when even have a few of those choice earlier "fives" we might like to share!
So here's the idea: Bring at least one "Cinq x Five" bottle of Bordeaux to the picnic. If you have some of the older ones in the cellar -- like 1985, 1990 or 1995 -- that's especially great. If not, open the wallet wide and shell out for a bottle or two of the 2005 vintage that currently graces retailers' shelves.
Don't forget that Bordeaux isn't just red wine country. Interesting DESSERT and WHITE wines from these vintages are welcome, too! So are pre-1985 vintages, especially from five-year-intervals. In fact, the otherwise-skinflint MoCool organizers are offering FREE ADMISSION to the first person who promises a bottle of 1975 d'Yquem (half-off admission if it's a half-bottle...)
In-between-the-fives Bordeaux vintages will be (tolerated, but not encouraged) quite welcome. Other non-conforming wines will be considered (scum of the earth) just fine. [Note from Joel: During the group editorial process, some people felt the original wording of this paragraph was unnecessarily harsh for an era of multi-cultural sensitivity. Please read whichever version does not offend you.]
GOT FOOD!
Once again, Chef Alan Kerr will head up the MoCool culinary staff. He's promised to surround us with an array of Bordeaux-friendly food, from duck confit to great French cheeses. If you're a MoCool newbie, you'll quickly discover that the food alone makes the MoCool picnic worth the trip!
TIME: August 16, 2008, from 2 PM until we open the final Sauternes
PLACE: Our home for several years, under the big tent at Jan and Tom's lakeside camp near Dexter, Michigan, 10 minutes West of Ann Arbor. Directions go out about a week before the picnic
COST: $55 plus your wine contribution. Signup details below.
NEW THIS YEAR! GOT BEDS! (Please read even if you're a local)
MoCool is a week earlier than past years -- which makes it NASCAR race weekend at Michigan International Speedway. Our usual Ann Arbor hotel is filled, but you have two new options for MoCool 2008.
First, JAN AND TOM HAVE NEARLY FINISHED REHABBING THE CABINS AT THEIR LAKE CAMP THAT'S HOME TO MoCool! Turn your MoCool into a weekend on the lake -- one and two bedroom rustic cabins are available at moderate cost for Friday and Saturday nights. Great for both out-of-towners and locals who don't want to deal with driving home after the picnic. Get up and take a swim the next morning! Only a limited number of cabins are available, but right now the supply is still good. If you're interested, please email Clay Johnson.
Several folks are planning to stay at the Best Western in Whitmore Lake, ten minutes north of Ann Arbor on US23 and 20 minutes from the Saturday picnic. Rooms are still available at last report. Phone: 734.449.2058.
NEW THIS YEAR! GOT DUDS!
It's new! It's spiffy! Introducing The MoCool Shop! This year you don't have to wait for your 2008 MoCool Bordeaux T-shirt -- just pick your color (there are 21!) and order it today. There's also a long-sleeve version, a BBQ apron, and a fitted style for MoCoolers of the female persuasion. (Sally says it's VERY cool...)
But there's more! We've replicated some classic MoCool shirt designs from the past just for the shop. So if you're still kicking yourself for not getting that "Tour de France" shirt when you had the chance, or you spilled Syrah all over "Pinot Envy" -- well, your time has come again! The MoCool Shop is located at http://www.printfection.com/mocool
SIGN UP FOR MoCool!
Click over to the MoCool signup page at http://www.signup4mocool.com to let us know you're coming and if other folks are coming with you. You can use your credit card or PayPal while you're there (preferred), or send a check to the address listed on the site.
As a favor, please register and pay ASAP. This greatly helps us plan the food and other logistics. The last day for signup is Monday, August 11.
Fair warning: We can't give refunds to those who cancel after August 11 or simply don't show up. MoCool is a breakeven proposition at best, which doesn't leave room for changes once we set budgets and quantities and start to buy the food and supplies.
VOLUNTEERS NEEDED:
As always, we need several volunteers to help with setup on Saturday morning, cleanup on Sunday morning, and a couple of local folks to run various purchase and pickup errands in the days preceding the picnic. Volunteer kitchen assistants for Chef Alan during the day on Friday or Saturday morning are also welcome! If you're able to help with any of these, please email Sally Goldberg.
GETTING HERE & AWAY:
The Ann Arbor/Detroit area is five hours or less driving time from Toronto, Chicago, Cleveland, Cincinnati, and Indianapolis, and five hours or less flying time from anywhere in North America. The nearest major airport is Detroit Metro (DTW), which is halfway between Ann Arbor and Detroit; it's a Northwest hub. Sometimes you can find bargain flights to Detroit on Spirit, or from the southeast to Flint (FNT) on AirTran.
If you're coming from elsewhere and plan to arrive early or stay late, please let us know! There are often informal gatherings taking place over the weekend, and we'd hate for out-of-town friends to go thirsty.
WEB STUFF:
The MoCool web site continues to be graciously sponsored by Robin Garr at his Wine Lovers Page, one of the web's leading wine destinations. You'll always find current MoCool information, plus lots of prior year photos, descriptions and tasting notes at: http://www.wineloverspage.com/mocool
That's also where to send your wine friends to join the MoCool email list and find out more about the event.
And there are now THREE MoCool websites. (We really need to get better organized.)
http://www.mocool.org is a placeholder with a quick blurb that sends you off to Robin Garr's MoCool pages
http://www.signup4mocool.com is, unsurprisingly, where you sign up 4 MoCool.
http://www.printfection.com/mocool is where you'll find MoCool shirts and other goodies, including some very cool vintage items.
QUESTIONS? Email any of the folks below.
---
MoCool is the MOtown Co-Operative Off-Line, a non-profit and non-commercial event organized since 1992 by a volunteer group of wired wine lovers in the Ann Arbor/Detroit area. Our goal is a non-snobby, affordable event for cyberwine fans to get together and enjoy wine, food, and each other's company.
The MoCool bunch is:
Jay Baldwin jaybaldwin at comcast.net
Joel Goldberg j.goldberg at charter.net
Sally Goldberg claypaws3 at yahoo.com
Dave Guimond dguimond at ameritech.net
Clay Johnson clay at chartermi.net
John Wolf jwolf80 at gmail.com
© Copyright 2007 MoCool Ltd.
Previous Events ...

For more information, and to get a sense of what these events are all about, check out the complete online archive:
MoCool '95, Que Syrah, Shiraz
MoCool '96, MO'LYMPICS
MoCool '97, Mediterranean Madness
MoCool '98, Anything but California
MoCool '99, Hail that Cab!
MoCool 2000, Below the Belt
MoCool 2001, Tour de France
MoCool 2002, Pinot Envy
MoCool 2003, California Dreamin'
MoCool 2004, PIGS will fly!
MoCool 2005, The Hunt for Rhone Rangers!
MoCool 2006, Sweet, Sixteen and Bubbly
SemiCool 2007, The Year it Almost Didn't Happen!