Today's Sponsor
Riedel "O" glasses
Riedel "O" wine glasses aren't for everyone. But if you learn to love these stemless, lightweight wine tumblers, they're great for casual sipping and dining, even picnics. This is the best buy we've seen yet on Amazon.com ...
$28.99 for four Syrah/Shraz Wine Tumblers, 34% off the $44.26 list price.
Wine Focus: Summer sippers
It has been the hottest and most humid summer around here for a very long time. As a matter of fact, our local forecast folks recently mused that the average temperature here in July was the hottest since 1936, which marked the epicenter of the Midwest's infamous Dust Bowl.
This probably helps explain why I mentioned last week that it's not really a time for powerful Ports or heavy reds.
Which raises the obvious follow-up question, "What do you like to sip on a steamy August day?" (Or, for those Down Under, a steamy January day.)
Does it really make any difference what wines we drink in this age of air conditioning? Or can it be both-and rather than either-or? Do we soldier on as usual with the wines we enjoy at the dinner table, but indulge in something lighter and more refreshing on the patio or at a picnic? Would you order the same wine inside the restaurant during this season as you would at a sidewalk table? And so it goes.
And while we're at it, do we even like the term "sipping" with regard to wine, a term which - like the currently trendy "juice" - almost seems to deny the reality of its status as an adult beverage.
We're talking about subjects such as these as we turn our attention to summer sippers in this month's Wine Focus in our WineLovers Discussion Group. .
Join us as our friendly international crowd of wine lovers share our diverse personal conception of what constitutes the ideal wine for summer's heat. Quenching, refreshing, bracingly acidic? Your mileage may vary.
I'm kicking things off with my report below on Gazela Vinho Verde, the "green wine" of Portugal, so called not for its color (no, it's not green) but because of its fresh, exuberant youth. At $6.99 in this market and even less in some regions, it's a splendid bargain for, well, summer sipping.
Come, talk with us about summer sippers and other good things. To tell us about your favorites, click to the forum topic "August Wine Focus: Summer sippers!"
All forum discussions are open for public viewing, but you must register to post your comments and participate actively in the conversation.
Registration is free and easy; we ask only that you join following our Real Names Real Format system. For your user name, enter your real name in the format "John Doe" or "John D", with the capital letters and the space.
Having a real name on your name tag is so important to us that all non-conforming registrations will be quietly discarded. Redemption is possible, though. If you overlook this rule and get no response to your registration, feel free to contact me personally by Email at wine@wineloverspage.com, and we'll sort it out.
Once your registration has been approved, which usually happens quickly with correctly formed user names, you'll be able to participate in Wine Focus and in all our online wine and food forums. Stay tuned for next month, two, as our focus shifts on Aug. 1 to Summer Sippers, those delicious, light and refreshing wines that we enjoy, often chilled, when the mercury rises.
Today's Tasting Report
Gazela Vinho Verde ($6.99)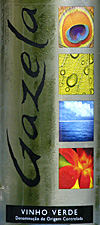 Clear, pale straw color, with a rush of tiny bubbles that ring the glass when the wine is poured. It's not really a sparkling wine, but light carbonation makes for a refreshing prickly mouthfeel. Slight but appealing scents of pear and lemon lead into a crisp white fruit flavor that follows the nose, slight sweetness well cloaked by fresh-fruit acidity. Feather-light 9 percent alcohol and a bargain price make it a winner for summer sipping. U.S. importer: Evaton Inc., Stamford, Conn. (Aug. 4, 2011)
FOOD MATCH: Food-friendly and versatile, it goes with just about anything. We enjoyed it with Italian eggplants from the garden with mushrooms, sauteed onions and green peppers and a little fresh-tomato sauce.
VALUE: I would back up the truck at the wine shop door even for my local $6 retail, and Wine-Searcher.com reveals prices as low as $4.75 among its abundant "hits."
WHEN TO DRINK: The old wisdom held that Vinho Verde fades so fast that it's best enjoyed only in Portugal and only during the summer after bottling. Now, though, the sturdy modern screwcap - a rarity in Portugal, capital of the cork trade - works well for Gazela, protecting freshness and keeping the light carbonation intact across the Atlantic and perhaps for a year or so. (This is a non-vintage wine, but check the fine print on the back label, where "2011" following an obscure code on the back label suggests that it's the current 2010 vintage, bottled this year.)
WEB LINK: Here's a link to a winery fact sheet (PDF) in English on Gazela Vinho Verde
FIND THIS WINE ONLINE:
Find vendors and compare prices for Gazela Vinho Verde on Wine-Searcher.com.
Talk About Wine Online
If you have questions, comments or ideas to share about today's article or wine in general, you're always welcome to drop by our online WineLovers Discussion Group, the Internet's first and still the most civil online community. To find our forums, click:
http://www.wineloverspage.com/forum/village
Discussions are open for public viewing, but you must register to post. Registration is free and easy; we ask only that you join following our Real Names Real Format system, using your real name in the format "John Doe" or "John D". Anonymous, cryptic or first-name-only registrations are discarded without notice.
Once your registration has been approved, which usually happens quickly, you'll be able to participate in all our online wine, food and travel forums.
To contact me by E-mail, write wine@wineloverspage.com. I'll respond personally to the extent that time and volume permit.
Subscriptions and Administrivia
Unsubscribe:
We're sorry if you must leave us, but simply click the "unsubscribe"
link at the bottom of your Email edition to be instantly removed from the mailing list.
Change address:
The quickest and easiest way to change your Email address is simply to register anew, using the link below. If you are keeping your old address but no longer wish to get the Wine Advisor there, click the unsubscribe link below to take it off our list; if you are closing the mailbox, you needn't take any action, as our system will delete your old address as soon as the mail to your old address starts to "bounce."
Subscribe to this Email edition (free):
http://www.wineloverspage.com/wineadvisor
WineLoversPage.com RSS Feed (free):
http://www.wineloverspage.com/rss
Wine Advisor Archives:
http://www.wineloverspage.com/wineadvisor2/archives.php
Sponsorship Opportunities:
For information, E-mail wine@wineloverspage.com