Double down: Llai Llai from Bio Bio
A winery named Llai Llai from a place called Bio Bio? This may sound like a wacky play on words, but keep these double-your-pleasure names in mind: Chances are you'll be seeing and hearing (not to mention tasting) more about Llai Llai Bio Bio in coming months.
Llai Llai, pronounced "lie-lie," means "strong wind" in the indigenous Mapuche language of Chile's Bio Bio Valley.
I can count up several good reasons to go bullish on Llai Llai:
* It's made by Vina Corpora (VC), which is one of Chile's larger wine producers, but not one that has seen much export to the U.S. Recently, however, it came into the portfolio of respected importer W.J. Deutsch & Sons, a firm that earned much of its reputation years ago by inking a similar agreement with a then-little-known Beaujolais firm named Georges Duboeuf. It didn't take long for Duboeuf to become a household name; I wouldn't be amazed to see Llai Llai gain a fan club of its own.
* Its vines are grown in the Bio Bio Valley, which lies about 300 miles south of Santiago, the capital, and about 30 miles inland from the Pacific Ocean. Its cool, maritime climate, its producers say, provides ideal conditions for growing the classic Burgundy grapes Pinot Noir and Chardonnay.
* Enhancing that Burgundian connection, the wines were made with advice from French-Canadian experts with years of experience in Chablis, for the Chardonnay, and Burgundy, for the Pinot Noir.
Indeed, in my tastings (detailed below), I detected more than a whiff of Burgundy in a wine that speaks of both the Spanish-speaking New World and the terroir-driven Old. They're clean, subtle and complex, with distinct touches of intriguing minerality. At U.S. prices ranging from $11 to $15 (per Wine-Searcher.com), they ought to fly off the shelves. W.J. Deutsch enjoys national distribution; if your local wine shop doesn't have Llai Llai, it should be coming soon.
Welcome columnist Taylor Eason

I'd like to introduce you all to a new columnist on WineLoversPage.com, Taylor Eason, who describes herself as a Southern foodie and wine writer, which, hey, sounds a bit like me.
She writes a wine column, too. It appears regularly in Memphis magazine and is syndicated through Featurewell Syndicates. I'm a big fan of Taylor's writing style, which is breezy, conversational and aims at making wine accessible and fun with zero snob factor and without "dumbing it down." I like to think we have that in common, too.
Check out her first submission in our pages, The art of reading restaurant wine lists; and keep your eyes open for more, as I hope she'll be contributing often.
And if you like this newsletter, I'm confident that you'll like Taylor's Email wine letter, too. Hasten over to her Website, TaylorEason.com, and register in the simple form marked "Free weekly newsletter" on the right.
Taylor, a graduate of Switzerland's Ecôle Hotelière de Genève culinary management program, was born in Atlanta and now lives in Tampa with her husband, Scott, and their wine collection.
Today's Sponsor
$1 Shipping wine sale is back at The California Wine Club!
Save up to 70% this month at The California Wine Club.
Put money in your pocket and great wine on your table with this month's $1 Shipping Spring Wine Sale at The California Wine Club! Visit www.cawineclub.com or call 1-800-777-4443 to order.
Choose from:
* Award-winning wines as low as $9.99!
* Cabernet Super Savers at up to 60% off!
* Limited production international selections from Italy, Spain, Australia and France!
* 90+ rated Pinot Noirs, Syrahs, Zinfandels and more!
Half, full and mixed cases are okay. Every case ships for just $1. Stock up now.
Visit www.cawineclub.com or call 1-800-777-4443, we love talking wine and will be happy to help you choose your selections.
Today's Tasting Report
Llai Llai 2008 Bio Bio Valley (Chile) Chardonnay ($13)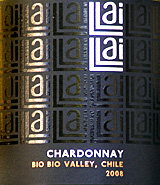 Transparent straw color. Good, natural Chardonnay scents, apples and a hint of fresh herbs on the nose. Fresh and zippy on the palate, bright acidity cloaking medium-bodied texture, with a touch of chalky minerality that wouldn't be out of place in Chablis, and tart appley fruit lingering in a long finish. If you prefer your Chard without an excess of butter, oak or searing alcohol, this one is well worth auditioning. U.S. importer: W.J. Deutsch & Sons Ltd., Harrison, N.Y. (Aug. 21, 2010)
FOOD MATCH: Although this Chard isn't made in the "buttery" style, nevertheless butter and fresh sage over spaghetti makes a great match with this Chard. It would pair well with roast chicken, pork or richer fish such as swordfish or sea bass.
Llai Llai 2008 Bio Bio Valley (Chile) Pinot Noir ($13)
Dark ruby shading to a transparent edge. Closed and sharply acidic when first opened, doesn't show much, but as Pinot often does, it's like a shy person at a party, opens up and shows its personality as it airs in the glass. After a half-hour or so, it's appetizing plums and a hint of red earth on the nose; complex red-fruit flavors, clean loamy earth, mouth-watering acidity and soft tannins on the palate, a reasonable echo of a modest but decent Bourgogne Pinot Noir. Worth the wait, and a reminder that patience is a virtue; I came dangerously near tossing it after taking the first couple of sips. U.S. importer: W.J. Deutsch & Sons Ltd., Harrison, N.Y. (Aug. 24, 2010)
FOOD MATCH: I served it with "loaded" baked potatoes stuffed with Cheddar, broccoli and ground bison. A versatile Pinot, it would work well with just about any red meat, flavorful cheeses, mushrooms and more; even wild salmon or fresh tuna.
VALUE: Both wines offer very good value in the lower teens.
WEB LINKS: Here's the Llai Llai Website, published in English. (The site seems to be down at press time; try again later if you get a blank page.)
FIND THIS WINE ONLINE:
Compare prices and find vendors for Llai Llai Chardonnay and Pinot Noir on Wine-Searcher.com.
Talk About Wine Online
If you have questions, comments or ideas to share about today's article or wine in general, you're always welcome to drop by our online WineLovers Discussion Group, the Internet's first and still the most civil online community. To find our forums, click:
http://www.wineloverspage.com/forum/village
Discussions are open for public viewing, but you must register to post. Registration is free and easy; we ask only that you join following our Real Names Real Format system, using your real name in the format "John Doe" or "John D". Anonymous, cryptic or first-name-only registrations are discarded without notice.
Once your registration has been approved, which usually happens quickly, you'll be able to participate in all our online wine, food and travel forums.
To contact me by E-mail, write wine@wineloverspage.com. I'll respond personally to the extent that time and volume permit.
Subscriptions and Administrivia
Unsubscribe:
We're sorry if you must leave us, but simply click the "unsubscribe"
link at the bottom of your Email edition to be instantly removed from the mailing list.
Change address:
With our new Email system, the easiest way to change your Email address is simply to register anew, using the link below. If you are keeping your old address, you may unsubscribe; if you are closing it, you needn't take any action, as our system will delete your old address as soon as the mail starts to "bounce."
Subscribe to this Email edition (free):
http://www.wineloverspage.com/wineadvisor
WineLoversPage.com RSS Feed (free):
http://www.wineloverspage.com/rss
Wine Advisor Archives:
http://www.wineloverspage.com/wineadvisor2/archives.php
Sponsorship Opportunities:
For information, E-mail wine@wineloverspage.com