Historic Rioja Reserva
Coming back from a winter week off from publication and finding snow, sleet and maybe a little ice in the forecast, I'm thinking that it was a good choice for us to name Rioja the topic for our Wine Focus for January.
Rioja is a stylish but warming red, and it goes well with the kind of roasts, steaks and chops that make a warming feast on the winter table. As we move into the last week of January, we'll take a look at a couple more Riojas before moving on to next month's topic.
Later in the week, we'll uncork a relatively low-priced Rioja from a major producer. Today, let's go a little more upscale for a Reserva from a historic producer. As noted below, its price point (just under $30 for me locally, a bit less in some parts of the world) is a bit spendy for everyday drinking, especially in recessionary times. But it's a mighty fine wine with a classy pedigree.
We're tasting Marqués de Riscal Rioja Reserva, the latter term meaning that it must spend at least a year in oak bottles followed by additional aging time in bottles. This 2004 vintage, in fact, was bottled only last year, based on a "Julian date" code on the back label.
Riscal, according to the British wine scribe Hugh Johnson, is the oldest Rioja producer still in business, dating back to 1860. It boasts a touch of French in its heritage and remains one of the few Rioja wineries permitted to use Cabernet Sauvignon in the blend along with Rioja's Tempranillo and secondary Spanish grapes. Johnson says Riscal has 49 acres of Cabernet Sauvignon in its vineyards and uses an average of 15 percent of the French grape in its Reservas, although this proportion can vary widely from year to year.
It's no Bordeaux clone, nor would I expect it to be. But it's a classic, characteristic Rioja of depth and elegance, showing bright cherry fruit, tart acidity and a touch of earth in its currently youthful state. You'll find my notes below.
It's simple to participate in Wine Focus. For this month's program, taste a Rioja, or several, and take notes. Then click to our Wine Focus forum in our WineLovers Discussion Groups with your tasting report, comments and questions:
http://www.wineloverspage.com/forum/village/viewforum.php?f=18
The discussions are open for public viewing, but you must register to post. Registration is free and easy; we ask only that you join following our Real Names Real Format system, using your real name in the format "John Doe" or "John D".
Once your registration has been approved, which usually happens quickly, you'll be able to participate in all our online wine, food and travel forums.
Today's Sponsor
Customer Appreciation Week at The California Wine Club!
In today's economy, wine enthusiasts rely on The California Wine Club more than ever for quality wines, at an affordable price.
Since 1990 club owners Bruce and Pam Boring have scoured California's wine country in search of handcrafted, award-winning wines made in such limited supply they can't be found in local stores. The artisan quality of each bottle is one you will taste with the first sip. Every wine featured is one that Bruce and Pam proudly serve in their home and 100% guaranteed.
This week 30 Second Wine Advisor subscribers will save 10% off any purchase with The California Wine Club. Join for yourself and give the club a try, the cost is just $34.95 per month (you can cancel anytime) and includes two bottles of award-winning wine plus the club's fun and informative 12-page newsletter, Uncorked.
You could also send a gift (Valentine's Day is coming!) or save up to 50% and choose a selection of wines to stock your cellar with…whatever you do, you will save 10% simply by using promo code ADVISOR during check out.
Visit www.cawineclub.com or call 1-800-777-4443.
With The California Wine Club, you don't have to drink expensively ... to drink well!

Marqués de Riscal 2004 Rioja Reserva ($28.99)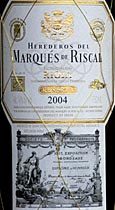 Clear, dark ruby, with crimson glints against the light. Cherries, almost a maraschino character in the aroma, backed by subtle spice with an earthy whiff of older oak barrels. Bright and ripe on the palate, red-cherry fruit laced up with an acidic zing; tannins aren't overly evident, but show up as a soft astringency in the tart, long finish. A Rioja meant for aging, it will surely gain complexity with years in the cellar; but its bright fruit and easy tannins make it quite accessible now, particularly with rare red meat on the table. U.S. importer: Shaw-Ross International Importers, Miramar, Fla. (Jan. 24, 2009)
FOOD MATCH: Pan-seared, medium-rare local natural grass-fed rib eye from Indiana's Fiedler Farm.
VALUE: Although its price near $30 will strike some on the high side during difficult economic times, quality more than justifies the price at least for special occasions. You may also find it for several dollars less in some market areas.
WHEN TO DRINK: As noted, this is a wine meant for aging - Wine-Searcher.com offers bottles back to the 1930s! - but fruit and balance make it drinkable now, especially with aeration and an appropriate food match.
WEB LINK:
Here's the Marqués de Riscal Website; this link skips the Flash movie intro. Go to the bottom of this page and click "Language" to take your pick among Spanish, English, French, German, Basque, Chinese and Japanese pages.
http://www.marquesderiscal.com/index.php
FIND THIS WINE ONLINE:
Find vendors and compare prices for Marqués de Riscal Rioja Reserva on Wine-Searcher.com:
http://www.wine-searcher.com/
find/Riscal%2bReserva/-/-/USD/A?referring_site=WLP

Talk About Wine Online
If you have questions, comments or ideas to share about today's article
or wine in general, you're always welcome to drop by our online WineLovers Discussion Group. This link will take you to the forum home page, where you can read discussions in all the forum sections:
http://www.wineloverspage.com/forum/village
Everyone is free to browse. If you'd like to post a comment, question or reply, you must register, but registration is free and easy. Do take care to register using your real name, or as a minimum, your real first name and last initial. Anonymous registrations are quietly discarded.
To contact me by E-mail, write wine@wineloverspage.com. I'll respond personally to the extent that time and volume permit.
PRINT OUT TODAY'S ARTICLE
Here's a simply formatted copy of today's Wine Advisor, designed to be printed out for your scrapbook or file or downloaded to your PDA or other wireless device.
http://www.wineloverspage.com/wineadvisor2/2009/01/historic_rioja_reserva-print.html