Bubbly and popcorn!
It's been a long, hot, dry summer in these parts, but it's finally starting to feel distinctly like autumn now, even if the still green leaves look like they're only going to turn brown and fall off the trees without much in the way of seasonal color.
I'm not much of a fan of the colder part of the year and would just as soon enjoy an endless spring with just a little taste of summer if I could work it out that way. But we play the cards we're dealt, so I take part of my joy of the colder seasons from the warmth and light of the house, and the hearty goodies that tend to be reserved for winter: Roasts, baked beans, fresh breads, and of course, an occasional bowl of hot, buttered popcorn.
And to go with the popcorn, what better match than a frothy glass of something bubbly?
Popcorn and bubbly? Don't knock it if you haven't tried it. Lightly buttered, freshly popped popcorn makes a surprising match. Something about the light carbonation makes the match as addictive as movie popcorn and a giant cola. Just take care not to let the seductive flavors prompt you to over-consumption.
As I wrote on this topic back in 2001, The idea of serving wine with popcorn might sound like a joke, but plenty of wine enthusiasts swear that you can't beat a cold glass of bubbly with a bowl of hot, buttered popcorn for a quiet evening at home with a good movie.
I'm not sure I would try this match with an expensive Champagne, but try it with a modest but flavorful Spanish Cava or, maybe better still, a Prosecco from Northeastern Italy, and I think you'll be pleasantly surprised. It's a delicious demonstration of the happy news that wine doesn't have to be reserved for fancy fare.
Today's tasting report features Riondo non-vintage Veneto Prosecco ($12.99), a sibling of the surprisingly elegant pink Raboso from Prosecco that we featured in March, Cantine Riondo "Pink" Prosecco Raboso. It's crisp, dry, fruity and floral, with a good Italian-style frizzante carbonation that goes just great with, well, popcorn.
Today's Sponsor
What is the Wine Library Daily Offer?
If you've never subscribed to Wine Library's daily service before, you're in for a treat. This is your window into the best wine deals around ... highly rated wines from all the top critics, hard-to-find producers, and more ... all at the best prices PERIOD! We work tirelessly to create outrageous wine deals - if you're even a casual wine drinker, WLD will help you identify outstanding wines and save you tons of cash.
If you already receive our e-mail offers, nothing will change. However, if you'd prefer to remove the clutter from your inbox, WLD now effectively replaces our daily e-mail service. You can elect to receive Wine Library's exclusive daily wine offers via the method of your preference: Twitter, MySpace, Facebook, RSS (coming soon), or e-mail.
Subscribe today and share with your friends and family... they'll be thanking you for years to come!
You may have seen us featured in GQ magazine, The Wall Street Journal, New Jersey Monthly and elsewhere. Wine Library features a huge collection of top wines from around the world, great gifts and accessories, a daily video blog (Wine Library TV), a wide selection of futures, and much, much more!
Bottom line, we offer the lowest prices, the largest selection, lightning fast shipments and the greatest customer service in the industry! Winelibrary.com is your one-stop shop for everything wine... so what are you waiting for? Log on to winelibrary.com today!

Riondo non-vintage Veneto Prosecco ($12.99)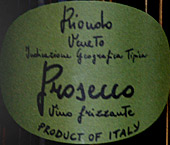 Clear light gold, pours up with a frothy mousse that falls back fast. Interesting fruit and floral aromas, plums and pears. Fresh and frothy on the palate, white fruit and soft acidity; clean and quenching, with just a touch of peach-pit bitterness in the finish. U.S. importer: Grapes Solutions Inc., Dover, Del. (Oct. 20, 2008)
FOOD MATCH: Popcorn! Don't knock it if you haven't tried it, but take care ... the combination of crisp bubbly and buttered, salted popcorn is so addictive that you'll want to use a little will power to govern your portion control.
VALUE: Although no one would compare Prosecco with real Champagne for complexity or elegance, it's my personal pick when a more modest bubbly is called for. The Riondo is more than fair at this low-teens price, but shop around, as you'll find it in some markets for less than $10.
WHEN TO DRINK: Prosecco is best enjoyed fresh; since it's not easy to determine the age of a non-vintage wine, I suggest relying on a trustworthy retailer with good turnover.
FIND THIS WINE ONLINE:
Find vendors and check prices for Riondo Prosecco on Wine-Searcher.com:
http://www.wine-searcher.com/
find/Riondo%2bProsecco/-/-/USD/A?referring_site=WLP

Talk About Wine Online
If you have questions, comments or ideas to share about today's article
or wine in general, you're always welcome to drop by our online
WineLovers Discussion Group. This link will take you to the forum home page, where you can read discussions in all the forum sections:
http://www.wineloverspage.com/forum/village
Everyone is free to browse. If you'd like to post a comment, question or reply, you must register, but registration is free and easy. Do take care to register using your real name, or as a minimum, your real first name and last initial. Anonymous registrations are quietly discarded.
To contact me by E-mail, write wine@wineloverspage.com. I'll respond personally to the extent that time and volume permit.
PRINT OUT TODAY'S ARTICLE
Here's a simply formatted copy of today's Wine Advisor, designed to be printed out for your scrapbook or file or downloaded to your PDA or other wireless device.
http://www.wineloverspage.com/wineadvisor2/2008/10/bubbly_and_popcorn-print.html