Where pink meets red
Trying to be a good sport and get into the summer spirit of our monthly Wine Focus feature on the WineLovers Discussion Group this month, I'm tasting a fair amount of pink wine.
The problem here, as I've occasionally lamented before, is that I simply don't turn instinctively to rosé. When I want a red wine I want it to be red. If I'm in the mood for a white, I want it white. Pink seems a little too much like a compromise, a red that didn't quite make the grade.
But I keep trying, and the other day asked a trustworthy wine merchant to suggest a hearty, full-flavored rosé that could ring a red-wine enthusiast's chimes. She rummaged around and came up with a pink beauty from the Languedoc region in the south of France, a relatively affordable item made from the relatively obscure Cinsault grape.
The producer, "Les Jamelles," broke ground some 15 years ago as one of the early Languedoc wine makers to market wines with "varietal" labels emphasizing the name of the grape more prominently than the region ("Vin de Pays d'Oc" or "country wine of Languedoc"). This practice, commonplace in the U.S. but then rare in France, positioned the brand in competition against modest varietally labeled American wines.
The grape, most often spelled in the alternate form "Cinsaut," is widely grown in Languedoc, Corsica, and even in Northern Africa, back when Algeria was part of France. It's often planted with, and somewhat resembles, Grenache. It's lightly regarded because, frankly, it lends itself to "overcropping," nurtured to a large, profitable but uninspiring crop. Cinsaut may be best-known to wine "geeks" for the role it plays as one of the parent grapes - partnered with Pinot Noir - in the cross that yields the trademark South African grape Pinotage.
Nowadays Cinsaut most often turns up in blends or anonymous rosés; Les Jamelles is unusually forthright about printing the name of the grape in the largest letters on the label.
But they've earned the right: This is no insipid pink wine. It lived up fully to the wine merchant's promise as a rich-colored, hearty rosé, redolent of mixed red berries and citrus, snappy, dry, food-friendly and refreshing. If more rosé was like this, I might drink more rosé. My tasting notes are below.
Today's Sponsor
A message from WineLibrary.com
You may have seen us featured in GQ magazine, The Wall Street Journal, New Jersey Monthly and elsewhere. WineLibrary.com features a huge collection of top wines from around the world, great gifts and accessories, a daily video blog (WineLibraryTV), huge selection of futures (including red hot 2005 Bordeaux at incredible pricing) and much, much more!
Search our quick loading/high speed database of the hottest new wines from California, France, Italy, Australia, New Zealand, Spain, Germany, Austria, South America and more. Join our e-mail service and get an early heads up when wines like Bryant, Harlan, Dominus and others arrive!
Bottom line, we offer the lowest prices, the largest selection, lightning fast shipments and the greatest customer service in the industry! WineLibrary.com is your one-stop shop for everything wine ... so what are you waiting for? Log on to WineLibrary.com today!
For our Free Shipping Item of the Day, log on to http://free.winelibrary.com!

Each day at 1 p.m. we add a new item that is set for Free Shipping!!
Quantity is limited and products will sell out, so be sure to check out http://free.winelibrary.com each day at 1 p.m. for the new item!

Les Jamelles 2005 Vin de Pays d'Oc Cinsault Rosé ($12)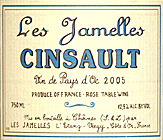 Clear salmon with orange glints, on the dark side for a rosé. Full, pleasant strawberry, raspberry and citrus scents; crisp, tart and dry in the flavor, a lot of fruit and body for a rosé. A lime note adds a refreshing snap in the long finish. An exceptional rosé for those who'd really just as soon have a red. U.S. importer: Cellar Door Selections LLC, Columbia, Md. (July 9, 2007)
FOOD MATCH: The winery website suggests it as an aperitif or with salads, braised meats, grilled meats, stuffed peppers, pasta or cheese. I like pink wines with Asian fare; it went very nicely with a Cantonese-style beef and broccoli stir-fry.
VALUE: Although the $12 local retail price seems fair for a rosé of this quality, it pays to shop around, as it's widely available for less than $10.
WHEN TO DRINK: Full body and balance and abundant fruit will hold this one for another year or two, but with few exceptions the rule of thumb for pink wines is to drink the youngest available. Start looking for the 2006.
PRONUNCIATION:
Cinsault = "SaN-so"
Jamelles = "Zhah-mel"
WEB LINKS:
Les Jamelles has a Website in English, but it's profoundly irritating, depending heavily on oversize Flash and Adobe Acrobat pages and subjecting the visitor to a background chorus of chirping crickets in order to reach a commercial and content-light set of pages. If you still want to see it, try this link to reach the English-language home page:
www.les-jamelles.com/en/
The U.S. importer has a brief article about Les Jamelles (and no background sound) at this link:
http://www.cellardoorselections.com/Our_Wines/winery.asp?id=64
FIND THIS WINE ONLINE:
Check prices and locate online vendors for the wines of Les Jamelles on Wine-Searcher.com:
http://www.wine-searcher.com/
find/Jamelles/-/-/USD/A?referring_site=WLP

Talk About Wine Online
If you have questions, comments or ideas to share about today's article
or wine in general, you're always welcome to drop by our online
WineLovers Discussion Group. This link will take you to the forum home page, where you can read discussions in all the forum sections:
http://www.wineloverspage.com/forum/village
Everyone is free to browse. If you'd like to post a comment, question or reply, you must register, but registration is free and easy. Do take care to register using your real name, or as a minimum, your real first name and last initial. Anonymous registrations are quietly discarded.
To contact me by E-mail, write wine@wineloverspage.com. I'll respond personally to the extent that time and volume permit.
PRINT OUT TODAY'S ARTICLE
Here's a simply formatted copy of today's Wine Advisor, designed to be printed out for your scrapbook or file or downloaded to your PDA or other wireless device.
http://www.wineloverspage.com/wineadvisor2/
2007/07/where_pink_meets_red-print.html