Butter-sauteed chicken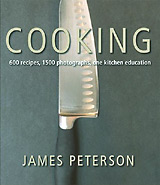 Last week we talked about anchovies, an ingredient that many people love to hate. Now let's turn to butter, an ingredient that quite a few people hate to love.
Butter, eggs, milk and cheese: These are some of the most fundamental pantry staples, comfort foods that go back to our earliest origins as humans. Butter's smooth, creamy and subtle flavors speak to something elemental in our psyche, or at least they do to me.
And in modern times, of course, butter has become a poster child for conspicuous over-consumption, shunned as an abundant source of horribly unhealthful, fully saturated animal fat ... 100 calories per artery-clogging tablespoon full.
Nevertheless, I'm sticking with the argument that moderation is preferable to excess, and that this is true even when it comes to such indulgent pleasures as butter, cream and cheese. Don't overdo, but enjoy these good things as a rational part of a sensible lifestyle, and when the health fascists start screaming, gently turn the television's volume control all the way down.
Now, finally, we're ready to talk about today's recipe, a remarkably simple way to fashion what may be the most delicious piece of chicken you ever ate, and never mind that it involves leaving the skin on and sauteeing a portion for two in a half-stick of butter.
Here's the good news: Most of the butter, and much of the chicken fat, will stay behind in the pan when dinner is served.
I picked up this recipe from a hefty (5.6 pounds, 624 pages) brand-new cookbook that I'm auditioning for review, James Peterson's "Cooking" from Ten Speed Press.
Peterson, a self-taught, New York-based chef and teacher who's fondly remembered as chef of Greenwich Village's restaurant Le Petit Robert in the 1980s, has put together something like a very upscale Joy of Cooking with some of the aspect of a coffee-table book in its oversize format and many color pictures, but much more serious cookery when you get down to the words.
The publisher bills "Cooking" as "a complete kitchen education in a book that will turn any food-lover, whether novice or advanced, into a well-rounded cook," covering kitchen fundamentals plus cooking tips from great chefs. It spans the bill of fare from appetizers to dessert, not excluding bread and pastry, and it touches on a world of ethnic recipes from pizza to pasta to Thai chicken curry. It includes Peterson's summary of the 10 basic cooking techniques (which prove to be roasting, braising, poaching, sauteing, steaming, frying, grilling, smoking, barbecuing and boiling) and claims to contain the most comprehensive collection, ever, of step-by-step photo illustrations to demonstrate techniques.
Frankly, this is awfully ambitious ground to cover even in the 600 recipes presented. Like the Platte River on the prairie, it's pretty, it's broad, and it's not very deep. But that being said, I'm having a lot of fun going through this book, and based on my early explorations can certainly recommend it as a good, general overview of cooking technique in an oversize book for holiday giving ... or as a treat for yourself. (Click for buying information.)
And now, on to the recipe, which I've modified only slightly from Peterson's original. "The amount of butter in this recipe often puts off cooks and guests," he writes, "but very little of it is actually absorbed by the chicken. In fact, if you measure both the fat that goes into the dish and the fat that comes out, you will discover more fat comes out. That's because the butter causes the fat in the skin to render and liquefy. And even though very little butter is absorbed, the chicken has an intensely buttery flavor because the proteins in the butter cling to the skin and flavor it. Many guests have declared this dish the best chicken they have ever eaten."
It's right up there, I'll give it that. Peterson gives way and permits the use of fine olive oil if you simply can't stand the butter. I'm holding fast. Make it with butter. But please, please, for heaven's sake, don't substitute margarine. Ever.
INGREDIENTS:
(Serves two)
4 to 6 chicken pieces (thighs or breast halves), skin on and bone in.
Salt
Black pepper
4 tablespoons butter (60g, one-half stick)
PROCEDURE:
1. Rinse the chicken parts and pat them dry with paper towels. Season well with salt and pepper.
2. Using a saute pan or skillet just big enough to hold the chicken comfortably in one layer, melt the butter over medium-high heat until it sizzles but doesn't brown.
3. Put in the chicken pieces, skin side down, and let them cook for 12 minutes or until the skin is golden brown. Jiggle them occasionally with a wooden spoon to make sure they're not sticking, and keep an eye on the heat, setting it between medium and medium-high, to ensure that the melted butter sizzles but doesn't burn.
4. Turn the chicken and cook the other side for 7 or 8 minutes longer, until it's cooked through and firm to the touch. Serve immediately.
MATCHING WINE: The deliciously balanced and elegant Alkoomi 2004 Frankland River Western Australia Shiraz Viognier featured in yesterday's 30 Second Wine Advisor made an excellent match, but this food-friendly dish would reward a wide range of fruity, crisp reds or richer whites. Try it with a good Burgundy, or your favorite Chardonnay.
BUY THE BOOK ONLINE: If you'd like to order James Peterson's "Cooking" from Amazon.com, the following link will make it yours for $26.40 (with free Super Saver shipping), a 34 percent saving from the $40 list price. Orders placed using this exact link will return a small commission to WineLoversPage.com, for which I thank you.
http://www.amazon.com/exec/obidos/ASIN/1580087892/robingarrswineloA/
Talk About Food and Wine Online
If you have questions, comments or ideas to share about today's article
or wine in general, you're always welcome to drop by our online
FoodLovers Discussion Group:
http://www.wineloverspage.com/forum/village/viewforum.php?f=5
Everyone is free to browse. If you'd like to post a comment, question or reply, you must register, but registration is free and easy. Do take care to register using your real name, or as a minimum, your real first name and last initial. Anonymous registrations are quietly discarded.
To contact me by E-mail, write wine@wineloverspage.com. I'll respond personally to the extent that time and volume permit.
PRINT OUT TODAY'S ARTICLE
Here's a simply formatted copy of today's FoodLetter, designed to be printed out for your scrapbook or file or downloaded to your PDA or other wireless device.
http://www.wineloverspage.com/wineadvisor2/
food/2007/10/buttersauteed_chicken-print.html