Tuna and shrimp orzo
Just as necessity is the mother of invention, sometimes the creation of a new recipe is borne of unexpected necessity.
Yesterday, for example, I picked up a chunk of fresh ahi tuna and a few fat shrimp at a local fish store, planning a variation on Salade Niçoise to go with an excellent new California rosé wine that was calling my name.
Or such was my plan, until I got home and remembered that the garden had offered up a huge mound of fresh spinach that needed to be eaten right now. Substituting spinach leaves for the crunchy, bitter spring greens in a Niçoise didn't make sense, but I didn't really want to have a big dinner salad and a bowl of fresh spinach, either.
So it was fallback time, and happily it didn't take me long to dream up a new concept: A happy mix of cubes of pan-seared tuna and scampi-style shrimp, tossed capers, olive oil and lemon juice tossed with al dente orzo pasta and piled overflowing into a roasted yellow bell pepper made a splendid alternative, with plenty of healthy green from the simply steamed spinach on the side ... and it couldn't have gone better with a great rosé, "Bone-Jolly" 2006 Gamay Noir from Edmunds St. John.
Here's how it went together. If you try it or something similar, please let us know how you fared. Obvious tweaks would be to add olives - ideally small, purple Niçoise olives - or experiment with the addition of sliced hard-boiled eggs, cheese or herbs.
INGREDIENTS
(Serves two)
1 large yellow or red bell pepper
1 or 2 cloves garlic
Fresh ginger root
4 tablespoons (120ml) olive oil
Dried red-pepper flakes
6 large shrimp in the shell
4 ounces orzo or other small soup pasta
Small amount of red onion, enough to make 1/4 cup (60ml) chopped
8-ounce (240g) sushi-quality ahi tuna
1 tablespoon (15g) capers
Juice of 1/2 lemon (Meyer lemon if available)
1 or 2 fresh green onions (scallions)
Sea Salt
Black pepper
PROCEDURE:
1. Cut the bell pepper in half from top to bottom, trimming out and discarding seeds and ribs. Put it in a 450F (230C) oven - a toaster oven is ideal - for 10 to 15 minutes, turning once or twice, until the skin side is sizzling and blackened. Put the pepper halves in a paper bag, close it, and let the peppers cool for 5 minutes. Remove them and carefully peel off their skins, which should slip off fairly easily after this treatment. Reserve.
2. Peel and smash the garlic. Cut a 1/4-inch slice from the ginger root and whack it with the side of a chef's knife to release its juices. Put the olive oil into a skillet or saute pan, put in the garlic, ginger and a good shake of dried red-pepper flakes, and warm over medium-high heat until the garlic and ginger are sizzling. Put in the shrimp, in their shells, and sautee them briefly, about 1 minute on each side, until they're just cooked through.
3. Remove the shrimp and let them cool enough to handle, then peel them and set the cooked shrimp aside. Discard the garlic and ginger, but reserve the scented olive oil in the saute pan.
4. Bring a large pot of salted water to a boil, put in the orzo, and cook until al dente as per package instructions, about 12 minutes.
5. Chop the onion, cut the tuna into bite-size cubes, measure out the capers (and rinse them if you prefer to reduce their vinegary bite), squeeze the lemon and discard any seeds, and mince the scallions fine.
6. Put the reserved olive oil that was used to cook the shrimp back over medium-high heat, and saute the onions just until they're translucent. Put in the tuna cubes and saute for just a minute or two, turning to sear all sides while leaving them sushi-rare at the center. Reduce heat to very low, add the reserved cooked shrimp and the capers, and stir in the lemon juice, adding a bit of pasta water from the simmering orzo pot.
7. When the orzo is al dente, strain it and add it to the skillet with the tuna and shrimp; stir to mix, and season with sea salt and freshly ground black pepper to taste.
8. Put the reserved roasted peppers in warmed bowls and fill with the fish and orzo mix, allowing the excess to spill over into the bowls. Garnish with the minced green onions and serve.
MATCHING WINE: I fashioned the dish specifically to accompany a good dry rosé wine, and it was spectacular with the excellent new Edmunds St. John 2006 "Bone Jolly" El Dorado Gamay Noir Rosé, which I'll review in a coming edition of The 30 Second Wine Advisor. It would also work with a rich white wine - a Chardonnay would be fine - and possibly a Pinot Noir for the tuna, although the shrimp might talk back a bit to a red.
Terroirs of Burgundy with Robin Garr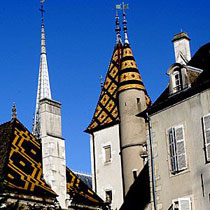 What wine lover hasn't dreamed of touring the great wine region of Burgundy, meeting its wine makers, learning about its wines and dining in its characteristic restaurants and bistrots?
Now, with the respected wine-touring company French Wine Explorers, we've crafted a special, once-in-a-lifetime Terroirs of Burgundy tour aimed at thrifty, value-seeking wine lovers.
If you've long dreamed of learning Burgundy and its wines with an expert at hand but thought you couldn't possibly afford it, I invite you to consider The Terroirs of Burgundy. I'll be personally leading the July 2-7, 2007 tour, and I promise maximum "bang for the buck."
I hope a few more of you can join us ... we still have a few seats left, and it would be a shame to hit the wine road with an empty space that you could have used. If you've been kicking the idea around but still haven't quite decided, I encourage you to take another look at the itinerary and details at http://www.wineloverspage.com/tour/
For more information or to make reservations, send E-mail to info@wine-tours-france.com or call +1-877-261-1500 (toll-free in the U.S. and Canada). And if you would like to discuss this tour with me personally, feel free to write me at wine@wineloverspage.com