Linguine with fish
Several of you asked me to tell you about the fresh fish and pasta dish that I mentioned in yesterday's 30 Second Wine Advisor, a dish from an indulgent lunch at Ristorante Lugana in Lugana Parco al Lago on Lake Garda during my recent wine-judging trip.
Fair enough! This was one of several fish dishes on a bill of fare in which every course (except dessert, of course) involved freshwater fish freshly caught from the lake. It was a simple but elegant preparation, flaked, mild white fish in a light fresh-tomato sauce over long pasta.
The menu for our group's dinner - written in a sort of Italianesque English for our group of wine-journalist judges from Norway, Latvia, Bulgaria, Romania, Slovakia, Peru and the United States whose common language was English - called the dish "thin tagliatelle 'al Ragout' fresh-water fish."
For some reason, I've found that one of the most difficult tasks for a food-lover in almost any country involves trying to get the English equivalent for specific species of fish. A long conversation in pidgin Italian, though, led me to guess that the fish was pike, or something akin to it. I came home in a hurry to try to replicate the dish, using a fresh fillet of walleye pike and substituting linguine as a close replacement for the "thin tagliatelle." Just about any mild freshwater fish with white flesh that flakes easily should work well as a substitute.
I was very pleased with the result, and of course it went great with a Lugana, the full, ageworthy white wine of Lake Garda discussed in yesterday's Wine Advisor. Here's how it went:
INGREDIENTS
(Serves two)
Sweet yellow or red onion, enough to make 1/2 cup chopped
1 or 2 cloves garlic
3 or 4 ripe plum tomatoes, fresh or canned, with their juice
Salt
Black pepper
Dried red-pepper flakes
2-3 ounces (60-90ml) olive oil
10- to 12-ounce (300-360g) fillet of boneless walleye pike or other easily flaked freshwater fish
4 ounces linguine
PREPARATION:
1. Peel the onion and garlic. Chop the onion coarsely and mince the garlic fine. Cut the tomatoes into good-size chunks and put them in a small bowl with their juices; season the tomatoes to taste with salt, black pepper and a discreet shake of dried red-pepper flakes.
2. Bring a large pot of salted water to the boil and put in the linguine, stirring at first so the pasta doesn't stick together, then cook at a steady boil until al dente or as per package instructions, typically 8 to 10 minutes.
3. Put the oil in a skillet large enough to hold the fish later, put it over medium-high heat, and cook until the oil sizzles. Put in the chopped onions and garlic and saute them briefly until they're translucent and aromatic.
4. Turn the heat down to medium. Put the fish fillet in the skillet, skin-side down, and cook for 3 or 4 minutes. Carefully turn it over and cook for another 3 minutes or until the flesh is opaque. Carefully peel off and discard the skin.
5. Put in the tomatoes and their juice, and gently flake the fish with a fork until it falls into pieces. Reduce heat to low and simmer just until the fish is done; don't overcook. If you time things right, the fish and pasta should be done about the same time.
6. Drain the pasta and stir it into the simmering tomato sauce and flaked fish. Toss to blend, and serve promptly in warmed bowls.
MATCHING WINE: The original was designed in Lugana country and served with Lugana wine, and it seemed only right to do the same on this side of the water: It was just fine with the Tenuta Roveglia 2004 Lugana featured in yesterday's Wine Advisor. It would go well, though with any richer-style white, from Southern Italian Fiano to a relatively lightly oaked Chardonnay.

Terroirs of Burgundy with Robin Garr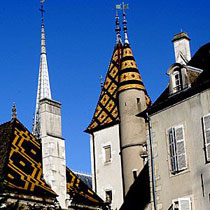 What wine lover hasn't dreamed of touring the great wine region of Burgundy, meeting its wine makers, learning about its wines and dining in its characteristic restaurants and bistrots?
Now, with the respected wine-touring company French Wine Explorers, we've crafted a special, once-in-a-lifetime Terroirs of Burgundy tour aimed at thrifty, value-seeking wine lovers.
If you've long dreamed of learning Burgundy and its wines with an expert at hand but thought you couldn't possibly afford it, I invite you to consider The Terroirs of Burgundy. I'll be personally leading the July 2-7, 2007 tour, and I promise maximum "bang for the buck."
Interested? Don't delay, as the tour is strictly limited to 16 wine lovers. You can review the itinerary and details at http://www.wineloverspage.com/tour/
For more information or to make reservations, send E-mail to info@wine-tours-france.com or call +1-877-261-1500 (toll-free in the U.S. and Canada). And if you would like to discuss this tour with me personally, feel free to write me at wine@wineloverspage.com