Verdure
After a couple of weeks leading the red-carpeted life of an international wine judge, something strange happened to me that I had never encountered in Italy before: Even here, in the land whose food and wine speak to my very soul, I realized that I was starting to leave meat, cheese and pasta on my plate.
No matter how much I may love Italian fare, two rich meals a day had me not merely loosening my belt but actually starting to say, "'tis enough, 'twill serve."
But no matter how satiated I became, I don't think I ever left my vegetables; and toward the end of my stay, when even the likes of spoon-tender veal or rosy baby lamb would tempt me to take only a ritual bite, I'd often make my meal on veggies ("verdure" in Italian) alone.
This is a rare thing for an obligate carnivore and dedicated cheese-lover like me, but desperate times call for desperate measures, and veggies are healthy. And vegetables Italian-style, never overcooked and usually doused with ripe, green olive oil for flavor, have a way of tickling even the most jaded taste buds.
I haven't been back long enough to experiment in the kitchen, so today I'd like to break from my usual practice of presenting a recipe that I've made at least once or twice, talking instead in more general terms about how I plan to make two classic, simple Italian vegetable dishes, Giardiniera and grilled vegetables. I invite your suggestions, and for the more adventurous, feel free to experiment along with me - I don't see how either of these can go far wrong - with the understanding that these recipes haven't been tested.
Giardiniera ("Jar-din-yare-ah"), or pickled vegetables, is a familiar Italian-American dish that's almost invariably purchased in commercially packaged jars at Italian delis. In that form, it consists of bite-size mixed veggies - usually including carrots, cauliflower, mild and hot peppers among other things - in a sweet-sour sugar-and-vinegar brine. It's okay as one element in a traditional antipasto plate, but has really never been a favorite for me because even the quality brands hit me with a canned, manufactured taste. But in the Veneto in the springtime, freshly made giardiniera - gently pickled and served crisp-tender after only a day or two in brine - is a whole 'nuther story, and one I want to replicate very soon.
My plan is simple: I'll cut carrots and celery into julienne strips and trim a head of cauliflower into tiny florets not much larger than chickpeas. I might add some julienned red bell pepper, a few thin green beans cut into 1-inch lengths, and maybe some tiny peeled Italian cippolini onions. I'll blanch all these prepped veggies briefly in simmering water, then cover them with white vinegar sweetened with a small amount of sugar. A couple of dried red chile peppers to give it a piquant edge, maybe a bay leaf, a few garlic cloves, black peppercorns and salt to taste. Bring it all to a boil, reduce heat, allow it to cool, and then store it in the refrigerator overnight. To serve, lift the veggies out of their brine with a slotted spoon and dress with olive oil.
I think this will come close to the fresh giardinieras I enjoyed in Verona, and that was a far cry from the bottled commercial product.
Perhaps because spring was in full flower in the Veneto and Lombardy at the end of March, another commonplace dish was grilled vegetables, a simple, seductive dish that almost invariably included the same cast of characters: Zucchini and small, thin Italian eggplants cut lengthwise into ribbon-like strips, skin on; red, green and yellow bell peppers, and wedges of bitter red raddicchio, painted with olive oil, grilled over coals until tender and gently smoky, then dressed with more rich, fruity green olive oil, salt and pepper.
Recipe? That was it! Just one serious procedure tip: Don't start counting calories when it's time to drizzle on the olive oil. You're eating healthy food here, and olive oil is perhaps the healthiest of oils. The sacrifice in flavor that would result from holding back the olive oil simply isn't worth it.
I'll be trying both these recipes soon and will report the results. If you experiment with them - or better yet, have old family recipes that you use regularly - I hope you'll take a moment to share your suggestions and tips on our FoodLovers Discussion Group forum,
http://www.wineloverspage.com/forum/village/viewforum.php?f=5
Terroirs of Burgundy with Robin Garr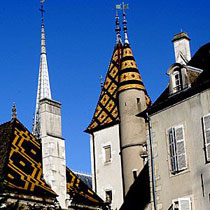 What wine lover hasn't dreamed of touring the great wine region of Burgundy, meeting its wine makers, learning about its wines and dining in its characteristic restaurants and bistrots?
Now, with the respected wine-touring company French Wine Explorers, we've crafted a special, once-in-a-lifetime Terroirs of Burgundy tour aimed at thrifty, value-seeking wine lovers.
If you've long dreamed of learning Burgundy and its wines with an expert at hand but thought you couldn't possibly afford it, I invite you to consider The Terroirs of Burgundy. I'll be personally leading the July 2-7, 2007 tour, and I promise maximum "bang for the buck."
Interested? Don't delay, as the tour is strictly limited to 16 wine lovers. You can review the itinerary and details at http://www.wineloverspage.com/tour/
For more information or to make reservations, send E-mail to info@wine-tours-france.com or call +1-877-261-1500 (toll-free in the U.S. and Canada). And if you would like to discuss this tour with me personally, feel free to write me at wine@wineloverspage.com