Guilt-free fish fry
Spring is approaching and Lent is under way, a season when many people undertake modest symbolic sacrifices such as eating fish on Fridays. Crunchy, golden-brown, delicious, sizzling fried fish: What kind of a penance is that?
Whether it's a Lenten observance or simply because you like fish at any time of year, fish is healthy food, high in protein and relatively low in calories; even fatty fish like tuna and salmon are rich in the omega-3 fatty acids that - like red wine - seem to be beneficial to heart health.
Your golden-brown fried fish, unfortunately, sacrifices some of those healthful benefits on the altar of sheer self-indulgent deliciousness. But it's possible to get much of the flavor of fried fish - at a fraction of the nutritional cost in fat and calories - by dropping the breading and deep fat.
Try sautéeing your fish lightly dredged in seasoned flour ("meuniere" or "miller's style," as the French call it), in a small amount of oil on a nonstick skillet or griddle.
The result - perfectly cooked fish attractively sealed within a very thin layer of crunch - is arguably more refined than traditional fish'n'chips, versatile on the bill of fare whether served alone or used in a recipe, and ridiculously easy to cook.
It's worth the effort and additional expense to secure quality, fresh fish, but in today's marketplace it's no longer necessary to live on the seacoast to get it, assuming you're willing to pay for quality. We're some 700 miles from the nearest salt water, but our inland city boasts a half-dozen quality fish markets that get their product by air express; and the chances are yours does, too. I gladly pay extra for quality, and I recommend you do the same.
The sautéeing process is almost too simple to be called a recipe, but here's the step-by-step procedure. If you haven't had fresh fish at home for a while, this might be the time to give it a try.
INGREDIENTS
(Serves two)
10 to 16 ounces (300 to 480g) fresh, firm-fleshed fish in boneless fillets
4 tablespoons (60g) all-purpose flour
1/2 teaspoon (3g) salt
1/2 teaspoon freshly ground black pepper
A few dashes of cayenne pepper
1 or 2 cloves garlic
2 or 3 tablespoons olive oil or butter
PROCEDURE:
1. Rinse and dry the fish and double-check to make sure the fish merchant removed all the scales. It's okay to leave the skin on.
2. Put the flour on a large plate and season it with the salt, black pepper and cayenne.
3. Peel the garlic cloves and smash them gently with the side of a chef's knife to release some of their juices.
4. Put the garlic and the olive oil or butter in a nonstick skillet large enough to hold the fish, and put it over medium-high heat until the fat is very hot and the garlic starts to sizzle.
5. Shortly before cooking, put the fish on the seasoned flour and turn it once or twice to cover all sides with flour. Pick it up and tap it gently on the plate so the excess will fall off. All you need is a thin, dusty coating.
6. Put the flour-dusted fish in the sizzling oil and let it cook on one side for 2 or 3 minutes, shaking the pan occasionally to ensure the fish doesn't stick. Gently turn the fish, taking care that it doesn't break up, and continue cooking on the other side for another three minutes or so. If the fillets are unusually thick - an inch or more at the thickest point - you may need to go as long as a total of 10 minutes, but don't overcook. If the fish is good and fresh, it's better to leave it just warm in the center (you like sushi, don't you?) than overcooked and dry.
7. This completes the simple process, and the fish is delicious served just as is. There's a wealth of variations, though: Add a dab of additional butter, a squirt of lemon and a bit of minced parsley at the end for a classic meuniere presentation. Or sauté it with slices of ginger in addition to the garlic and deglaze with soy sauce and just a dash of sugar at the end for a teriyaki-style dish served with rice. I've sautéed fish in bite-size cubes and plated them atop pasta in a wasabi cream, or over a spicy Cajun gumbo: The possibilities are endless.
MATCHING WINE: Crisp, dry whites with significant acidity are recommended with the basic fish dish, although some of the accompaniments I've suggested could change the equation. Do it with tuna and Japanese flavors, and a Pinot Noir becomes appealing. But Loire Valley whites - Sauvignon Blanc or dry Chenin Blanc - or a very good Chablis would be awfully hard to beat.
Terroirs of Burgundy with Robin Garr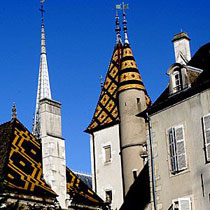 What wine lover hasn't dreamed of touring the great wine region of Burgundy, meeting its wine makers, learning about its wines and dining in its characteristic restaurants and bistrots?
Now, with the respected wine-touring company French Wine Explorers, we've crafted a special, once-in-a-lifetime Terroirs of Burgundy tour aimed at thrifty, value-seeking wine lovers.
If you've long dreamed of learning Burgundy and its wines with an expert at hand but thought you couldn't possibly afford it, I invite you to consider The Terroirs of Burgundy. I'll be personally leading the July 2-7, 2007 tour, and I promise maximum "bang for the buck."
Interested? Don't delay, as the tour is strictly limited to 16 wine lovers. You can review the itinerary and details at http://www.wineloverspage.com/tour/
For more information or to make reservations, send E-mail to info@wine-tours-france.com or call +1-877-261-1500 (toll-free in the U.S. and Canada). And if you would like to discuss this tour with me personally, feel free to write me at wine@wineloverspage.com