Beef pot roast
As winter, we hope, starts winding down toward spring in this part of the world, I'm still trying to get in a few more hearty cold-weather dishes before the flowers blossom and the trees start to bud.
One such favorite is beef pot roast, a dish that stands at the other end of the sophistication spectrum from tenderloin or standing rib, but one that can bring plenty of pleasure in its own right. Made from tougher cuts that can range from shoulder to rump, it's usually braised - simmered long and slow in a closed pot with aromatic liquids.
This time-consuming process may sacrifice the hot-pink pleasures of medium-rare beef, but it more than makes up for that in flavor, both from the beef itself - tough cuts tend to be more intensely flavored than the more tender, expensive and sought-after rib cuts and tenderloins - and from the braising liquids that infuse the meat with aromatics during the long, closed braising period.
The basic principle of pot roasting is so simple that it hardly requires a recipe: Brown a chunk of beef in a little oil, flavored if you wish with salt, pepper, garlic and onion. Pop it into a dutch oven or other heavy, ovenproof pot with a tight-fitting lid with a small amount of liquid, and cook at low temperature for a long time. During cooking, add vegetables if you like. That's pretty much the whole story, and you can even skip the browning step if you want to save a few calories, although you'll make some sacrifice in color and flavor.
I focused on the braising liquid in a pot roast the other day, fine-tuning it with a few non-traditional ingredients in almost homeopathic doses (tomato paste and soy sauce, to add richness and a touch of umami, the Japanese "fifth flavor;" and a dash of hot sauce just to liven things up a bit), and thought the result was exceptionally fine. I'll outline the process below, with the strong caveat that you're welcome to follow my exact proportions, but you'll likely achieve just as much success if you modify it with changes to suit your taste. In short, it's an easily altered and very forgiving recipe.
INGREDIENTS
(Serves two)
2-4 pound (about 1 to 2 kilos) beef chuck or shoulder roast.
Salt
Black pepper
3 or 4 garlic cloves
2 to 4 tablespoons (30 to 60ml) olive oil
1/4 cup (60 ml) dry red wine
1 cup beef broth
1 tablespoon tomato paste
1 tablespoon soy sauce
1/2 teaspoon good-quality hot sauce (Cholula Mexican, Sriracha Vietnamese or Indonesian sambal oelek, for example)
1 stalk celery
1 bay leaf
1 medium or 2 small baking potatoes
2 carrots
1 medium-size sweet onion
PROCEDURE:
1. Preheat oven to 325F (160C). Generously season the beef with salt and pepper. Peel and smash the garlic cloves and put them in the dutch oven with the olive oil. Cook over high heat until the garlic sizzles. Put in the beef, sear quickly on all sides, then reduce heat to medium-high and continue cooking, turning the meat often, until it's well browned.
2. When the meat is nicely browned, pour off a little of the accumulated beef fat and olive oil in the pan, if you're concerned about calories; then turn heat back to high and pour in the red wine, turning the meat once or twice and scraping the bottom of the pan to pick up any browned bits, until the liquid has reduced to a syrupy glaze.
3. While the meat is browning, mix together the beef broth, tomato paste, soy sauce and hot sauce. After you've reduced the red wine, turn heat to low and pour in this liquid, adding a little water if necessary so the level of liquid comes about halfway up the sides of the meat. Break the celery stalk in half and put the pieces in; add the bay leaf. Cover and place in the preheated oven and cook for a total of about two hours, turning the meat every half-hour or so.
4. While the meat simmers, peel the baking potatoes and the carrots. Cut the potatoes into 1/2-inch cubes and the carrots into thick "coins." Put them in a saucepan with lightly salted water to cover, and simmer for about 10 minutes or until they're crisp-tender. Peel the onion and cut it in half across its equator; cut each half into six or eight wedges. When you estimate that the meat has about 45 minutes to go, drain the potatoes and carrots and add them to the simmering liquid; put in the onion chunks.
5. Continue cooking the meat with the vegetables. For the last 30 minutes or so, particularly if there seems to be a lot of liquid in the pan, set the lid askew and turn the oven up to 375F (190C) so it will reduce a bit. (Keep an eye on it, though, and make sure it doesn't dry out.)
6. At the end of cooking, remove the beef from the liquid and carve it into thick slices. It should be almost falling-apart tender. I lift out the vegetables with a slotted spoon and serve them separately in a warm bowl, with the possible exception of the celery, which may be so cooked down that it needs to be discarded. You can put some of the liquid in a gravy boat or just use it as a light jus on the meat platter.
MATCHING WINE: Red wine with beef, of course, and just about any red would do, although I like to turn to "comfort wines" from Northern Italy or Southern France. This time around, it was a delight with the Languedoc red blend featured in the Feb. 28 30 Second Wine Advisor, Domaine d'Aupilhac 2004 Coteaux du Languedoc.
Terroirs of Burgundy with Robin Garr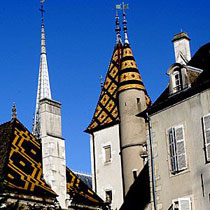 Speaking of Burgundy, as we'll be doing this week in the 30 Second Wine Advisor, what wine lover hasn't dreamed of touring this great wine region, meeting its wine makers, learning about its wines and dining in its characteristic restaurants and bistrots?
Now, with the respected wine-touring company French Wine Explorers, we've crafted a special, once-in-a-lifetime Terroirs of Burgundy tour aimed at thrifty, value-seeking wine lovers.
If you've long dreamed of learning Burgundy and its wines with an expert at hand but thought you couldn't possibly afford it, I invite you to consider The Terroirs of Burgundy. I'll be personally leading the July 2-7, 2007 tour, and I promise maximum "bang for the buck."
Interested? Don't delay, as the tour is strictly limited to 16 wine lovers. You can review the itinerary and details at http://www.wineloverspage.com/tour/
For more information or to make reservations, send E-mail to info@wine-tours-france.com or call +1-877-261-1500 (toll-free in the U.S. and Canada). And if you would like to discuss this tour with me personally, feel free to write me at wine@wineloverspage.com