Alpine potatoes and cheese
When you get far enough into the Alpine heights of far northern Italy, it can be a little hard to tell where you are sometimes, as Italy, Austria and Switzerland all seem to merge seamlessly together in culture, food and even language.
Parts of Italy's northern edge in Trentino-Alto Adige, indeed, flew the Austrian flag in times past, and the natives - many of whom sport Germanic names - called the region Sudtirol.
These scenic mountain regions are on my mind because I recently ran into an absolutely delicious cheese from Trentino - a smooth, creamy and gently tangy cow's milk cheese called Crucolo. It's so good that I've been going through a fair amount of it, as a snacking cheese and as an ingredient in dishes that either hail from the region or seem like they ought to.
One pasta invention that worked out well took a (relatively) lightweight spin on Alfredo, a Northern Italian Mornay sauce made by melting Crucolo into a white bechamel, then using it to dress a bowl of spaghetti with tiny, nutmeg-scented veal meatballs.
That one was an invention, not authentic Trentino as far as I know but crafted in the spirit of Italy's Alps. Today, though, let's fashion an even easier recipe that's at least loosely based on a Trentino tradition. Filling for winter and hearty enough to serve as a meal in itself, it's so simple that it hardly needs a recipe: Small new red or white potatoes are simmered, then dressed with a hot blend of grated Crucolo with milk or light cream and garnished with a nest of prosciutto sliced into a julienne.
I hope you can find Crucolo cheese. It's worth the effort to track it down. If you can't find it locally, though, and don't mind a substitution, consider any similar Swiss or Swiss-type cow's milk cheese, from Emmentaler or Gruyere to Val d'Aosta Fontina from the French-speaking Alps on the other side of Northern Italy.
I've been getting Crucolo regularly lately at Whole Foods in Louisville and assume that it's available at the chain nationally. I've also seen it online from at least two vendors - Isola Imports, from whom I've bought quite a few Italian ingredients with great satisfaction, and Salumeria Italiana, which I haven't yet dealt with but enjoys a good reputation.
Isola currently offers Crucolo in 1-pound wedges for $15. To go directly to the ordering page, click
http://www.isolaimports.com/cat.asp?c=208
Salumeria Italiana offers it in 1-pound wedges for $16. Go to
http://www.salumeriaitaliana.com/
acb/showdetl.cfm?CatID=8&DID=10&Product_ID=25170
(These links are not advertising material but are presented strictly for your information. WineLoversPage.com receives no commission on sales. No matter. I'm just so smitten with this cheese that I'd like to share.)
INGREDIENTS
(Serves two)
1 pound (about 1/2 kilo) tiny white creamer potatoes or new red potatoes
1 teaspoon (5g) salt
4 ounces (120g) Crucolo cheese (see below for substitutes)
1/2 cup "half and half" or light cream
1 ounce prosciutto, sliced thin
Black pepper
PROCEDURE:
1. Scrub the potatoes (don't peel them) and put them in a saucepan with enough water to cover. Add the salt, bring to a boil, reduce heat to low and simmer for about 20 minutes or until they're tender.
2. While the potatoes are cooking, grate the cheese. Cut the prosciutto into julienne strips. The easy way to do this is to stack the slices, roll them into a fairly tight roll, then cut it across into fettuccine-size strips.
3. When the potatoes are done, drain them and keep them warm. Put the half-and-half (or light cream or whole milk) in the same pan, bring it just to the boiling point, then reduce heat to a simmer and stir in the grated cheese. When the cheese melts and the mixture is smooth, put the potatoes back in the pan to warm through.
4. Serve in warm bowls, garnished with the prosciutto julienne and a few grinds of black pepper.
MATCHING WINE: A crisp white would work fine, but a lighter-style, acidic red from the same general region seemed just right, and I couldn't have asked for a better match than Bertani 2002 "Catullo" Veneto, a "Super Veneto" cousin of the more familar "Super Tuscans," a blend of the Corvina of Valpolicella with Cabernet Sauvignon.
Terroirs of Burgundy with Robin Garr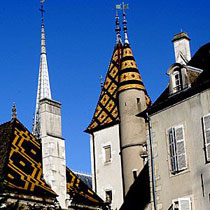 What wine lover hasn't dreamed of touring this great wine region, meeting its wine makers, learning about its wines and dining in its characteristic restaurants and bistrots?
Now, with the respected wine-touring company French Wine Explorers, we've crafted a special, once-in-a-lifetime Terroirs of Burgundy tour aimed at thrifty, value-seeking wine lovers.
If you've long dreamed of learning Burgundy and its wines with an expert at hand but thought you couldn't possibly afford it, I invite you to consider The Terroirs of Burgundy. I'll be personally leading the July 2-7, 2007 tour, and I promise maximum "bang for the buck."
Interested? Don't delay, as the tour is strictly limited to 16 wine lovers. You can review the itinerary and details at http://www.wineloverspage.com/tour/
For more information or to make reservations, send E-mail to info@wine-tours-france.com or call +1-877-261-1500 (toll-free in the U.S. and Canada). And if you would like to discuss this tour with me personally, feel free to write me at wine@wineloverspage.com