Fish on a fennel bed
Let's take a little time this month getting to know fennel, the bulb-shaped, gently anise-scented vegetable that the Italians call "finocchio."
Fennel, food-trivia lovers will be intrigued to learn, comes down to us from the Latin word for "fragrant hay." It is the Ingredient of the Month for February in our FoodLovers Discussion Group, where we'll be talking all month about the topic - both the fresh bulb with its celery-like crunch and mild anise flavor, and the aromatic fennel seed that's a trademark ingredient in Italian sausage.
What are your favorite uses for fennel? I hope you'll drop by the FoodLovers forum and spend a moment reading the discussions and sharing your own comments and recipes. Here's a short-cut link that will take you directly to the topic "Ingredient of the Month February: Fennel,"
http://www.wineloverspage.com/forum/village/viewtopic.php?t=6423
To get things started, here's one of my favorite recipes for finocchio, an old Italian-style fish dish that has become a family favorite. It's much evolved, but takes its original inspiration from a couple of Marcella Hazan's classic recipes for sea bass on fennel and bluefish on potatoes.
INGREDIENTS
(Serves two)
1 good-size fennel bulb
1 medium or one-half large sweet onion
1/4 cup (60ml) or more good, fruity olive oil
2 or 3 cloves garlic
Dried red-pepper flakes
Salt
Black pepper
2 fillets bluefish, sea bass, mackerel or other firm, flavorful fish
PROCEDURE:
1. Trim off the root end and fronds from the fennel bulb (you can save the fronds for aromatic plate decorations if you like). Wash the bulb and cut it vertically into very thin slices, roughly 1/4 inch (6mm) thick. Peel the onion, cut it in half, and slice one or both of the halves (depending on size and how much you like onion) into similar vertical slices. Peel the garlic and mince it fine.
2. Put all but 2 tablespoons of the olive oil in a saucepan and cook about half of the minced garlic and a discreet shake of red-pepper flakes over medium-high heat until it's aromatic and just starting to brown. Put in all the sliced fennel and onion and toss with the hot oil and garlic for a few minutes, until it starts to wilt. Season lightly with salt and black pepper (don't overdo - you can always adjust seasoning at the end), reduce heat to low, and cook, covered, for 10 minutes or so, stirring occasionally, until the fennel and onions are crisp-tender. Add a small amount of water if it looks like it's sticking, but the oil and natural moisture of the vegetables will probably be enough.
3. While the vegetables are cooking, preheat oven to 450F (230C). Lightly paint a 13x7-inch baking dish with a small amount of olive oil, spoon in the cooked vegetables, and lay the fish fillets on top, skin-side down. Sprinkle the reserved minced garlic on the fillets, and drizzle the remaining olive oil over them; hit with a little salt and pepper, and bake for 10 minutes or so. Take them out briefly, carefully spoon a little olive oil from the bottom of the pan and baste the fish with it. Return to the oven, bake 10 minutes more, and you're ready to check seasoning and serve.
MATCHING WINE: Both the fish and the fennel pretty much insist on a dry, acidic but not necessarily lightweight wine. I like it with a rich Southern Italian white like Fiano or Greco di Tufo, but have also paired it very successfully with Sancerre or a New Zealand Sauvignon Blanc; extra points if the wine is in the "grassy" style to play off the fennel.
Terroirs of Burgundy with Robin Garr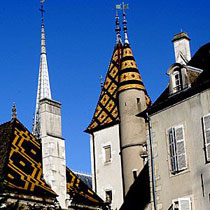 Speaking of Burgundy, as we'll be doing this week in the 30 Second Wine Advisor, what wine lover hasn't dreamed of touring this great wine region, meeting its wine makers, learning about its wines and dining in its characteristic restaurants and bistrots?
Now, with the respected wine-touring company French Wine Explorers, we've crafted a special, once-in-a-lifetime Terroirs of Burgundy tour aimed at thrifty, value-seeking wine lovers.
If you've long dreamed of learning Burgundy and its wines with an expert at hand but thought you couldn't possibly afford it, I invite you to consider The Terroirs of Burgundy. I'll be personally leading the July 2-7, 2007 tour, and I promise maximum "bang for the buck."
Interested? Don't delay, as the tour is strictly limited to 16 wine lovers. You can review the itinerary and details at http://www.wineloverspage.com/tour/
For more information or to make reservations, send E-mail to info@wine-tours-france.com or call +1-877-261-1500 (toll-free in the U.S. and Canada). And if you would like to discuss this tour with me personally, feel free to write me at wine@wineloverspage.com