This article was published in The 30 Second Wine Advisor on Monday, Apr. 16, 2007 and can be found at http://www.wineloverspage.com/wineadvisor2/tswa20070416.php.
Max malo
I'm rather fond of sauerkraut, but I like it in its place: Piled high around a juicy pork roast, or spread thickly atop corned beef on rye to make a Reuben sandwich.
I'm not nearly as open-minded about sauerkraut aromas in my wine, a relatively rare fault that afflicted a modest white Burgundy we opened with dinner the other night.
Initially the wine, a 2005 Macon-Villages, seemed pretty typical of its genre: Appley and crisp, with a texture on the light side of medium-bodied and simple apple and yeast aromas and flavors. But what began as a subtle creamy dairy scent on the nose soon descended into something less appealing, taking on a distinct sauerkraut character as the wine warmed in the glass. The bottle and our unfinished glasses soon found their way to the kitchen for disposal.
What went wrong here? This wine suffered from an excess of malolactic fermentation, a common process that modern producers use in making most red wines and a fair share of whites, particularly Chardonnays.
Malolactic fermentation (sometimes abbreviated as "MLF" or "malo") can be beneficial or at least benign. Introducing lactobaccilus bacteria into the wine converts its naturally occurring malic acid, which often shows a tart, tangy green-apple flavor, to the softer and more mellow lactic acid, imparting a smooth roundness to the finished wine.
But lactic acid, also known as milk acid, can impart a distinct dairy character to food and drink, and the malolactic process spins off chemical components that can have even more strange effects. Diacetyl, for instance, brings the strong "buttery" flavor to Chardonnay that some love and others despise.
And, circling around to the point, lactobacillus bacteria are also the key player in the fermentation process that turns fresh cucumbers into pickles and fresh cabbage into sauerkraut. It's not surprising, then, that excessive malolactic can add pickle or sauerkraut aromas that most of us would find attractive on a Reuben but less so in our glass.
In the case of today's featured wine, I'd call the sauerkraut quality a flaw that diminshed my enjoyment but didn't render the wine undrinkable. And in fairness, previous vintages of this wine haven't shown the flaw, suggesting that it's a one-time or even a random event. But it was certainly attention-getting.
Verget 2005 Macon-Villages ($14.99)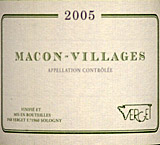 This is a clear, pale straw color wine. Appley and slightly lactic, it shows elusive hints of dairy at first that segue into fresh sauerkraut, subtle at first but increasingly intrusive as the wine warms in the glass. Cooking apples and tangy acidity on the palate, suggesting that it must have been searing in its acidity before malolactic; sadly, the sauerkraut character and sharp acidity make it a little difficult to like. U.S. importer: Vintner Select, Mason, Ohio. (April 13, 2007)
FOOD MATCH: Better with food than on its own, its acidity cuts nicely through the rich flavors of alder-smoked salmon in a goat-cheese cream over hot, silver-dollar corn cakes.
VALUE: The lactic flaw makes this one an iffy buy, but don't turn down the 2004, which I reviewed more positively last year and may still be in the market.
WHEN TO DRINK: This simple, low-end white Burgundy isn't really meant for keeping, but a year or two should do it no harm, and it might be worth putting a bottle or two aside to see if its odd flavors come together better with time.
WEB LINK:
Verget's Website is published in French only, but there's lots of content if you can struggle through:
http://www.verget-sa.com
FIND THIS WINE ONLINE:
Check prices and find vendors for Verget Macon-Villages on Wine-Searcher.com:
http://www.wine-searcher.com/
find/Verget%2bMacon/-/-/USD/A?referring_site=WLP
Roessler Vineyards 2003 "Savoy" Anderson Valley Pinot Noir ($42 retail, $37 per bottle for half or full case orders by Connoisseurs' Series members)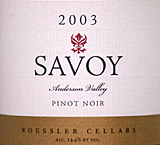 I'm generally attracted to wines made by restaurant owners and chefs, figuring they'll excel at producing food-friendly wines; and restaurateur-winemaker Roger Roessler is no exception. This is a dark ruby-color wine with a clear edge. Red and black cherries highlight the aroma, fresh and true. Mouth-filling and textured on the palate, ripe fruit is structured by crisp acidity and soft tannins. Balance and structure suggest good cellaring potential over the next five years, but it's so appealing and food-friendly now that it's hard to keep hands off. Brilliant with medium-rare, pepper-crusted local grass-fed rib eye. Only 608 cases were made. Winery Website: http://www.roesslercellars.com (April 14, 2007)

This week on WineLoversPage.com
• Dave McIntyre's WineLine: Plus ça Change, at Lagrange
Change can be revolutionary or evolutionary, and Château Lagrange has experienced both in a generation. Dave McIntyre reports on the resurgence of this storied property under corporate management by Suntory.
http://www.wineloverspage.com/mcintyre/wineline60.phtml
• Bucko's Wine Reports: Spring Releases
The crazy spring weather has wine consumers reaching for the reds and then reaching for the whites. Maybe rosé is the safe choice. Randy "Bucko" Buckner covers them all in his 100 wine reviews this month.
http://www.wineloverspage.com/bucko/bucko0407.phtml
• This week's "TalkShoe": Italian wine and food!
The Italians say that a meal without wine is like a day without sunshine, and we think they're right. This week we talked about our favorites and why they work so well. Next week's tentative TalkShoe topic: Rosé wines. Join us at 12:30 p.m. US EDT (18:30 in Western Europe), or download past programs from the archives. See the TalkShoe page for details:
http://wineloverspage.com/talkshoe/
• WineLovers Discussion Group: Screwcap watch
More and more wines are coming out under modern metal screwcaps nowadays. Our wine forum participants generally hail this trend. What do you think? Read the discussion and feel welcome to join in:
http://www.wineloverspage.com/forum/village/viewtopic.php?t=7558
• Netscape WineLovers Community Poll: Rate Robert Parker!
Seldom has there been a figure more polarizing in the world of wine than the American critic Robert M. Parker Jr. Some swear by him, beating down the doors of wine shops to buy the wines he rates over 90. Others use his reviews in reverse, assuming that they'll hate the big, fruit-forward wines he loves, and cherry-picking among his lower scores. Some decry his power and influence on the industry; others shrug and declare that influence overrated. Love him or hate him, we invite you to rate him, using his own 100-point scale to express your opinion in this week's Netscape/CompuServe Community poll.
http://community.netscape.com/winelovers?nav=messages&tsn=1&tid=5204