WineLine No. 60
April 2007
Plus ça Change, at Lagrange
Dear Friends ...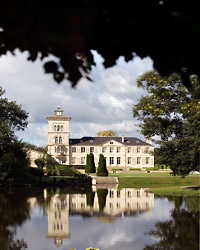 Château Lagrange
Change can be revolutionary or evolutionary, and Château Lagrange has experienced both in a generation. Back in 1983, this once venerable Grand Cru Classé Bordeaux estate was down on its heels, producing mediocre wines from poorly tended vineyards, a shadow of what it had accomplished in nearly six centuries of existence. In the early '80s, you may recall, the Japanese economy was ascendant, and the giant beverage firm Suntory bought the estate just as Japanese interest in Bordeaux was increasing.
Suntory paid about $10 million for the estate, and quickly invested four times that amount in improving the vineyards and the winery. Now, the snob in each of us is thinking, "Ugh! Corporate! I prefer artisanal wines!" Yet Suntory wasn't just in this to make a buck, remember - they had their beer and whisky to do that. (Trust me - I've been hungover on Suntory whisky before!) No, this was for prestige. So they enlisted the help of two renowned consultants of the time - Michel Delon, owner of nearby Château Léoville-Lascasses, and Professor Emile Peynaud, the great Bordeaux viticulturist. They hired Marcel Ducasse, then 40, to make the wines, and they poured in a boatload of yen to upgrade the winery and vineyards.
This May, the 63-year-old Ducasse is handing over the reins of Lagrange to his assistant, Bruno Eynard. But this change will be evolutionary, as Eynard has been helping Ducasse make the wines at Lagrange for 17 years. And that's a good thing, as these Bordeaux, which retail at about $45 for the excellent 2003, have recovered their luster and are offering excellent quality and value.
Ducasse recently made a farewell tour of the United States, during which he offered a 20-year retrospective of his career and his wines. Much of what he had to say poked holes in the romantic ideal of "artisan" winemaking on a small scale and highlighted the benefits of enlightened corporate ownership and deep pockets.
When Suntory bought Lagrange, only 56 hectares were planted; now, 115 hectares are under vines. Even with that much investment, in-Château Lagrange cluding improvements in the winery, it took 13 years for Lagrange to turn a profit for its new owners.
"It was a bet on the future, and it was a good bet," Ducasse said.
The investment began to "click" in terms of better quality around 1990, he said. He also cited global warming as a good thing for the fickle climate of Bordeaux, in that recent vintages have been consistently strong.
But Suntory's investment really pays off in lesser vintages, Ducasse explained. "Even in light years, the wine is decent because of the choices the vintner has," he said. Having enough vineyards gives him the flexibility to blend more Merlot or Petit Verdot into the Cabernet Sauvignon to compensate for Nature's vagaries. Smaller winer-ies lack that flexibility and would either suffer the vintage or be forced to buy additional fruit.
In a blind tasting of the 1995 through 2004 vintages, the house style was quite apparent. Lagrange features deep color, minty blackberry flavors with hints of cherry, cola, wood spice and leather, though not immune to vintage variation. My favorites were the 2004, 2003, 2002 and 2000, though that could be a factor of a string of strong vintages and my own preference for younger wines. The 1995, merely a "well-balanced year" in Ducasse's description, was just maturing nicely, while the wetter year of 1997 tasted older and less appealing. (Ducasse gave us vintage notes to help us guess which wines we were tasting. No, I did not do very well - I nailed four vintages, but was never more than one year off on my errors. The problem with such a format is, guess wrong once and you've made at least two mistakes!)
Ducasse didn't offer his vintages from the early 1990s, which may be just as well. But his 1988, 1989 and 1990, served with lunch, were graceful and classic, showing more of the dark earth and woodsy flavors of mature Bordeaux once the primary fruit is gone. Delicious wines.
The last time Château Lagrange had a change in leadership, it meant a wholescale renovation from the top down. This time, it is merely a changing of the guard. Both are positive transitions. If you've been enjoying Lagrange the last several years, there is no reason to be concerned about the future.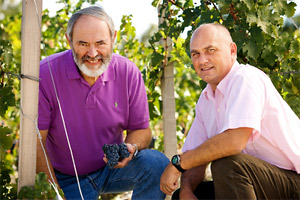 This year, long-time Lagrange winemaker Marcel Ducasse, left, will hand over the grapes to his assistant of 17 years, Bruno Eynard.
© 2007 by Dave McIntyre
Dave McIntyre is the restaurant and drinks columnist for DC magazine (Modern Luxury Publications) and Wine Editor of Foodservice Monthly, a trade publication for the restaurant industry in the mid-Atlantic region. His writings, most of which are available at dmwineline.com, have appeared in Wine Enthusiast, The Washington Post, Wine Review Online and WineToday.com, among other publications. He has appeared on radio on NPR's Kojo Nnamdi Show and on WTOP's "Man About Town" segment. Dave McIntyre's WineLine is archived on Robin Garr's WineLoversPage.com. E-mail Dave at McIntyreWineLine@yahoo.com.
Back to Dave McIntyre's WineLine Index
<!- Page Contents End Here ->