<!- Page Contents Begin Here ->
MoCool Sunday Brunch, "Fire on the Mountain - Mountaintop Verticals"
Aug. 24, 2003
THE LINEUP: In the front row, Laurel Glen. In the back, Monte Bello. Young on the left, old on the right. Let the tasting begin!
For anyone serious about classic California Cabernet, it was a lineup to take the breath away:
In one row, six glasses spanning a dozen years of the red wine that many consider California's, and thus the nation's, only serious candidate - based on style and track record - to be considered "America's First Growth," Paul Draper's Ridge Monte Bello from the Santa Cruz Mountains.
In the second row, standing up to it glass for glass, the wine that quite a few other experts judge Monte Bello's most serious contender for style and consistency, Patrick Campbell's Laurel Glen Sonoma Mountain Cabernet Sauvignon.
Two great wines, each defining the terroir (if it's permissible to use this French concept for California wines) of its unique mountain vineyards.
The scene was the banquet room at Polo Fields Country Club west of Ann Arbor, traditional venue for MoCool's Sunday tasting and brunch. There've been some spectacular tastings here over the years, including a memorable Grange vertical ... an imposing collection of ice wines ... and last year's blind tasting of the top Pinot Noirs from Russian River, Willamette Valley, and Echezeaux. This event was right up with the best of them.
A few brief comments below. But first, the tasting notes. They're listed in the order tasted. The double number at the end of each note represents my score on a 100-point scale, followed by my ranking of that wine from first (1) to last (12):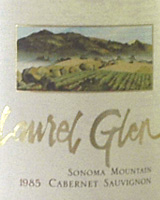 Laurel Glen 1997 Sonoma Mountain Cabernet Sauvignon - Classic cassis/blackcurrant Cabernet aromas with "dusty" notes, somewhat closed. Big fruit flavor wrapped in massive tannins; good balance, needs years of cellar time. 89/7
Ridge Monte Bello 1997 Santa Cruz Mountain Cabernet Sauvignon - Perfumed black fruit, anise and menthol. Balanced and drinking suprisingly well, tannins substantial but smooth and mellow. 92/4
Laurel Glen 1995 Sonoma Mountain Cabernet Sauvignon - Black plum and eucalyptus scents, good fruit flavor lurking behind sharp acidity and fiery tannins. 90/6
Ridge Monte Bello 1995 Santa Cruz Mountain Cabernet Sauvignon - Consistent with the '97, plums and pleasantly medicinal hints of menthol. Flavors follow the nose, juicy and tart, still very young. 91/5
Laurel Glen 1992 Sonoma Mountain Cabernet Sauvignon - Ripe black-fruit aroma with an appealing whiff of leather. Good structure and balance, still young and tannic but starting to come around. 93/3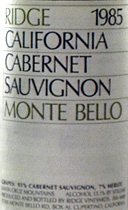 Ridge Monte Bello 1992 Santa Cruz Mountain Cabernet Sauvignon - Classic aroma, deep cassis. Balanced and elegant, still very youthful. Needs time. 94/2
Laurel Glen 1991 Sonoma Mountain Cabernet Sauvignon - A strong scent of horses betrays significant "brett" in the aroma; lots of juicy black fruit on the palate salvages it, but the recognizable twang of brett detracts in the finish. 81/11
Ridge Monte Bello 1991 Santa Cruz Mountain Cabernet Sauvignon - Perfumed, more evocative of red fruit than the usual black plums and the currants. Spicy and peppery, attractive wine but departs from the Monte Bello character for my taste. 83/10
Laurel Glen 1989 Sonoma Mountain Cabernet Sauvignon - Barnyardy, brett and shy black fruit, rather light in the aroma department. Acidic and rather thin on the palate. 80/12
Ridge Monte Bello 1989 Santa Cruz Mountain Cabernet Sauvignon - Dusty, perfumed, relatively light in the aroma and flavor. Well balanced but the volume, contrast and color are turned down low. 86/8
Laurel Glen 1985 Sonoma Mountain Cabernet Sauvignon - Spicy, earthy, funky notes of ripe cheese, somewhat dominating tart, acidic and rather simple flavors. 84/9
Ridge Monte 1985 Bello Santa Cruz Mountain Cabernet Sauvignon - Lovely perfumed fruit, a beauty. Good balance and elegance, loaded with fruit and still-perceptible tannins. A delight, but will continue to improve further with time. 96/1
At the end of the tasting, MoCool organizer Joel Goldberg asked me to comment on the wines, a duty I tried to shun with the argument that a lot of people in the room were much more knowledgeable and qualified to discuss high-end California Cabernets than I am. Joel agreed, but pointed out that those guys were all too smart to stand up in front of a room full of wine geeks and risk making fools of themselves. Busted!
At least I was smart enough to keep it short. In summary, I said it was a great experience, all of the wines on the table were first-rate, and sorting out the differences among them was a matter of nuance and even nit-picking.
That being said, I was forced to admit that - despite a personal inclination toward Laurel Glen as my favorite CalCab - the tasting forced me to confront the reality that the Monte Bellos across the board seemed consistently slightly more refined, elegant and balanced. In each pair, I found myself scoring the Ridge slightly to significantly higher than the Laurel Glen.
On a quick show of hands, it appeared that a significant majority of the 50-some participants in the tasting agreed, although the group of Laurel Glen loyalists were vocal and loyal.
Each wine seemed to show consistent style through the vintages featured in the partial vertical: For the Monte Bellos, it was elegance, with some presence of well-handled American oak, and that recognizable if indefinable "Draper perfume." For the Laurel Glens, it was an earthy, somewhat more "European" funkiness, a character that segued into perceptible barnyardy/horsey "brett" in some of the vintages, a characteristic that I've never minded in moderation but that seems atypical in high-end California wines.
All the younger wines were far too young to be drunk with enjoyment, and even rating them analytically before lunch was challenging even for veteran wine tasters. At the same time, even these youngsters demonstrated the truism that really excellent wines show their breeding in a balance and structure that manages to push its way past the heavy tannins and searing acidity of youth.
Finally, reinforcing that wines at this level don't so much stretch from good to bad as from very good to better to best, almost every vintage on the table (except possibly the faded '89 Laurel Glen) received at least one informal hand vote as best of the tasting. I ranked the '85 Monte Bello tops, and a few others joined me. We didn't take a formal count, but as I recall, the '91 Monte Bello drew quite a few hands, as did the '85 Laurel Glen and, I think, both producers' '92s.
MoCool 2003 Friday Dinner, "Hang Ten with Madeline"
MoCool 2003 Saturday Picnic, "We're Goin' to Wine City!"
MoCool Home Page
<!- Page Contents End Here ->