<!- Page Contents Begin Here ->
MoCool Saturday Picnic, "We're Goin' to Wine City!"
Aug. 23, 2003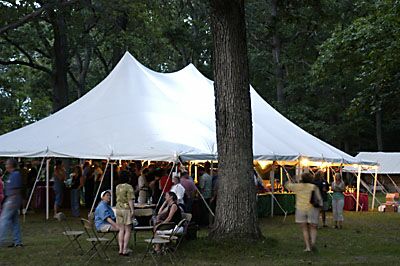 The MoCool tent is a busy place as twilight descends over the picnic.
The happy combination of perfect weather, a beautiful new picnic venue at a country lodge in a grove on the shore of a pretty little lake in the Michigan farmland near Dexter, just west of Ann Arbor, with outstanding food prepared by Allan "Califusa" Bree & Co. and a remarkable collection of California wines brought by an amiable crowd, all added up to one of the best MoCool Saturdays ever.
The wines were remarkably on-theme, with the usually busy "off topic" table holding only a lonely bottle or two. It seemed that everyone got into the "California Dreamin'" topic, even the hard-core Europhiles (like yours truly), and I was happy to have the opportunity for exposure to California wines old and new. And by hanging around the Rhone Ranger and "California Other" tables with their Cal-Itals, white Rhone-style wines, Viogniers and such, with occasional forays toward the crowded Cabernet and Zin tables, I was happy. No grass screamed in my vicinity, and the dump bucket only threw up once.
Pacing myself during the day, and enjoying the tasty tidbits that emerged regularly from Bree's kitchen leading up to a spectacular char-broiled beef dinner, I took notes on just 36 wines, a fraction of all those available, although I confess to enjoying a few more without taking notes as the day wore on.
Here's my PDA dump of the TNs - I've tried to knock out all the graffiti errors, but if you spot any, let me know!
Alexander Valley Winery 1997 New Gewurz North Coast Gewurztraminer - Clear brass. Grapefruit and hazelnuts, sweet and rich. Faint bitter finish.
Charles Shaw 2000 California Chardonnay - Appley, fresh, simple. OK. As in past tastings, if you get past the snob thing, Two Buck Chuck's Chard exceeds expectations for a $2 wine, even if it can't compete with a good $8 wine. I found it instructive to compare it with ...
Kistler 1991 Durrell Vineyard Sand Hill Sonoma Valley Chardonnay - Golden. Luscious tropical fruit. Full and rich, has rewarded cellaring. Kistler's style of Chardonnay is not my preferred style, but give them credit, they do it well.
Miner 2002 California Simpson Vineyard Viogner - Very pale greenish-gold. Floral perfume, crisp, a hint of bltter almond. Beautiful.
Miner 2001 California Simpson Vineyard Viogner - Not as up-front as the '02 but developing a nice minerality. Which Miner is "better"? Hard to say.
Qupe 2002 Santa Ynez Valley Marsanne - Nice citric notes with a pleasant sappy overtone.
Tulocay 1994 Casanova Vineyard Napa Zinfandel - Huge, Classic old-style Zin, impresswive.
Madrigal 2000 Napa Valley Petite Sirah - Inky blackish-purple. Spicy, cherries, full and tannic. Two bottles on hand from separate sources (I brought one), a remarkable coinky-dink two find two from this tiny producer so far from home.
La Jota Vineyard 1998 Howell Mountain Napa Valley Petite Sirah - Amazing spice, menthol and deep black fruit. Delicious, one of the top wines of the day for me. I wouldn't mind loading up on this stuff.
J.C. Cellars Frediani Vineyard 1998 Petite Sirah - Black. Menthol and firm tannins.
Maloy O'Neill 2001 Paso Robles "Gioi" Sangiovese - A hint of leather over bright cherry fruit. Perhaps just a hint of sweetness. One of three wines I brought from this tiny producer; all were impressive, although this one scored a bit below the Syrah and Old Vines Cab (see below) for me.
Mosby 2000 Santa Barbara County Teroldego - Dark garnet. Warm, slightly pruney fruit. Mouth-filling, on the soft side. Another of my contributions. I admire Mosby's commitment to making Italian regional varieties in California, but I can't say this Lombardy grape is his most successful effort.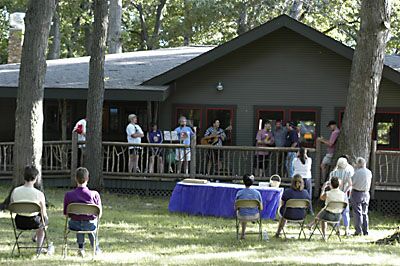 Joel Goldberg greets the crowd as musicians warm up for a little entertainment.
David Coffaro 2001 Terre Melange Dry Creek Valley Red Wine
- Ripe black fruit and leather, very nice.
Kuleto Villa 1999 Napa Valley Sangiovese - Spicy.cherries, meat, bacon, warm and full.
1997 Napa Valley The Maiden (Harlan second label) - Full, ripe, structured. Draws a huge crowd when Mike Conner opens it because of the Harlan connection, and it is nice. But very, very young.
Fellom Ranch 1988 Santa Cruz Mountains Cabernet Sauvignon - Mature, evolved, a hint of green pepper; excellent structure.
Maloy O'Neill 2001 Paso Robles Old Vines Cabernet Sauvignon - Good structure and balance, tannic. Lots of potential, opens up over the afternoon and draws a lot of surprised comments from people unfamiliar with the producer. Outstanding, and if I'm right in thinking that it sells in the $20 range at the winery, huge QPR.
Plam Vineyards 2001 Napa Cabernet Sauvignon - Herbaceous.
Lytton Springs Winery 1988 Private Reserve Mendocino County Cabernet Sauvignon - Only a drop left, but what a drop ... balanced and sweet old-Cabernet fruit.
Edmunds St. John 1994 Durrel Vineyard Sonoma Valley Syrah - Full, peppery, big structure. Very "European" style. I love Edmunds St. John!
Edmunds St. John 1989 Durrel Vineyard Sonoma Valley Syrah - Soft, mature, delicious, probably at its peak.
A. Rafanelli 1997 Dry Creek Valley Sonoma County Zinfandel - Fruity, refined, a claret-style Zin.
Waterstone 1999 Napa Valley Merlot - Ruby. Good red fruit and pleasant leathery notes; good structure and balance.
Ridge 1992 Twin Peaks Cabernet Saugignon - Lovely, refined and balanced.
Lytton Springs 1977 Sonoma Zinfandel. Evolved, claret-like, amazihg.
Martinelli 1999 "Giuseppe & Luisa" Russian River Zinfandel - Jammy and ripe, a boatload of berry fruit.
A couple of crowds that I didn't even try to fight: A Beringer Knights Valley Cabernet vertical and, to my regret, a collection of barrel samples of Brian Loring's Pinot Noirs poured by the winemaker. However, I did get over for a taste of the Loring 2002 Clos Pepe Estate Pinot Noir (barrel sample) - Lovely red fruit and warm brown spices, balanced and full, another of my top wines of the day.
Kistler 1985 Sonoma Valley Cabernet Sauvignon - Spicy, some evolved CalCab character (I call it "green funk" and don't find it delightful), but still a very fine wine, holding up well.
Kistler 1993 Sonoma Valley Cabernet Sauvignon - Kistler's last Cabernet. Ripe and full, balanced, plenty of life left.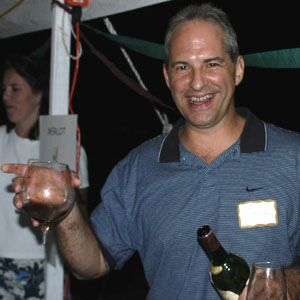 WHEN THE GOING GETS TOUGH ... Who needs a base? The Riedel still holds wine, doesn't it?
A quick run through a
Vincent Arroyo Napa Valley Petite Syrah
vertical from 1997-2000 - I've heard a lot about Vincent Arroyo's Petite and was delighted to have a chance to taste this group. I didn't take notes but found them all consistent: Silken in texture and surprisingly elegant for young Petite Sirah.
Lagier-Meredith 1998 Mount Veeder Napa Valley Syrah - Peppery, balanced. Youthful but very fine, my choice as dinner wine with char-broiled beef. One of the top wines of the day and the year; a generous gift from Bob Ross, to whom the group at our table raised a noisy toast.
Maloy O'Neill 2001 Paso Robles Syrah - Black. Intense. Leather, pepper, black plummy fruit. Another hit from Maloy O'Neill, actually bears comparison to the Lagier-Meredith, albeit more ripe and fruity and not quite so structured.
Sycamore Creek 1977 California Cabernet Sauvignon - Mature, still loaded with ripe fruit, very nice.
Ridge 1987 Santa Cruz Mountains Monte Bello Cabernet Sauvignon - Mature, a bit green and herbal, but stlll, it's hard to beat a mature Monte Bello.
Tablas Creek 2000 Esprit de Beaucastel Rouge - Chewy, ripe and juicy fruit, good structure and balance.
Ridge 1991 Essence - Rich and sweet, buckets of Zinfandel fruit in an intense, very sweet dessert wine.
MoCool 2003 Friday Dinner, "Hang Ten with Madeline"
MoCool 2003 Sunday Brunch, "Fire on the Mountain - Mountaintop Verticals"
MoCool Home Page
<!- Page Contents End Here ->