Discovering wine with new eyes
"The real voyage of discovery consists not in seeking new landscapes but in having new eyes," the French author Marcel Proust wrote. Bear with me today as we bring Proust's quest for discovery to our fascination with fine wine.
We've been taking a Proustian approach to our own wine enthusiasm in our WineLovers Discussion Group forum for the past week or two, and it's been a fascinating new way to think about how we approach wine.
This unexpected combination of ideas came about after an interview with the critic Robert M. Parker Jr. made media waves. Titled "The Proust Q&A," it asked Mr. Parker questions based on a form that has become known as "the Proust Questionnaire."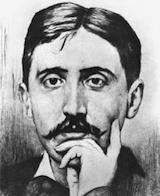 As summed up in a Wikipedia article earmarked as "needing citations for verification," The Proust Questionnaire asks questions about one's personality. Its name and modern popularity as an interview format stems from Proust himself, who, as a teen-ager at the end of the 1800s, answered a questionnaire in a friend's "confession album." The manuscript remains a part of Proust's collected work, and later sold for a substantial sum.
Intrigued by the Parker interview and the Proust Questionnaire concept, my colleague, forum moderator David M. Bueker, came up with the idea of creating a new variation on the Proust Questionnaire that would focus on one's feelings, attitudes and preferences toward enjoying wine.
David came up with a 21-question form, and we decided to break it into four weekly parts, of which two have already been posted and are available online for your reading enjoyment ... and your participation!
In Part One, you're invited to respond to these questions:
* What do you appreciate the most about wine?
* What is your wine weakness?
* Your favorite color wine is…
* Your favorite wine name is…
* What wine descriptor is your greatest turn-on?
* What wine descriptor is your greatest turn-off?
These are the questions for Part Two:
* The quality you most desire in a wine is…
* Your favorite food to serve with wine is…
* What wine region would you like to live in?
* What wine job would you like to have?
* What saying/motto sums up your life with wine?
Part Three will be posted early next week, and Part Four will wrap up the Proustian fun beginning around March 9.
You're welcome to view the conversations and, using our new easy "social login" and registration via Facebook, join in the fun by posting your own responses. Here are the links to the first two weekly discussions:
What Would Proust Drink? A WLDG Survey Part One
What Would Proust Drink? A WLDG Survey Part Two
Today's Sponsor
12 Under $12 with $1 Shipping!
During The California Wine Club's $1 Shipping Spring Wine Sale, you can stock up on award-winning, handcrafted wines at everyday prices. Plus, you'll save up to $36 in shipping on every case.
See 12 artisan wines, each priced under $12
No membership is required to take advantage of the savings.
1-800-777-4443 www.cawineclub.com
$1 Shipping Spring Wine Sale ends on March 31, 2015. Some restrictions apply. Must be 21+ to order.
Today's Tasting Report
Madonna di Como 2010 Dolcetto d'Alba ($14.99)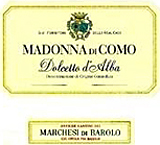 Very dark blackish-purple at the center shading to garnet, then clear at the very edge. Good, characterful Dolcetto aromas, blueberries and blackberries, and earthy moist clay. Fresh and bright on the palate, tart blueberries with a distinct edge of tannic astringency. Dark berries, a whiff of maraschino; a mineral note and a touch of lemon zest linger in the long finish. Good snap and structure and a discreet 12.5% alcohol level make it food-friendly. U.S. importer: Wine Ware, Jericho, N.Y. (Dec. 9, 2014)
FOOD MATCH: Its tannic astringency make it a natural to "cut" the natural fat in rare beef or lamb. It was a beauty, too, with a simple pasta dish, spaghetti tossed with butter and garlic and fennel-scented Italian sausage.
WHEN TO DRINK: Although its firm tannins might lead you to expect long-term cellar-worthiness, in fact my experience mirrors the conventional wisdom that Dolcetto is best drunk up young, as its fruit simply won't last until the tannins finally resolve. This slightly older vintage is drinking very well now, but I'd finish it up this year and move on to newer vintages.
VALUE: Perhaps because it is nearing the end of its shelf life, this 2010 model sold here for well under Wine-Searcher.com's reported $17 U.S. average for all vintages.
WEB LINK The Marchesi di Barolo website carries flag icons for pages in Italian, English, Chinese, Japanese and Russian. The English-language pages wouldn't load for me today, but this page offers good information on this wine in Italian.
FIND THIS WINE ONLINE:
Compare prices and find vendors for Madonna di Como Dolcetto d'Alba on Wine-Searcher.com.
We hope you'll "Like" us on Facebook!
If you use Facebook, we'd be delighted to have you "Like" our WineLovers Facebook Page. This way you can get Facebook notifications when there's a new The 30 Second Wine Advisor issue or a topic of particular interest on the WineLovers Discussion Group (WLDG).
If you're a Facebook user, you can also now join our forum with a single click! All you need to do is visit the forum and click the "Social Login" link at upper right.
Talk About Wine Online
If you have questions, comments or ideas to share about today's article or wine in general, you're always welcome to drop by our online WineLovers Discussion Group, the Internet's first and still the most civil online community. To find our forums, click:
http://www.wineloverspage.com/forum/village
Discussions are open for public viewing, but you must register to post. If you're a Facebook user, you can also now join our forum with a single click! All you need to do is visit the forum and click the "Social Login" link at upper right.
We use only your name and Email to identify you and make no other claim on your Facebook information or privacy. However, if you prefer not to use Facebook, contact me at wine@wineloverspage.com for information about registration.
Subscriptions and Administrivia
Unsubscribe:
We're sorry if you must leave us, but simply click the "unsubscribe"
link at the bottom of your Email edition to be instantly removed from the mailing list.
Change address:
The quickest and easiest way to change your Email address is simply to register anew, using the link below. If you are keeping your old address but no longer wish to get the Wine Advisor there, click the unsubscribe link below to take it off our list; if you are closing the mailbox, you needn't take any action, as our system will delete your old address as soon as the mail to your old address starts to "bounce."
Subscribe to this weekly E-letter (free):
http://www.wineloverspage.com/wineadvisor
WineLoversPage.com RSS Feed (free):
http://feeds.feedburner.com/wineloverspage/tzva
Wine Advisor Archives:
http://www.wineloverspage.com/wineadvisor2/archives.php
Sponsorship Opportunities:
For information, E-mail wine@wineloverspage.com