Black Friday is BACK!
Our Black Friday offer is BACK: Place your holiday gift orders today and The California Wine Club will send you a $35 bottle of Gamble Family Vineyards 2009 Napa Valley "Heritage Sites" Red Wine. Aged 5 years, this big red is drinking beautifully now.
Use Coupon Code BFBACK14 when ordering to secure your bottle of this delicious wine.
Hurry! Offer expires at 11:59 p.m. PST, Dec. 5, 2014.
Click to See Holiday Gifts
Wines We Love for the Holidays
Now the winter holiday season begins! From the harvest joy of the Canadian and American Thanksgivings through the celebration of Hanukkah, Winter Solstice, Kwanzaa, Christmas and all the other family winter holidays, we then move forward to greet the new year,
At its best, this is a season of joy, of family and friends, of gathering to drive away winter's chill with the roaring fires, indulgent feasts, and, if we wish, for quieter times of spiritual reflection.
For those who love wine, good things to eat and drink, this is a time to mark the season with something special, wines that we not only enjoy but that may have special meaning for us.

Let's share the holidays by talking about those special wines, the "Wines We Love for the Holidays." Come, join us in our monthly Wine Focus conversation in the WineLovers Discussion Group, and let's talk about the wines we love at holiday time: The wines we enjoy this year, the wines that we plan to enjoy, and the wines that have brought us special adventure in holidays past.
To make the experience particularly rich, we invite you not only to share tasting notes but to offer us a thought or two on the emotional impact of these wines. Tell us the stories that surrounded their enjoyment; recall the memories that made that experience meaningful for you.
I'll start with a dry Oloroso sherry. The warming, mellow power of fortified wines is comforting for me on bleak and blustery winter evenings, and while I'm quite happy to savor the rich sweetness of Ports and most Madeiras and Sherries, the hearty style of a dry Oloroso makes a pleasant change of pace. Emilio Lustau's non-vintage "Don Nuño" Oloroso Sherry is a long-time favorite. You'll find my tasting notes below.
Again, the Wine Focus discussion, Wines We Love for the Holidays, is open to all, with quick and easy log-in via Facebook. Happy winter holidays, Merry Christmas, Happy Hanukkah, and whatever other greeting brings warmth and comfort to you.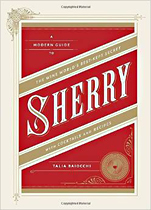 Speaking of Sherry, The New York Times' wine writer Eric Asimov this week gave a strong recommendation a new book, "Sherry: A Modern Guide to the Wine World's Best-Kept Secret," by Talia Baiocchi. Declaring the book "approachable," Asimov called it a welcome addition to the modern Sherry library, personal and informal, accessible to the curious novice.
"She writes evocatively of Sherry country in Andalusia, of how she fell in love with the wines and the culture, and offers pithy critical profiles of the leading producers and their wines," Asimov added. "Recognizing that many younger people come to sherry through cocktail culture, she devotes a significant portion of the book to cocktail recipes as well as to recipes for classic Andalusian dishes."
Click to buy it now from Amazon.com for $19.07, a 24% discount from the $24.99 list price, and we'll earn a small commission for WineLoversPage.com.
It's also available in a Kindle (or free Kindle app) edition for $13.99.
Today's Sponsor
Black Friday is BACK!
Our Black Friday offer is BACK: Place your holiday gift orders today and The California Wine Club will send you a $35 bottle of Gamble Family Vineyards 2009 Napa Valley "Heritage Sites" Red Wine. Aged 5 years, this big red is drinking beautifully now.
Use Coupon Code BFBACK14 when ordering to secure your bottle of this delicious wine.
Hurry! Offer expires at 11:59 p.m. PST, Dec. 5, 2014.
This holiday season, share the passion of artisan wineries and give delicious deliveries of award-winning, handcrafted wine. It's a holiday wine club gift that can't be found in local stores. Every wine is hand-selected from a real, working artisan winery.
Minimum 2-month gift purchase required to qualify for gift bottle. Offer cannot be combined with any other promotion or discount nor applied to previously placed orders.
Click to See Holiday Gifts
About The California Wine Club
There are thousands of small family wineries handcrafting extraordinary wine in quantities too limited to be found in local stores or shops. In 1990 wine club founders Bruce and Pam Boring discovered that these winemaking families were the most passionate in the wine world and that their wines were the hidden gems of wine country! Together Bruce and Pam embarked on a journey to help these artisan wineries introduce their exquisite wines to the world. Learn more!
www.cawineclub.com 1-800-777-4443
Today's Tasting Report
Lustau NV "Don Nuño" Oloroso Sherry Dry - Seco ($22.99)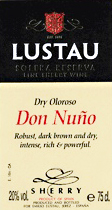 Transparent light walnut color. Good nutlike Sherry aromas, walnuts and pecans, carry over in the flavor with mixed nuts, hints of lemon and golden raisins and a fresh acidic tang. Smooth and pleasant, it shows a bit of warmth from Sherry's typical 20 percent alcohol, but is not the least harsh. Its full body and dry, unsweet character make it a good choice for before or after dinner or even an accompaniment with appropriate food. U.S. importer: Europvin USA, Van Nuys, Calif. Selected by Christopher Cannan. (Oct. 26, 2014)
FOOD MATCH: Before or after dinner sipping, on its own or with walnuts or dried fruit. Because it's dry, it could make an interesting experiment to taste it against a range of Spanish tapas. Lustau's Website actually suggests that Olorosos, "with their aromatic complexity, are the ideal complement to game, such as partridge; and stewed meats like oxtail and pork cheeks; as well as cured cheeses. They blend remarkably well with grilled red tuna steak." If you try it, let me know how it goes!
WHEN TO DRINK: Sherry is virtually indestructible, but I'm still inclined to drink up and make way for later bottlings. (Note that by its nature, Sherry is not vintage-dated; every bottle is drawn from a "solera" system that incorporates a range of years.)
VALUE: Wine-Searcher.com reports an average $24 U.S. retail price, but many vendors offer it for less. Given that you'll likely sip it in short servings, and it will keep extremely well in the opened bottle, it's a good value to have around for the holidays.
WEB LINK:
Emilio Lustau's website is available in Spanish and English. Here's a link to the English-language home page. For more information and notes on Don Nuño Oloroso, check this link on importer Michael Skurnik's pages.
FIND THIS WINE ONLINE:
Find vendors and check prices for Lustau Don Nuño Oloroso on Wine-Searcher.com.
We hope you'll "Like" us on Facebook!
If you use Facebook, we'd be delighted to have you "Like" our WineLovers Facebook Page. This way you can get Facebook notifications when there's a new The 30 Second Wine Advisor issue or a topic of particular interest on the WineLovers Discussion Group (WLDG).
If you're a Facebook user, you can also now join our forum with a single click! All you need to do is visit the forum and click the "Social Login" link at upper right.
Talk About Wine Online
If you have questions, comments or ideas to share about today's article or wine in general, you're always welcome to drop by our online WineLovers Discussion Group, the Internet's first and still the most civil online community. To find our forums, click:
http://www.wineloverspage.com/forum/village
Discussions are open for public viewing, but you must register to post. Registration is free and easy; we ask only that you join following our Real Names Real Format system, using your real name in the format "John Doe" or "John D". Anonymous, cryptic or first-name-only registrations are discarded without notice.
Once your registration has been approved, which usually happens quickly, you'll be able to participate in all our online wine, food and travel forums.
To contact me by E-mail, write wine@wineloverspage.com. I'll respond personally to the extent that time and volume permit.
Subscriptions and Administrivia
Unsubscribe:
We're sorry if you must leave us, but simply click the "unsubscribe"
link at the bottom of your Email edition to be instantly removed from the mailing list.
Change address:
The quickest and easiest way to change your Email address is simply to register anew, using the link below. If you are keeping your old address but no longer wish to get the Wine Advisor there, click the unsubscribe link below to take it off our list; if you are closing the mailbox, you needn't take any action, as our system will delete your old address as soon as the mail to your old address starts to "bounce."
Subscribe to this weekly E-letter (free):
http://www.wineloverspage.com/wineadvisor
WineLoversPage.com RSS Feed (free):
http://feeds.feedburner.com/wineloverspage/tzva
Wine Advisor Archives:
http://www.wineloverspage.com/wineadvisor2/archives.php
Sponsorship Opportunities:
For information, E-mail wine@wineloverspage.com